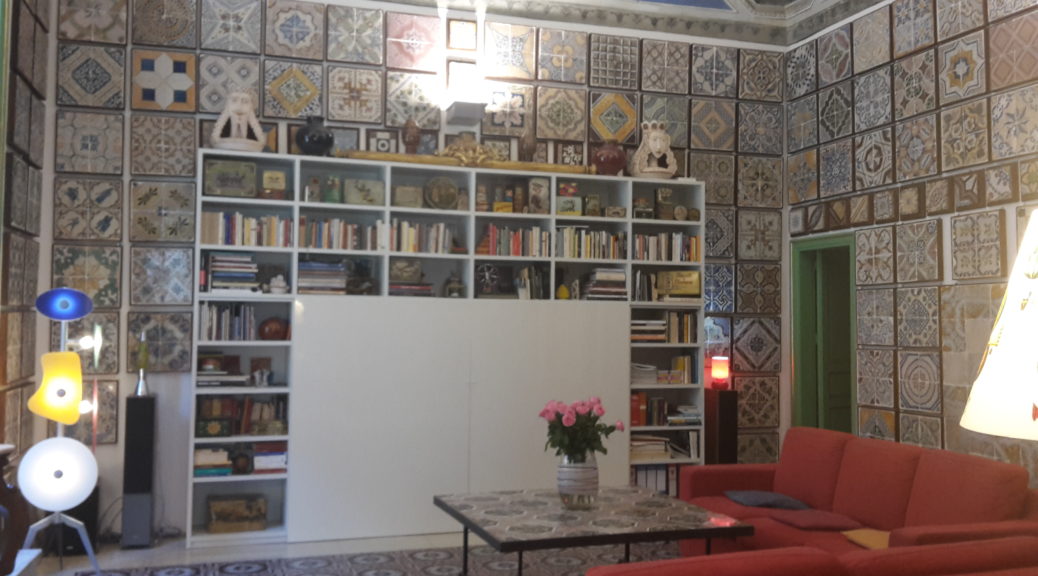 Hidden Gem: The Tile Museum in Palermo, Sicily
Hidden Gem: The Tile Museum in Palermo, Sicily
"I'm sorry, we're not doing any tours today."
As a visitor intent on seeing a particular sight, this can be one of the most disconcerting messages you hear in your travels. But of course it is one that comes up every now and again, and is simply part of the whole travel experience, which does not always work out perfectly.
Visiting the Palermo Tile Museum was a complete fluke. My friend Isabel and I left it until the last day of our long weekend in this Sicilian city to even attempt to visit for the first time. We had a bunch of hours to enjoy Palermo before catching our return flight to Milan in the afternoon, and a few last things to see.
And even seeking out the Tile Museum at all was somewhat random, as it didn't come up in most of my pre-trip research – although where I found any information, it received rave reviews.
So this Monday morning, we walk up to the street address for the museum entrance and are faced with what looks like your standard Italian apartment building, with a row of labeled buzzers.
At first, we think that surely we're in the wrong place. There is no prominent sign labeling any type of museum, and certainly no open entrances to welcome us in.
Only after walking up and down the block a few times do we realize that the address is in fact correct, and that one of the buzzers, if you peer closely, lists the museum and displays a phone number.
I call the cell phone number indicated, and find out that a reservation is needed. At this point, I'm cautiously optimistic, and hoping that since Isabel and I speak both English and Italian, surely there will be a tour we can join in one of those languages.
Unfortunately there is no tour planned until after our flight back to Milan – that disappointing message of "I'm sorry, we're not doing any tours today." So I say a polite thank you, relay the disappointing news to Isabel, and we start strolling in the direction of Botanical Garden as a backup plan.
This is when we have what I'm starting to think of more and more as one of those magical Italian moments.
My phone rings, and the number looks vaguely familiar. It is the same gentleman calling back, offering us a tour in Italian for just the two of us. It sounds cliché, but my heart leapt with the news after the disappointment of hearing that a tour would not be possible. We were getting to see this mystery of a place!
As you can see in the photo below, entering this apartment really is just like any other residential building: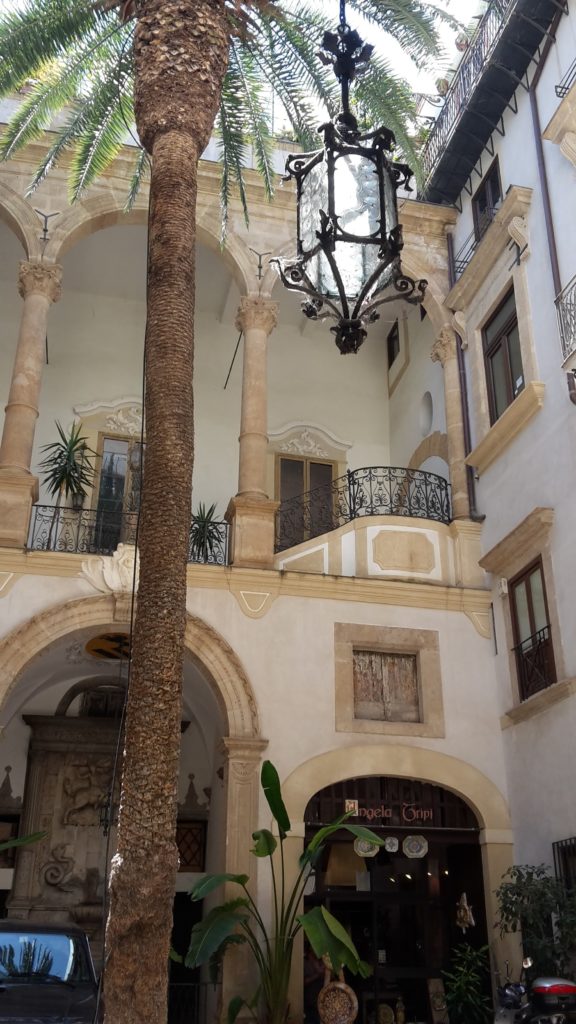 We find out at the start of the tour with our passionate, knowledgeable guide that this is because one of the most impressive tile collections in the world was part of someone's private collection.
The apartment that houses the museum is called the Stanze al Genio, the rooms of the genius? Or genie? It is not large, but the tile collection is so enormous that it feels like every available space is dedicated to displaying these lovely items.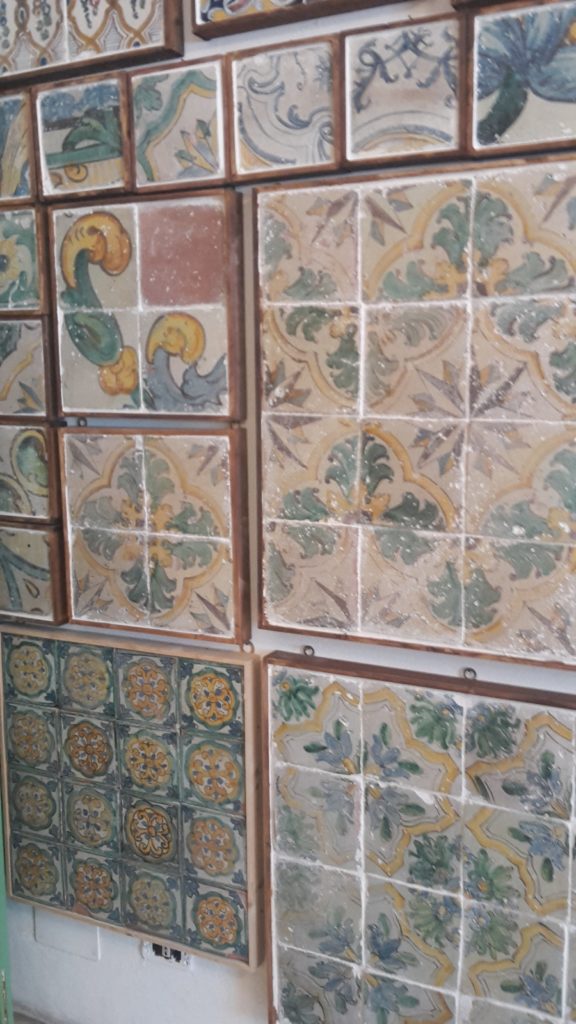 Tiles in the south of Italy are commonly seen in hues of blue, yellow, and green, but the variety of this collection goes well beyond that. Colorful hues, interesting designs, and even some tiles with images like those you'll find at the ruins of Pompeii, outside Naples: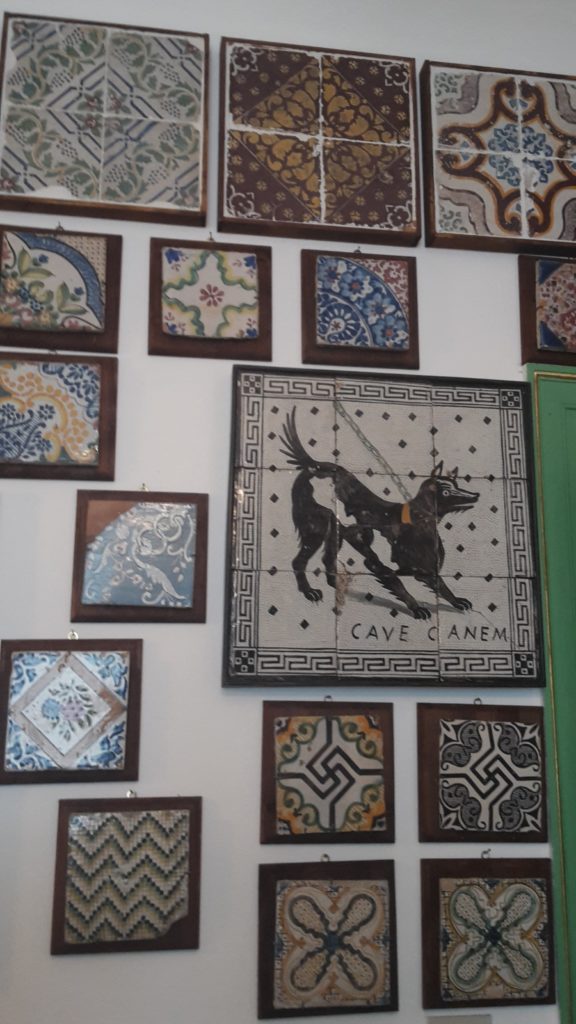 And there's nothing better than a tour guide who is excited about the collection to share interesting tidbits and answer your questions with enthusiasm.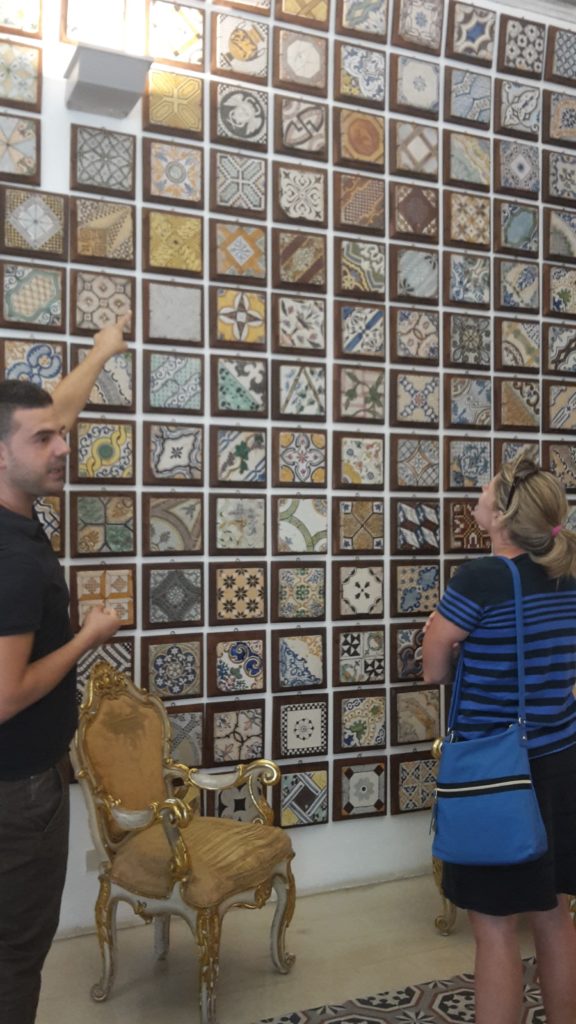 I felt incredibly fortunate to have made it inside the doors of this museum at all. And while not large, the museum contained one of the most unique and well-curated collections that I've been privileged to visit in my travels.
I think for both me and Isabel, it was one of the most memorable moments of our weekend trip. And a spot I recommend to anyone visiting Palermo!
Certainly, we were very lucky on the day we visited, but if you want to visit the Stanze al Genio, I wouldn't count on winging it, here's the right way to visit:
Visits are available 7 days a week, by appointment
E-mail or call *in advance* to schedule:
English: +39 380 367 3773
Italiano: +39 340 097 1561
The website is currently under construction, but check the link above for the most updated information.
There's also a Bed & Breakfast on the property!
I didn't stay here, but if you are interested in having these spaces be your accommodations in Palermo (or just want to check out photos of more beautiful tiles!), check out their site here.
Happy travels!
Where was the last hidden gem you discovered? Any other spots you loved in Palermo? Let me know in the Comments!
Enjoyed this post? 'Pin it' to share on Pinterest & save for later!