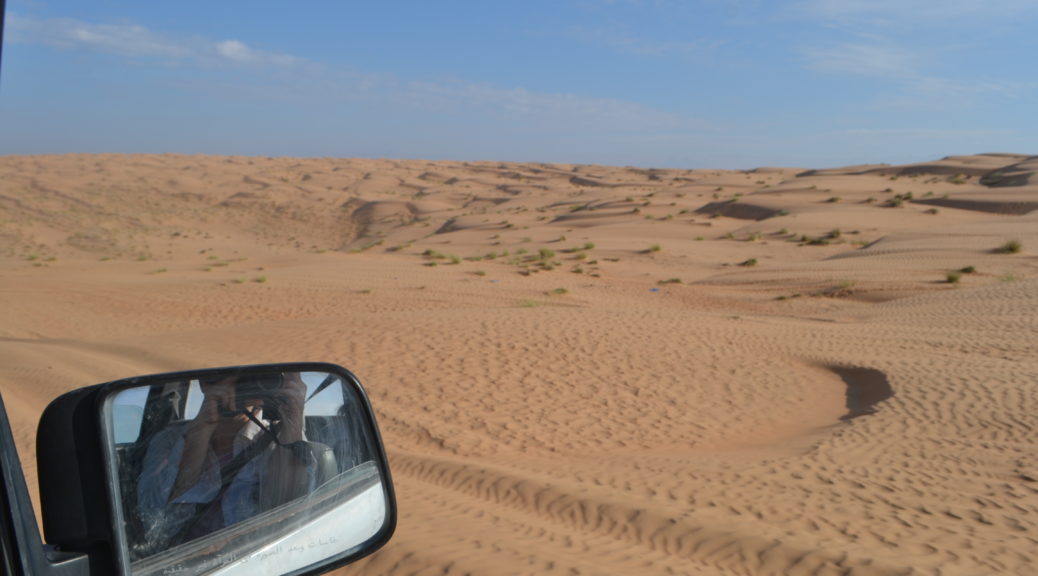 9 Reasons Why a Road Trip is the Best Way to See Oman
9 Reasons Why a Road Trip is the Best Way to See Oman
Oman wasn't on my radar at all until a friend in Milan visited with her daughter and came back raving about this Middle Eastern country that I honestly hadn't given much thought to before that moment.
She described Oman to me as an unspoiled corner of the Middle East, which is the perfect thing to say to me to plant the idea of a new travel destination in my mind! Oman doesn't have the over-commercialized sheen of Dubai and you can experience local culture and history that hasn't simply been jazzed up for the tourists. And did I mention that there are natural wonders everywhere?
It was probably about two years from when I first heard about Oman until I was arriving in Muscat for a week-long road trip with my sister. Intel from our other sister (yes, there's a 3rd sister!) who had already visited Oman was that sights are spaced far enough apart that renting a car is best for getting around on your own. And since we weren't interested in an organized tour, it didn't take much convincing to reserve a rental car and have that be our transportation plan.
But one of the things that became very clear to me as we made our way driving around Oman – hitting up forts and castles and canyons and wadis – this is a country that is perfectly suited to a road trip, for so many reasons. I actually had this blog post nearly written a few days in to the trip, since the benefits of road tripping were so overwhelmingly obvious:
Parking is free (almost everywhere)
Coming from a mindset of needing to pay for parking in most places, I noticed immediately that parking at tourist attractions and beaches and hotels was free everywhere we went. It was great to not have to figure out rules and payment systems in a foreign language or worry about rushing through a sight because the meter was about to run out.  You can pretty much park anywhere, however you'd like!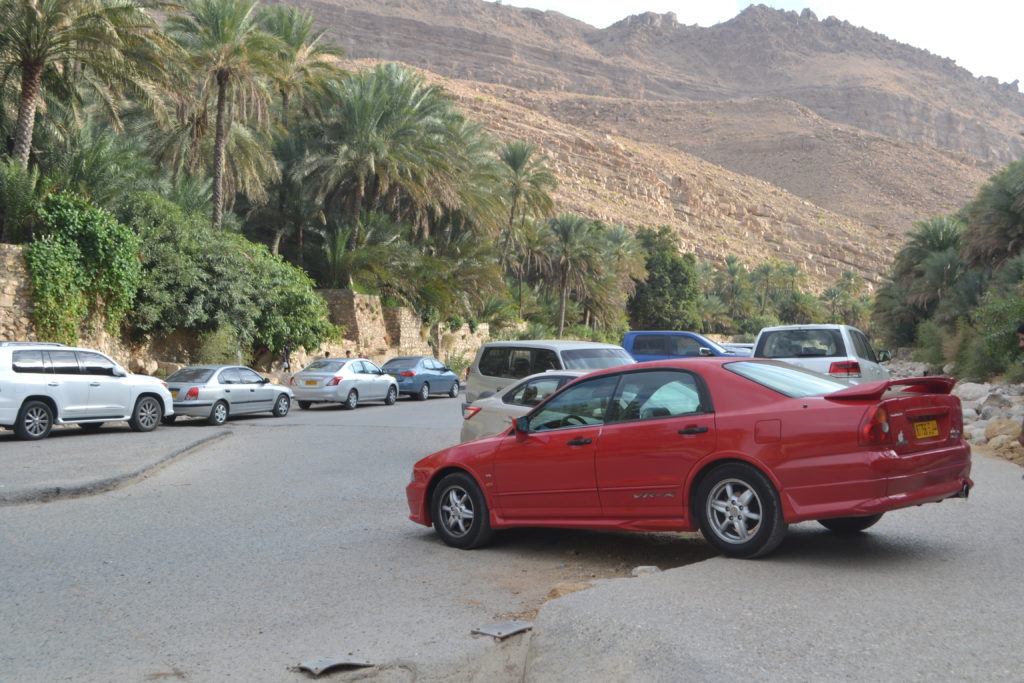 Over 8 days in country, we never paid for parking. In fact, we only saw metered spots once, on our last night as we strolled along the water bordering the Muttrah district of Muscat, by the famous market, or souk. But if you're the Imam, you still get to park for free: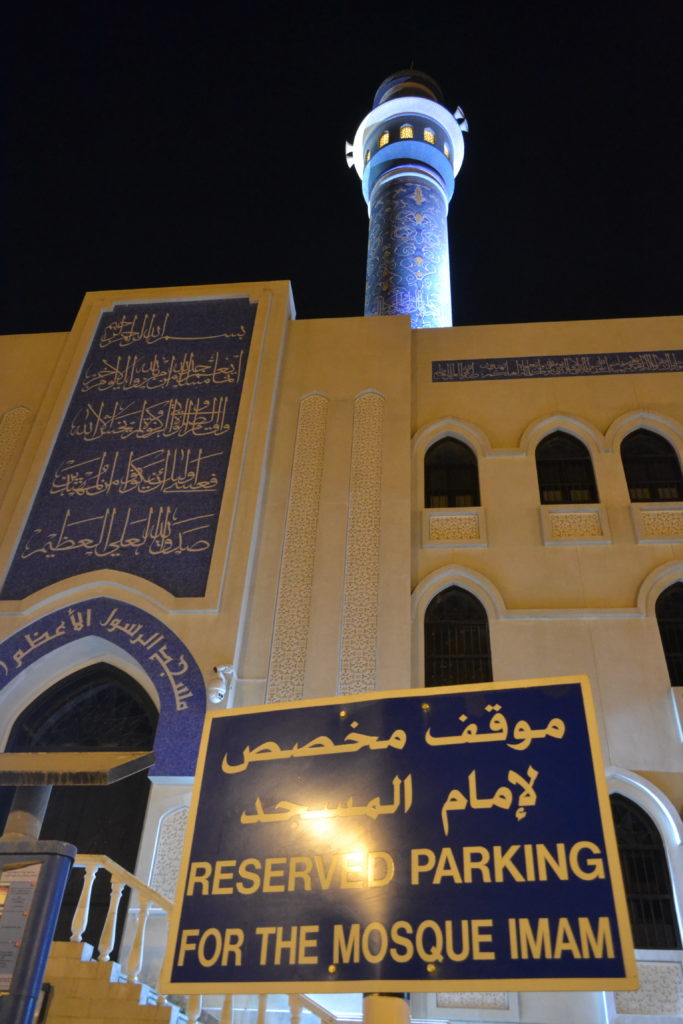 Gas is cheap
On average we spent around 4.700 or 4.800 Omani rial to fill up our tank of gas, about 13 US dollars (or 11 Euros). Inexpensive petrol is a definite benefit of road tripping somewhere close to the source of gasoline. Apparently it's a bit more expensive than it used to be, but with Oman remaining one of the cheapest countries in the world to buy gas, it's still a huge bargain for the vast majority of visitors.
Scenery is beautiful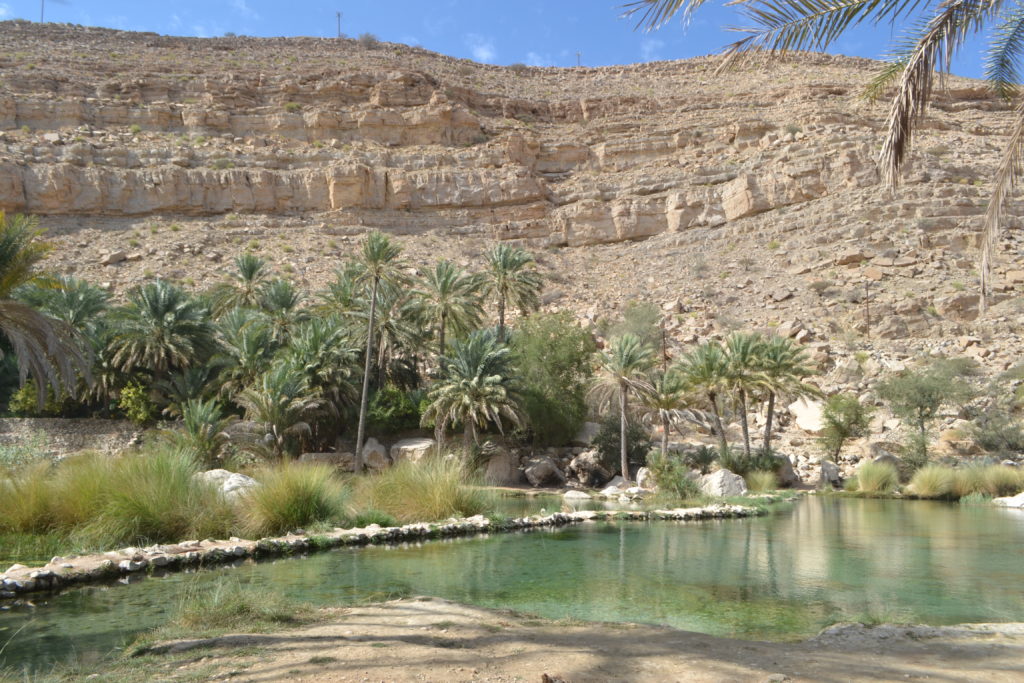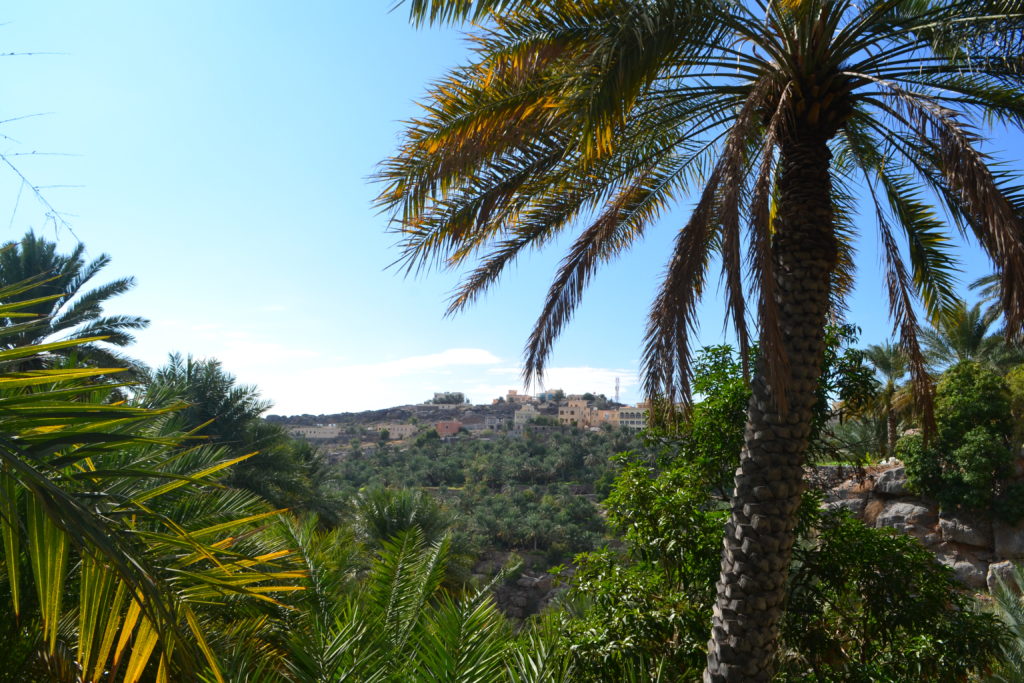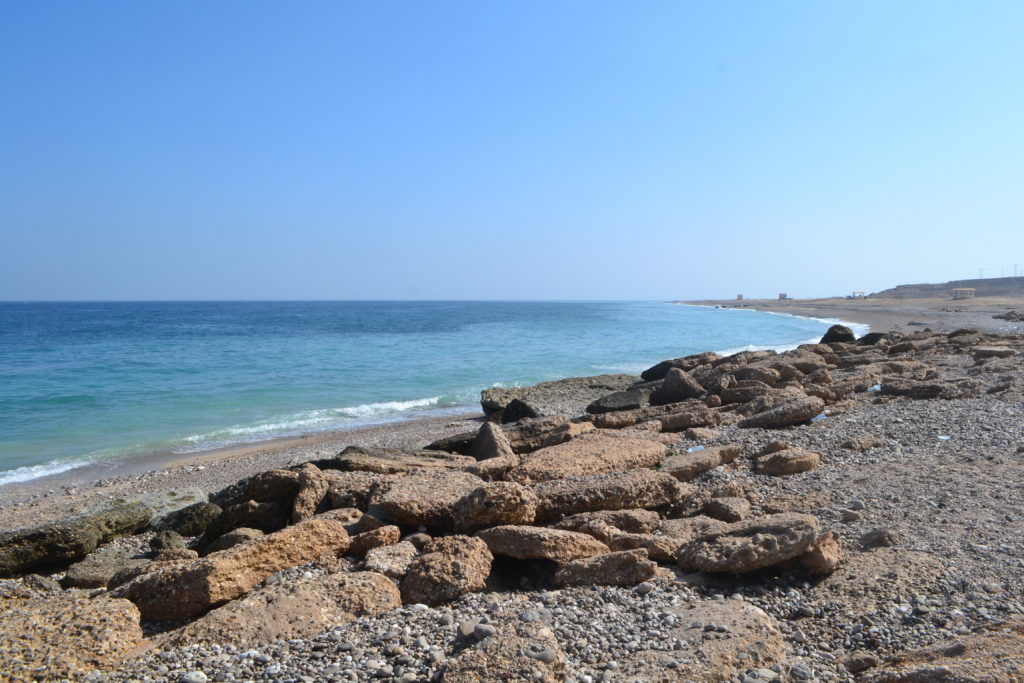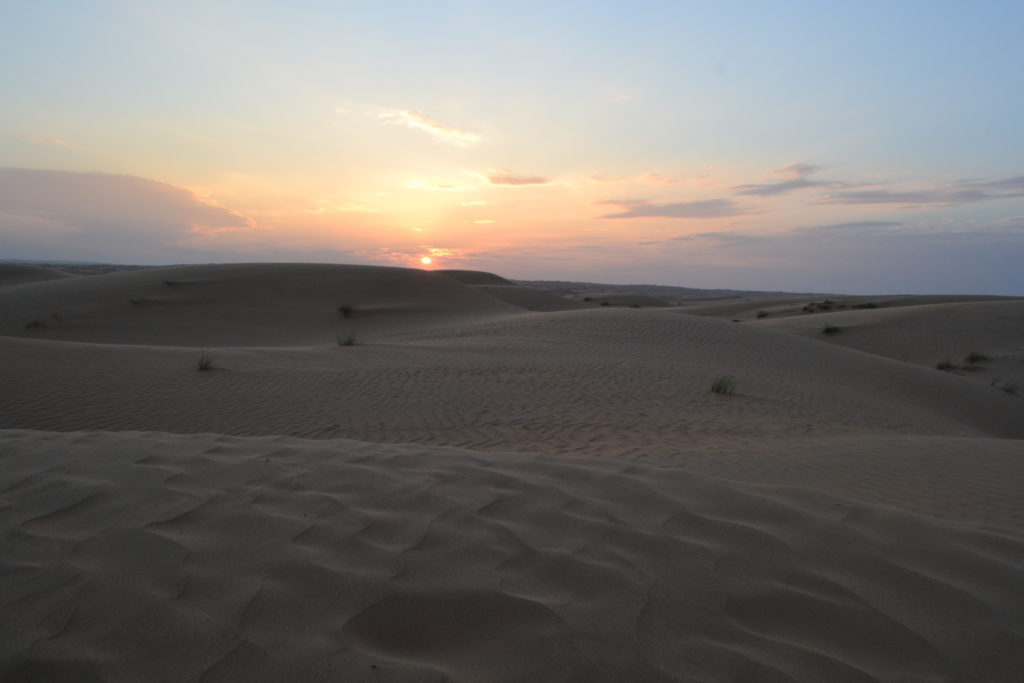 Omani landscapes are breathtaking! As I wrote in my post on Road Trip Tips for Europe, flexibility is one of the top things I love about road trips. And you'll definitely want the flexibility while you're in Oman to stop and pull over to take pictures or randomly take a highway exit to an archaeological ruin or divert your path to explore a natural sinkhole (we did all of these things!).
READ MORE: Top 12 Things to Do in Oman
No alcohol, so you'll always be driving sober
There's pretty much no alcohol outside of bars and restaurants located inside select hotels, and we did not stay or visit anywhere that alcohol was being served while we were there. And there are some liquor stores apparently for non-Muslims, but you need to have a liquor license to purchase anything. Plus, it's illegal to drink in public. So this won't be a boozy holiday, but at least you know you'll be driving sober wherever you go!
Things are pretty spread out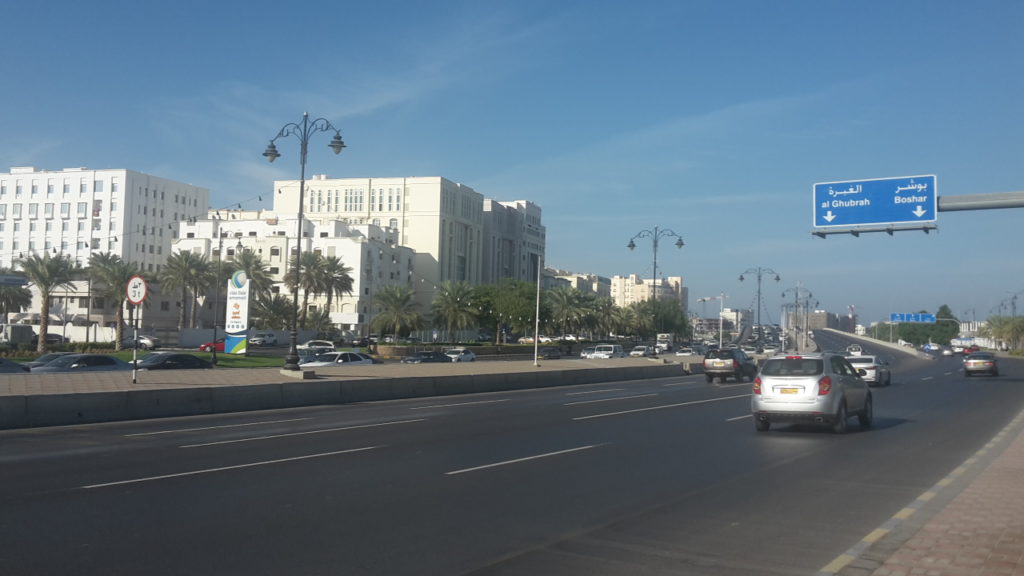 Sure, tourist attractions are pretty spread out across Oman, but what I wasn't expecting? Accommodations can often be far from the center of town as well. It was helpful to have a vehicle not just for arriving at our hotel or guesthouse, but also to drive to dinner and then back to the accommodations again at the end of the night. It was hugely practical to have a car at our disposal.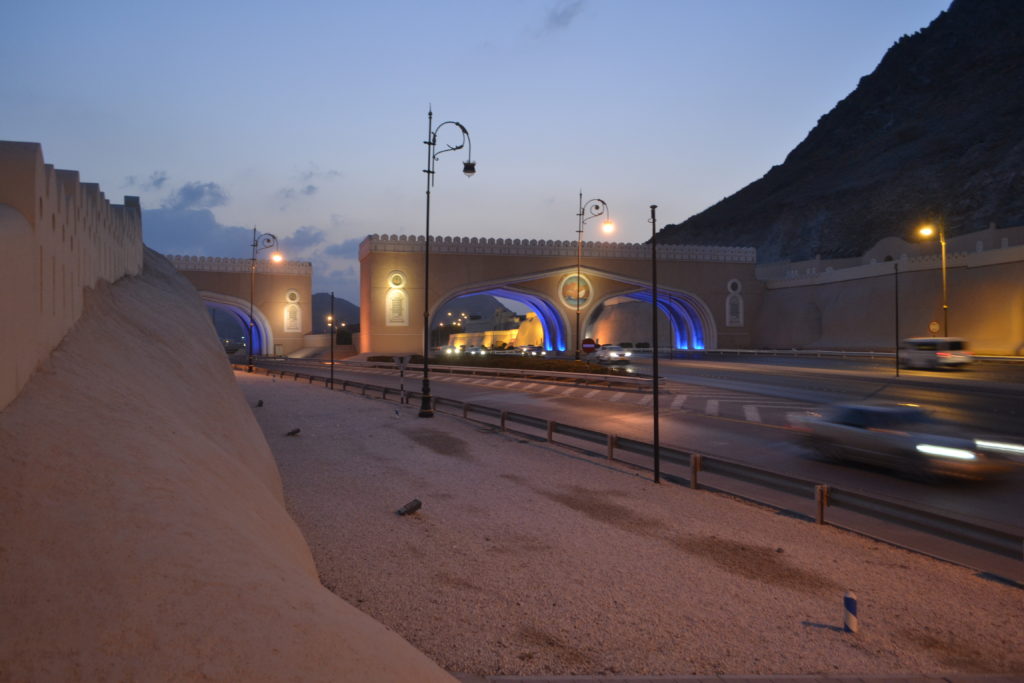 And although I'm always one to change hotels as few nights as possible, it was helpful to be able to have a car to move to the next hotel and spend our nights in Muscat in different locations across the sprawl of the city. It let us drive around the all the spots in one area and then do the same in another part of town.
Animal sightings galore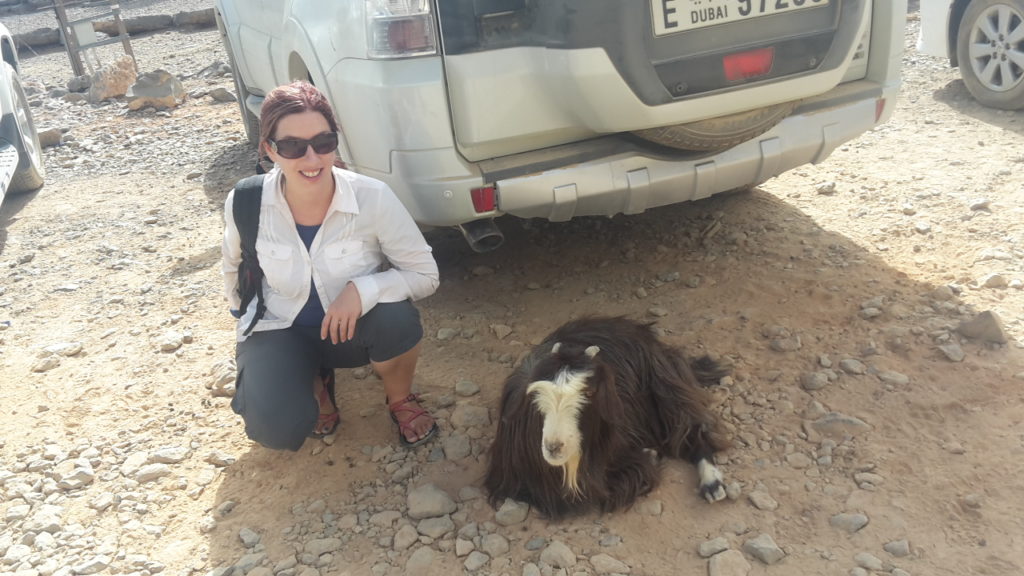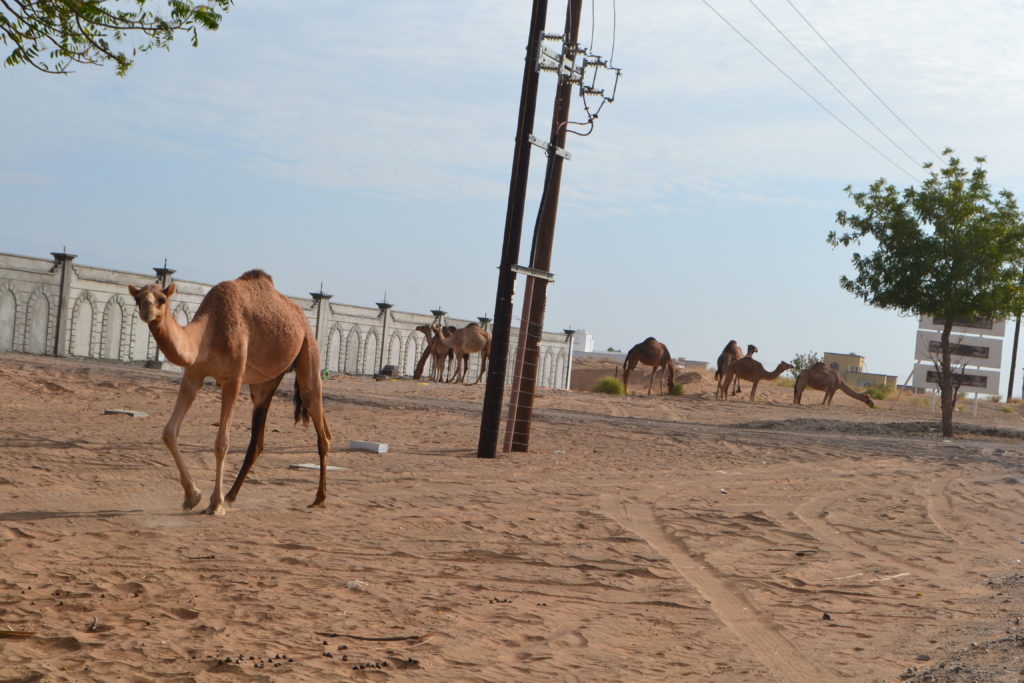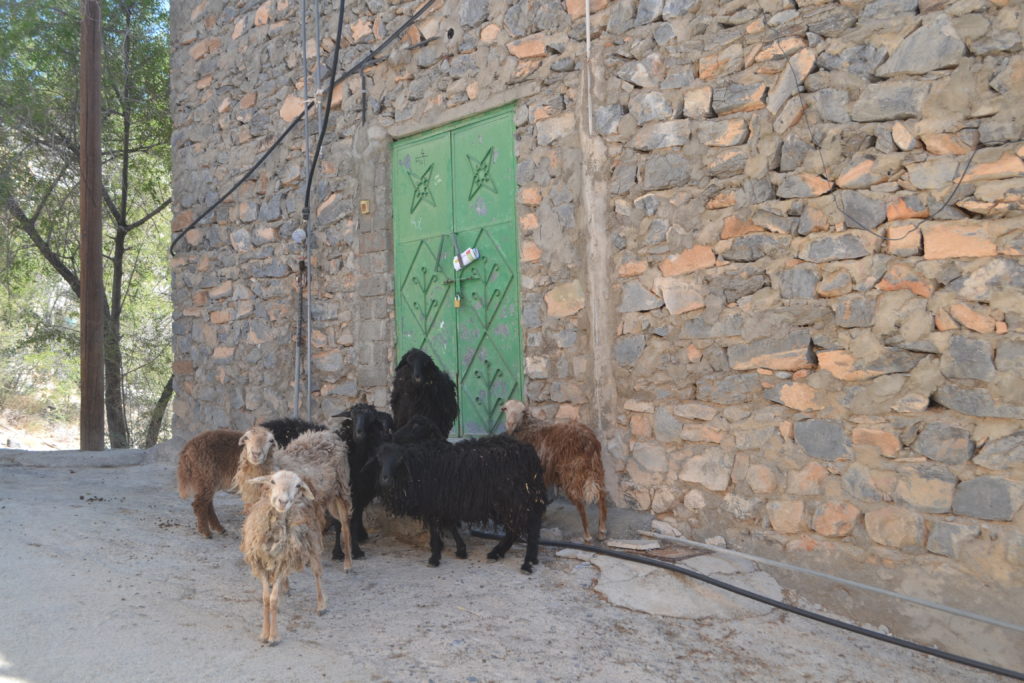 Unbeknownst to me until several days into our trip – my sister was not leaving Oman until she saw a camel! Fortunately as we drove around (and maybe even got a little lost) there were several times we just happened upon wild animals, camels included. If you want to get a feel for the local wildlife, there's no better way to do that than having a car you can stop on a whim, which is how I got all the pictures above.
Traffic is pretty non-existent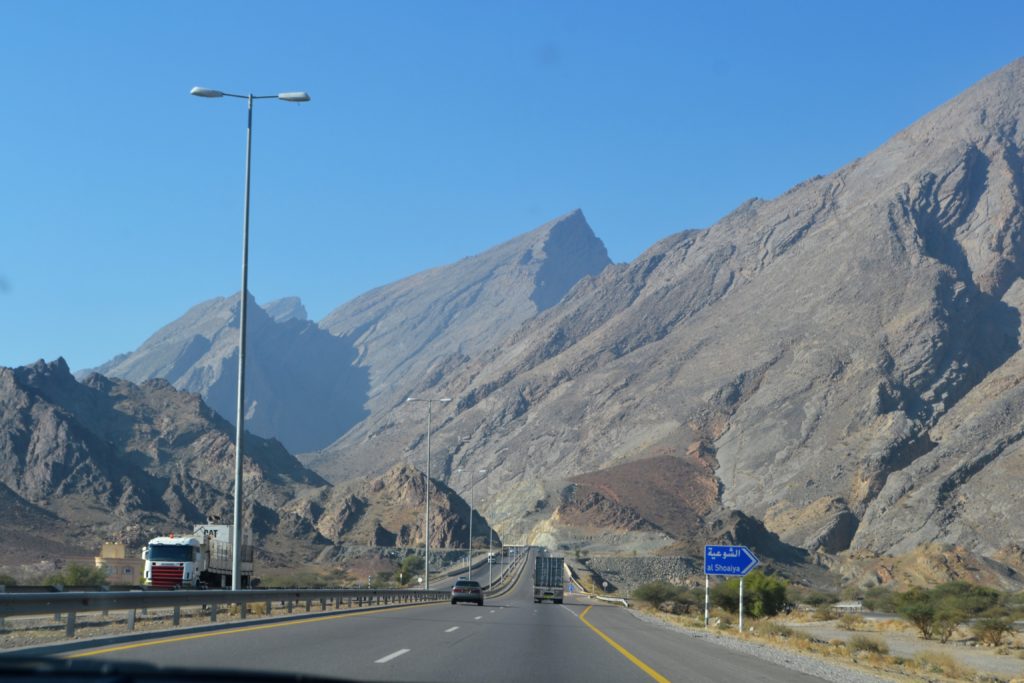 Roads in Oman are well-paved and in most parts of the country, there won't be a ton of other cars. Even during periods of a high volume of cars on the road in the capital city of Muscat, everything might slow down a bit, but it keeps moving. And outside of the city, you'll never be alone, but there won't be a ton of other cars on the road to contend with, either.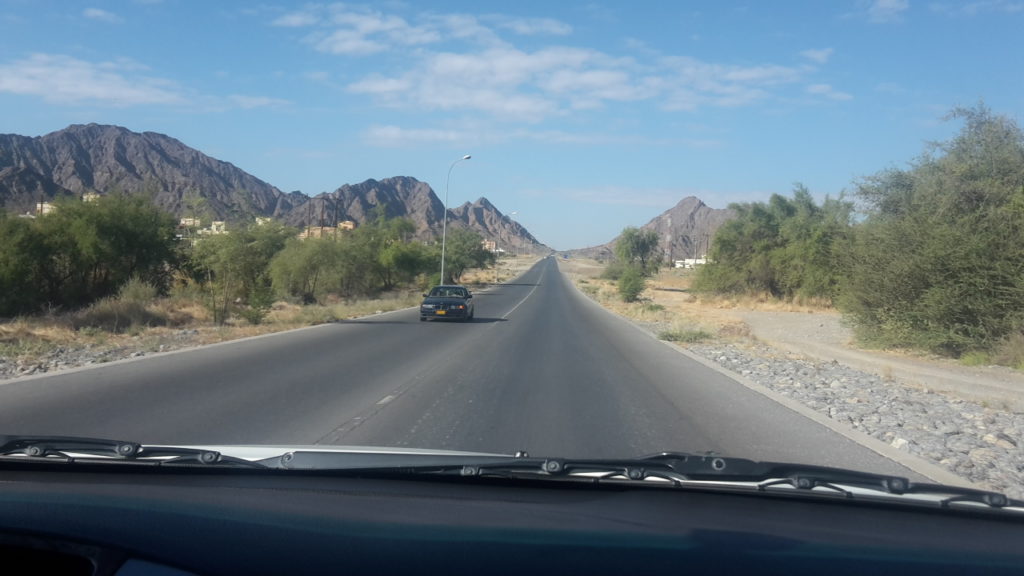 Omanis are always there to help if you get lost
If you're lost and pull over to get your bearings, even if it looks like you're somewhere completely deserted, an Omani will be there to help in 2 minutes flat. No exaggeration. One time, we weren't even terribly lost, but had simply pulled out of a gas station in what seemed like the wrong direction. As we pulled to the side of what seemed like an empty stretch of road to get our bearings, all of a sudden an Omani man appeared and approached the car to offer his help. This is the upside of driving around in a country where the locals are nomadic and have incredible hospitality toward visitors.
READ MORE: Why Hospitality in Oman Will WOW You
Endless entertainment on the road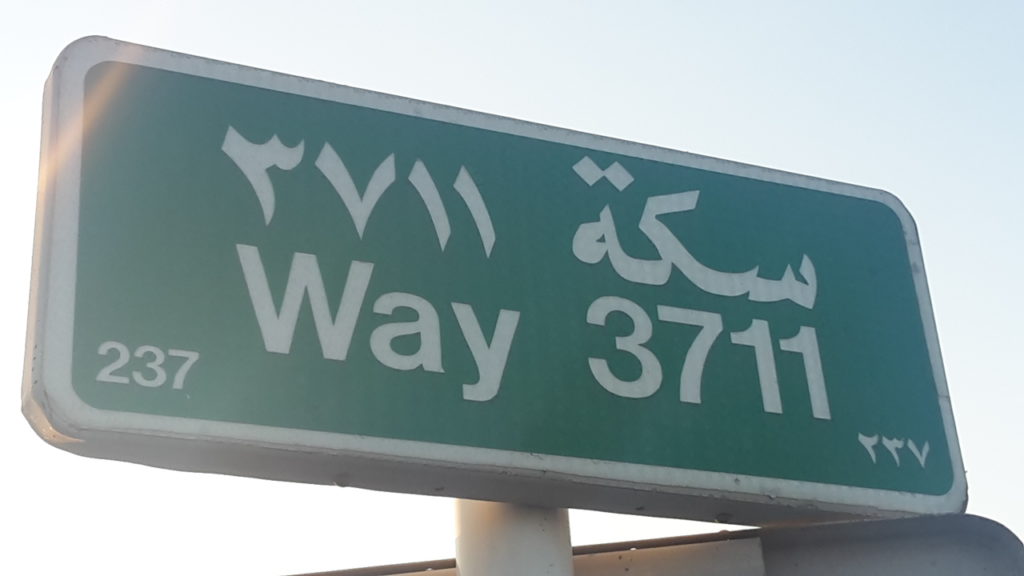 You really get to experience a country like a local when you're in a car driving the roads. We got a taste for the local and international music on the radio and had endless adventures trying to navigate in a country where road signs are limited (and sometimes only in Arabic) and GPS only points in you in the right direction most of the time.
And my favorite entertainment of our road adventures? Fake cardboard cutouts of construction workers as traffic enforcement. Which might have been believable except that most had been out in the sun so long the paint was pretty faded.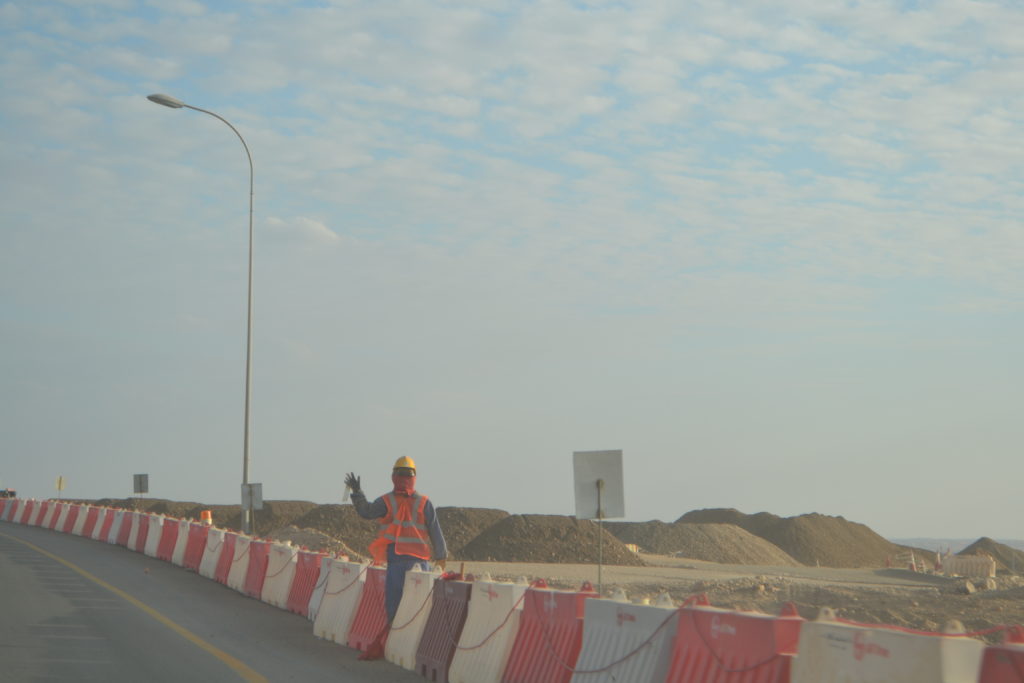 TIP! Definitely get a local SIM card with data for your visit to help you find your way around as you road trip, although be aware that it may only call other mobile phones and not land lines.
TIP! It is important to note that there are many places in Oman, especially away from cities in the desert, that are only accessible by a 4-wheel drive vehicle. Due to the significant cost differential of renting one, we opted to rent a regular car and arrange for appropriate transport on the 2 days we were away from regular roads – staying in a tent in the middle of the desert for a night & exploring the 'Grand Canyon of Oman' on a day excursion. This was still far cheaper than renting a 4-wheel drive vehicle for the entire trip.
So yes, road tripping around Oman was quite the experience, but I wouldn't recommend seeing the country any other way!
How do you decide whether to road trip in a new place? Do you have any other questions about what it was like to drive around Oman, or to visit in general? Let me know in the 'Comments.'
Enjoyed this post? 'Pin it' to share on Pinterest & save for later!