Top Aperitivo Spots in Milan
Top Aperitivo Spots in Milan
Whether you're a visitor who's looking to do some aperitivo hopping one of your nights in Milan, or you live in Milan and are looking to add some new aperitivo places to your repertoire, there are a wealth of options to choose from. If you're not familiar, aperitivo is not only a pre-dinner drink to whet your appetite, but also includes some small snacks at a minimum. And in some cases, a full buffet of food that can substitute for dinner. Check out a previous blog post for more about aperitivo, what drinks are typical, and why you want to experience it first-hand.
In general, aperitivo lasts from around 6 to 9pm, although exact hours vary place to place. If you'd like to sit outside or arrive several hours in, you may want to make a reservation. Otherwise, your best bet can just be to show up early and snag a table then. Most drinks are in the €8-12 range, although the posher places will be a bit pricier. And at some – but not all – places, your second drink (seconda consumazione) will be at a slightly cheaper price.
Milan is the city where aperitivo originated, so there are seemingly endless options for where to go Two neighborhoods have clusters of places for aperitivo: Corso Sempione close to the Arch of Peace (Arco della Pace) and Milan's canal zone called Navigli, close to the Porta Genova metro stop on the green line. If you're going to do some aperitivo hopping, the Navigli area is probably the best place to go as it has the most variety and certainly the largest number of options. But there are great options all across the city, which I've listed in two different categories, based on how much food you'll get along with your drink:
Drinks and Nibbles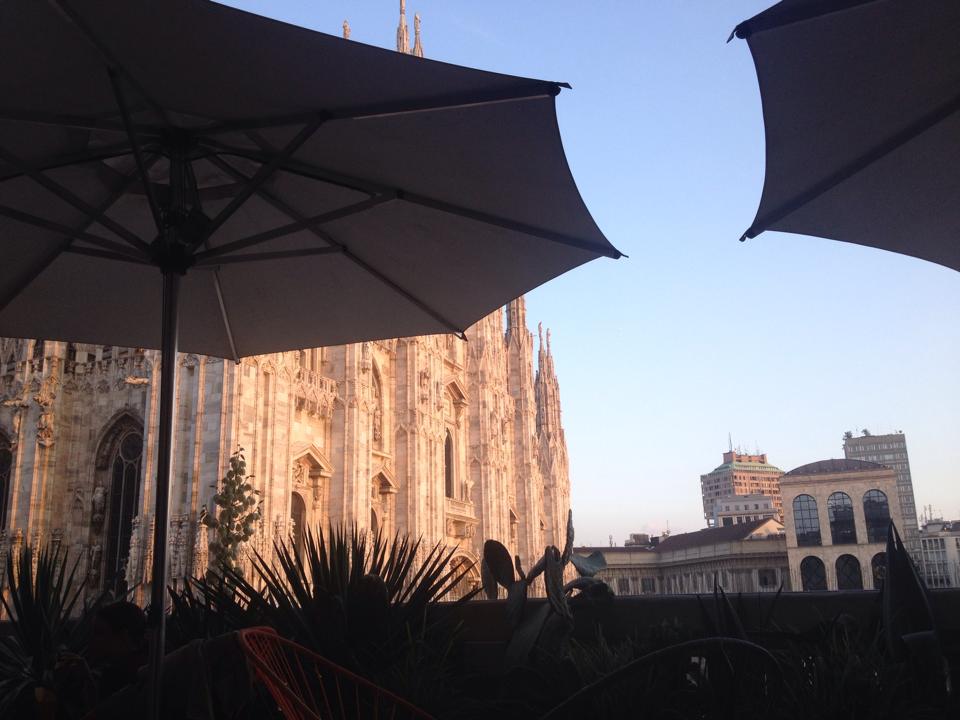 Come early to snag a seat on their outdoor terrace overlooking the Duomo, Milan's central cathedral. Aperol is one of the main spritz ingredients, and there cocktail list has an interesting variety of Aperol cocktails to choose from (as well as other drinks). Small bites will arrive with your drinks, and are great nibbles as you sip your drink and enjoy the view.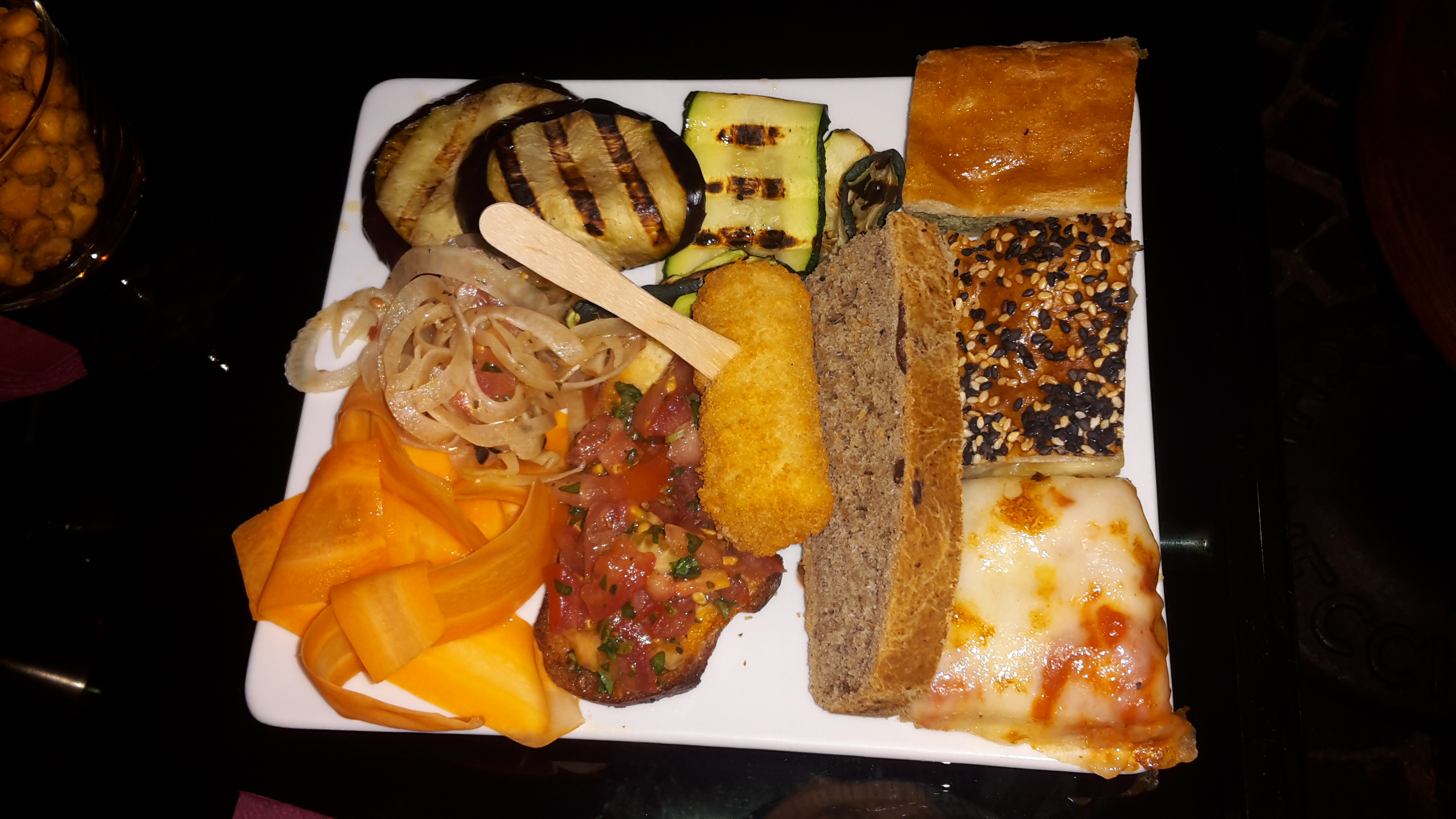 Off the yellow line of the metro and several tram spots, there is a cocktail bar and sister restaurant next door, and the cocktails are exceptional. There are tons of options, all well-balanced and with some interesting flavor combinations. There is a fairly sizeable plate of snacks that will arrive with your drinks, which can even be made vegetarian – just ask your server.
Located in the Navigli canal zone, this is often a first stop for me on a night of aperitivo bar hopping because the cocktails are excellent and if the outdoor seating is full, it is equally fun in the quirky inside seating. And when your drink is served, in addition to a small plate of charcuterie and cheese, there is usually some kind of cute accompaniment. My most recent cocktail there came with its own custom postcard, which includes the recipe for the drink.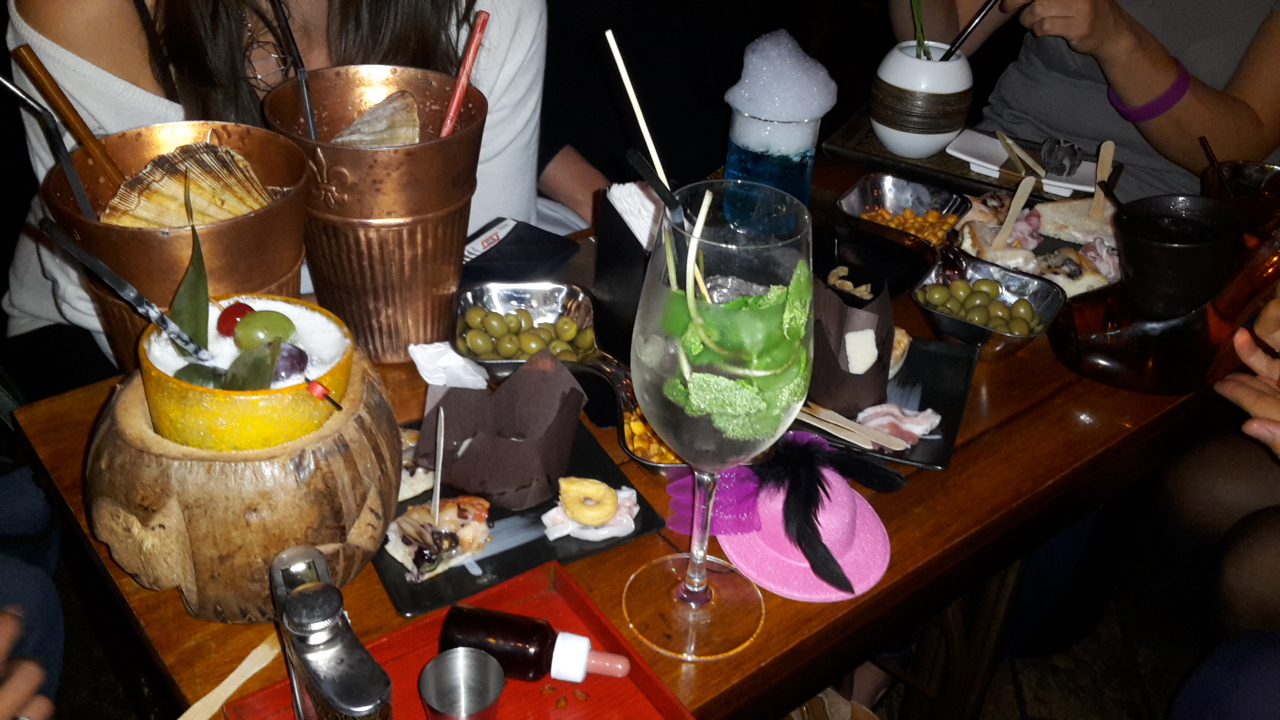 The only Milan spot to be voted as one of the World's 50 Best Bars, the cocktails here are works of art and whimsy. It's quite tiny, so either reserve or be waiting outside the door when the bar opens. And plan to spend a bit of time here, as it may take you the first half hour just to leaf through the book that serves as the menu and make your choice. The drinks are not only delicious, but fun – the one meant to be like a science experiment is bright blue and arrives in a beaker with what looks like soap suds up top. Another in a high heel. So yeah, it's that kind of place, with small plates of nibbles to accompany your cocktails creations.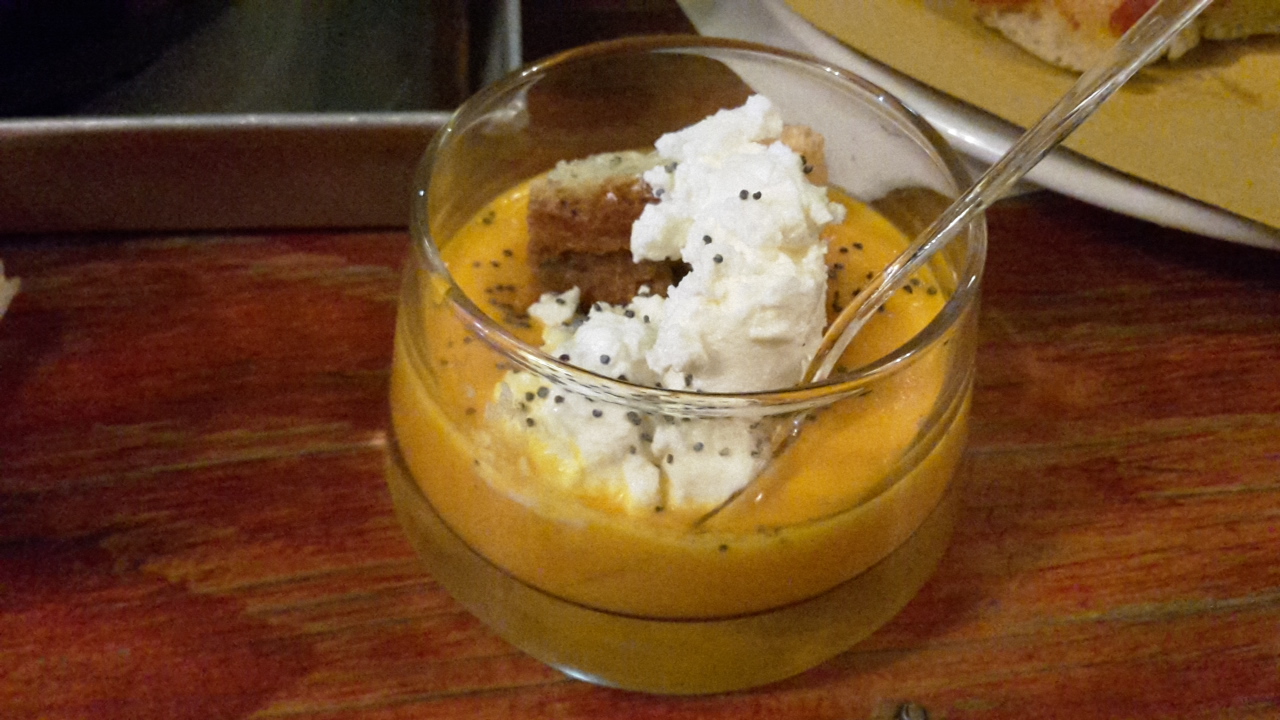 This spot is a bit further up the Naviglio Grande in the canal zone from the main entry point, so it takes a bit longer to fill up and get busy, so it's a great spot to seek out later in the evening. The cocktail list is interesting and vast, but presented in a manageable little booklet to help you decide based on what flavors you'd like. There are quite a few small snacks that come with the drinks, but there is also a full kitchen so if you stick around long enough you can also order a proper dinner dish, which is also tasty.
This is another spot in the Navigli zone, with small snacks so the focus is on the cocktails. There is a shorter set list of cocktails here, which makes deciding a bit easier than some of the other spots on this list. And since it is on a side street and not along the canal itself, it tends to be more relaxed while still lively. Even arriving later in the evening, I've never had to wait long for a seat.
Drinks and Full Food Buffet
hclub>diana at Sheraton Diana Majestic Hotel
Of this list of top aperitivo spots that include a full buffet, I like the cocktails here best, and you'll pay a premium for them. Which I don't mind, because there is a food buffet that rotates throughout the night and is also quite good. This is an especially coveted aperitivo spot when the weather is warm, as there is a vast outdoor garden with a lot of seating. It's also a spot to dress on the nice side, officially "smart casual."
This is the only spot in this post that is along the Corso Sempione stretch I mentioned above, as I find it to be a cut above the other nearby spots I've frequented. Outdoor seating goes quickly, so come early or reserve, and enjoy the variety of their high-quality food buffet. And if you'd like to hop around I'd start here first, but there are many other places to check out nearby as well.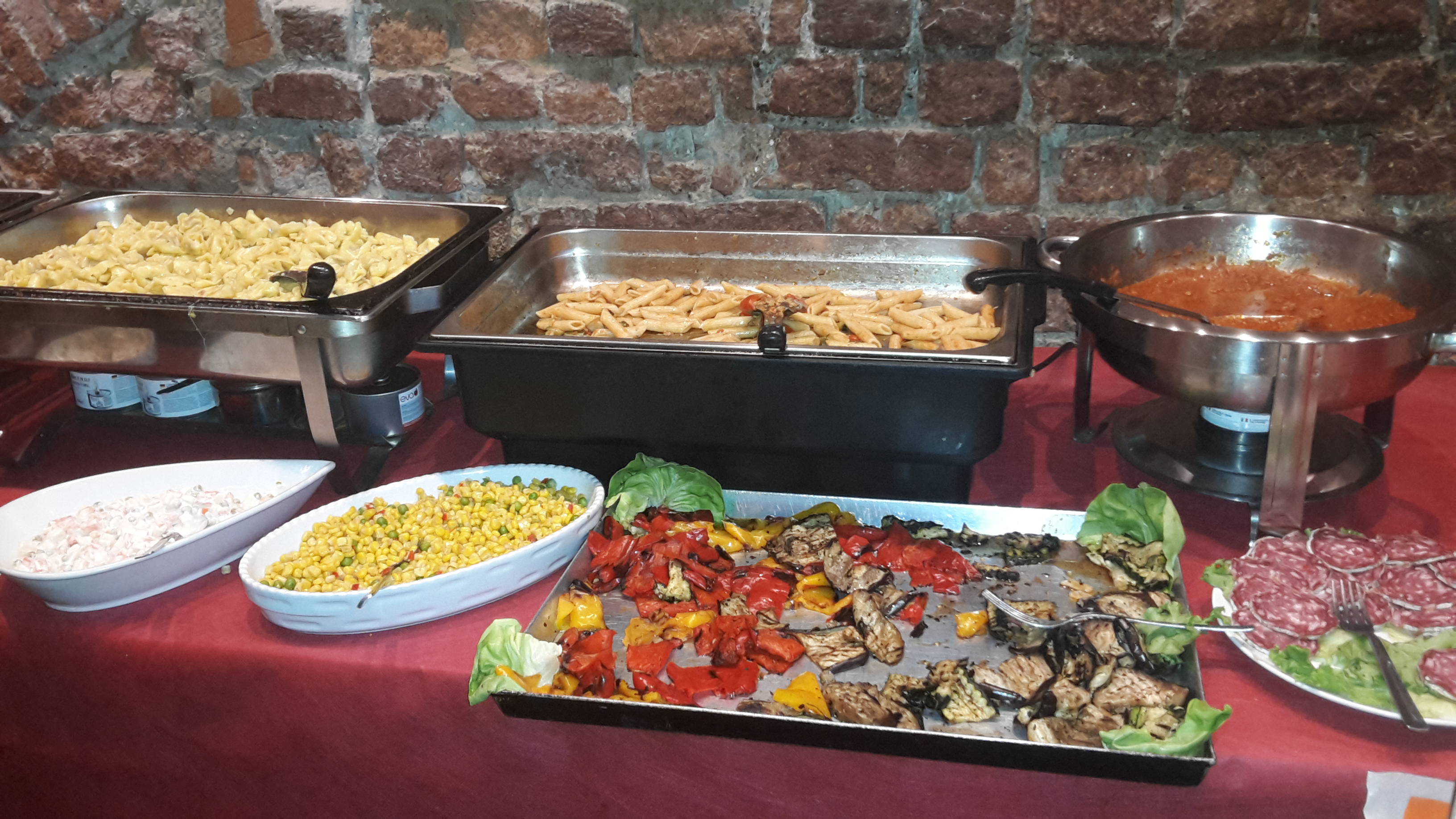 I've grouped these two Navigli locations together because they are sister bars that share a kitchen, and are only a few doors apart from one another. You'll get to enjoy piping hot pizza by the slice and dessert options, things that are not part of your typical aperitivo buffet. I've probably been to these the most of any spots on the list, because if you're going to hit up one spot for aperitivo, you'll get fed well here and get to experience the nightlife of the canal area. And the names come from the cocktails I believe, not the locations, so you'll see many different variations of a Long Island Iced Tea on the cocktail menu.
This spot has a similar buffet to Long Island & Manhattan, and is also located in the Navigli area. Its cocktails are notable for the many variations they offer of the spritz, one of the typical aperitivo drinks. If you're planning to reserve a spot, they usually organize into two seatings: one around 6pm and the second around 8:30pm. There is quite a lot of indoor seating as well, so it's also a place you can probably just show up as long as it's not too late in the evening.
Was your favorite aperitivo spot left off the list? Or which of the places above is your go-to for aperitivo? Let me know in the Comments below…