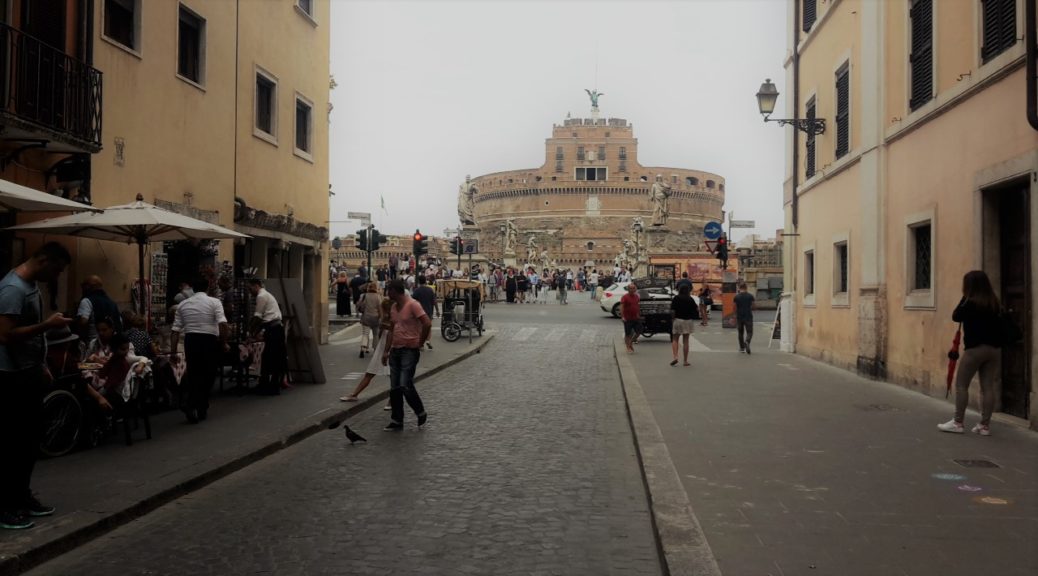 An Encounter in Rome: Tales from the Road
An Encounter in Rome: Tales from the Road
"OK, I'll go around the block, and if I don't find somewhere else, I'll come back here."
This might sound like part of a conversation, but this was just me negotiating with myself, with the convincing voice in my head making a mental deal to only look just a little bit further to find a place to eat lunch.
On this brisk day last fall, I was walking around by the Pantheon in Rome, Italy. It's a pretty popular part of town with visitors, but I didn't want to end up in a tourist trap restaurant with mediocre fare. I had done research and marked some spots nearby as possibilities, but as I strolled and perused their menus along the way, nothing really inspired me.
It's the quintessential tourist experience. You're hot, you've been walking around all morning so your feet are getting tired, and your stomach is now grumbling so you're just hunting for anywhere to sit down for a bit to rest your legs and have your lunch.
This is the point where most people stop at the first place they see and take their chances. And there's nothing wrong with that.
But if you've read other blog posts that I've written and gleaned something about my travel style, you know that grabbing a seat at the first available restaurant is not my typical approach. I'll go somewhere random in a pinch, but especially when I have limited time in a city known for its cuisine, I try to be a bit more discerning with my choices.
And if I'm traveling solo like I was on this trip, I get to decide all on my own how much time and distance I'm willing to trek for a good meal.
READ MORE: Top Reasons to Savor Solo Travel
Finally I passed one place that wasn't super exciting, but was certainly good enough and I was getting quite hungry by this point. And this is when I made the deal with myself – that I'd go around one more block to look for alternatives, and then would make a decision and end up *somewhere* for my meal.
Fortunately, as I rounded the corner, there were two more spots across from one another on a cobblestone pedestrian street, and the first one I stopped at had an interesting enough menu to pique my interest. Plus, I was quite hungry, and there was a table available outside so that settled it and I got comfortable.
Normally I would have asked the server for advice on what to order. Especially in Italy, servers will typically steer you to a favorite dish or what is freshest that day, so even if it's not what you would have picked, it's often your best bet for a wonderful meal.
I probably should have done that here as well, but after all my trekking I just picked a few things and didn't have much in the way of expectations for what would arrive in front of me. Luckily for me, lunch was good and I was pleasantly surprised with how beautifully the dishes were presented: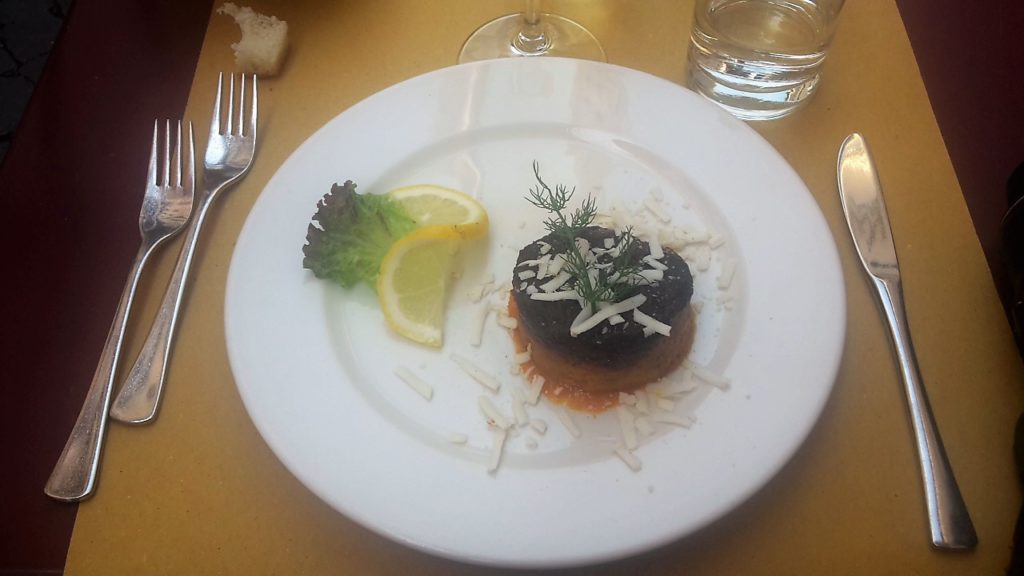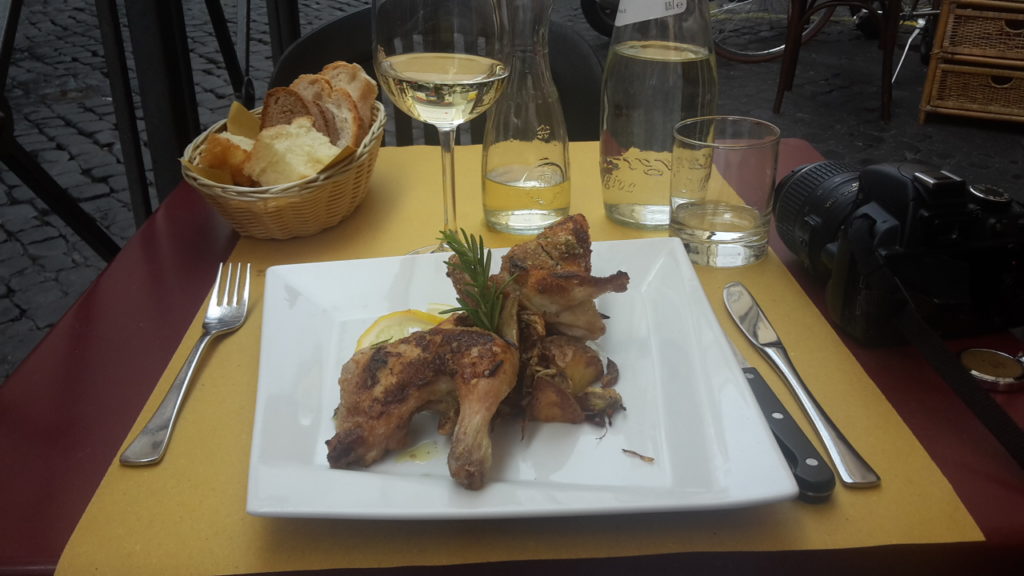 Once I finished, the server was bustling at the bar inside so instead of waiting for someone to appear to ask for the check (this can take ages it Italy as it's considered rude to bring a check when someone's enjoying a meal), I went inside to pay. Since I was planning to pay with my Italian bancomat (debit) card, it was likely I'd have to go inside anyway to use the machine anyway.
It was when I politely requested the check that my whole impression of the meal and restaurant began to shift. In an interaction I had played out many times at restaurants all over Italy, as I'm standing at the coffee bar inside, I was offered dessert and politely declined.
"Oh, but we have these special biscottini made in house that you absolutely must try."
An offer that is always hard to refuse, so I accepted.
At my first bite into the surprisingly moist yet still crumbly and flavorful cookie, my casual demeanor changes to one of intense concentration. I chew slowly, trying to figure out what exactly is making my taste buds dance with delight. I'm not sure what it is, but the biscottini are truly outstanding and different from anything I've ever tried (and that's saying something, trust me!)
As I start up a nonchalant conversation to try and find out what exactly is it that I'm both savoring and devouring, the waiter insists that I must have some moscato dessert wine, because it is the absolute perfect pairing with the cookie (which of course turns out to be the case, and I'm given quite the healthy pour as you can see):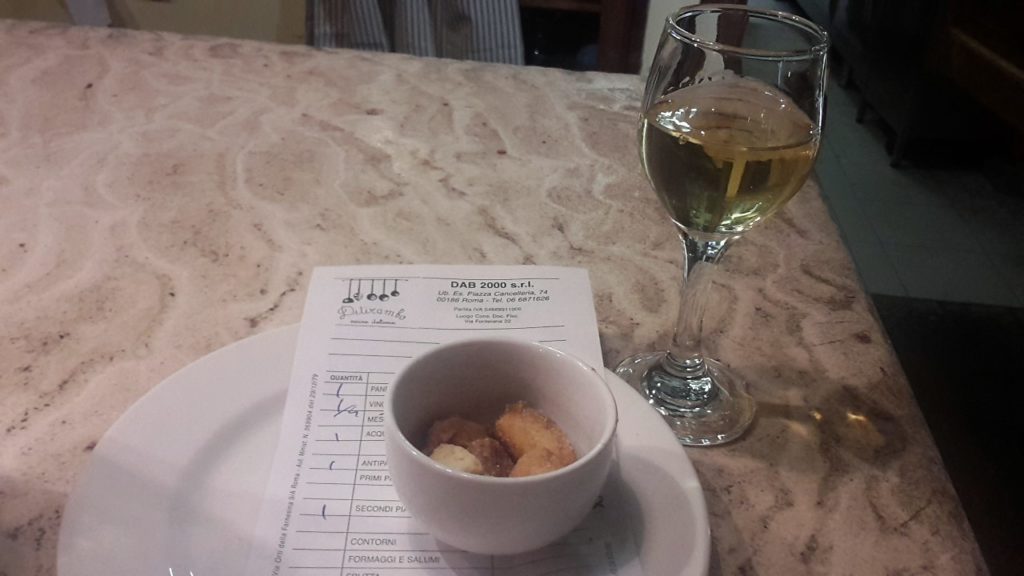 I begin sipping away, savoring all of the flavors together, and then I get the real gem: the recipe! Easy to memorize, but hard to follow. No numbers, no details, just the typical Italian approach of a few high-quality ingredients, combined in precisely the right proportion, to fabulous result:
White wine
Oil
Flour
Hazelnut
Yup, that's it. Sounds simple enough, but I don't know how I would even begin to approach combine those 4 things in the right way and cooking it 'just so' to get the result I enjoyed that afternoon.
And keep in mind that this was on all Italian generosity, as I had long paid my bill. I was just having a connection and an experience over food. The Italian way.
*****************************
I'm now back in US after 3 years living in Milan, Italy. I keep trying to explain what it was like living there – the coffee, the food, the wine, the atmosphere on the streets, the people, the hospitality.
My words often fail me. Even though I've now had 6+ months of practice fielding those questions, the right response that conveys the spirit of what I'm missing continues to elude me.
It is really hard to explain what living in Italy is like without living there yourself. Strolling the cobblestone streets day after day and engaging in all of those little interactions – at the coffee bar, boarding the tram, in line at the post office – that comprise a day in the life of an Italian (or anyone else who is lucky enough to live there).
For whatever reason, I've had a lot of reminders of Italy this week and it is making me miss it terribly, although I'm not sure that "homesick" is the right term for what I have.
Which is why I'm thinking and writing of this wonderful encounter in Rome that was so typically Italian in so many ways – the service I received, the openness of my server to strike up a conversation, & the insistence of trying the house specialty because someone put their heart and soul into its creation. Making the server happy to watch me savoring the biscottini he had raved about. Reflecting the well-known Italian "fact" that if you're eating, you must also drink for proper enjoyment of both.
And leaving with a full heart and a recipe in my pocket.
*****************************
Have you experienced a similar memorable travel encounter? Share your inspiration in the 'Comments' below. In these days of longing and wanderlust, I need all the help I can get!
Enjoyed this post? 'Pin it' to share on Pinterest & save for later!