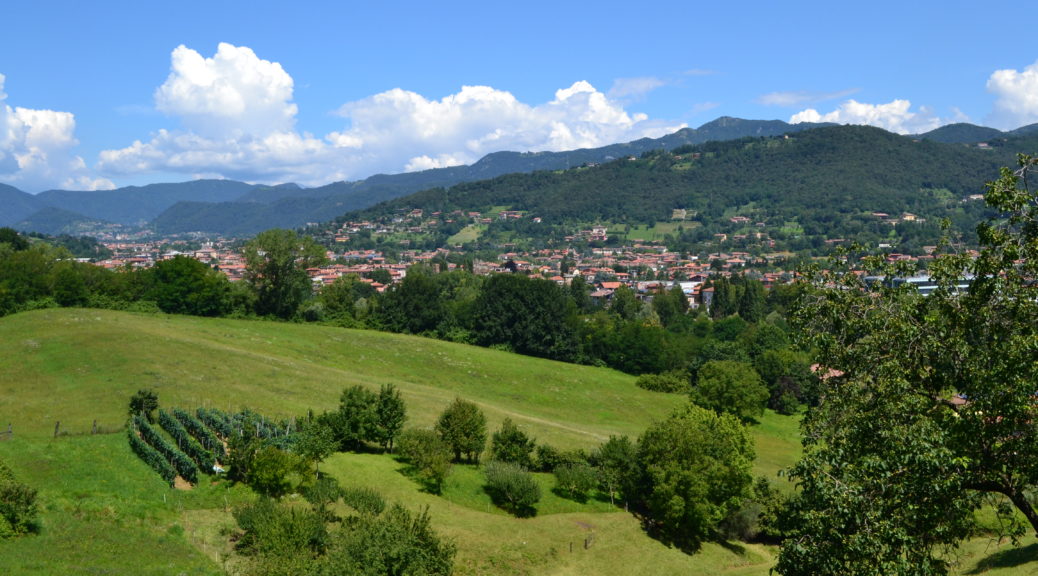 How to Spend One Day in Bergamo, Italy
Imagine a raised plateau, like one of the mesas of the American southwest or Uluru (formerly Ayer's Rock) in central Australia. Usually you'll encounter a formation like this out in nature. But in northern Italy's town of Bergamo, there is a large plateau with a UNESCO World Heritage old town perched at the top, surrounded by modern Bergamo, Italy.
It is this division that makes Bergamo unique, split into the historical, raised Città Alta with its meandering pedestrian cobblestone walkways and the lower Città Bassa with a bustling, modern city.
Bergamo is so close to Milan that it houses one of the three airports of the metropolitan area, and is easily reached by car or train in around an hour (more details in the 'Getting There' section below). The upper city has incredible charm and a quite lengthy history, with all of its attractions close to one another in easy walking distance, making it an ideal destination for a day trip.
Here's how to make the most of a one-day visit:
Around Town
Don't be overwhelmed by the number of items listed below as sights to see. Bergamo is a town made for wandering, and the Città Alta is so compact that you can easily stroll between everywhere I've listed at a pretty leisurely pace.
Piazza Vecchia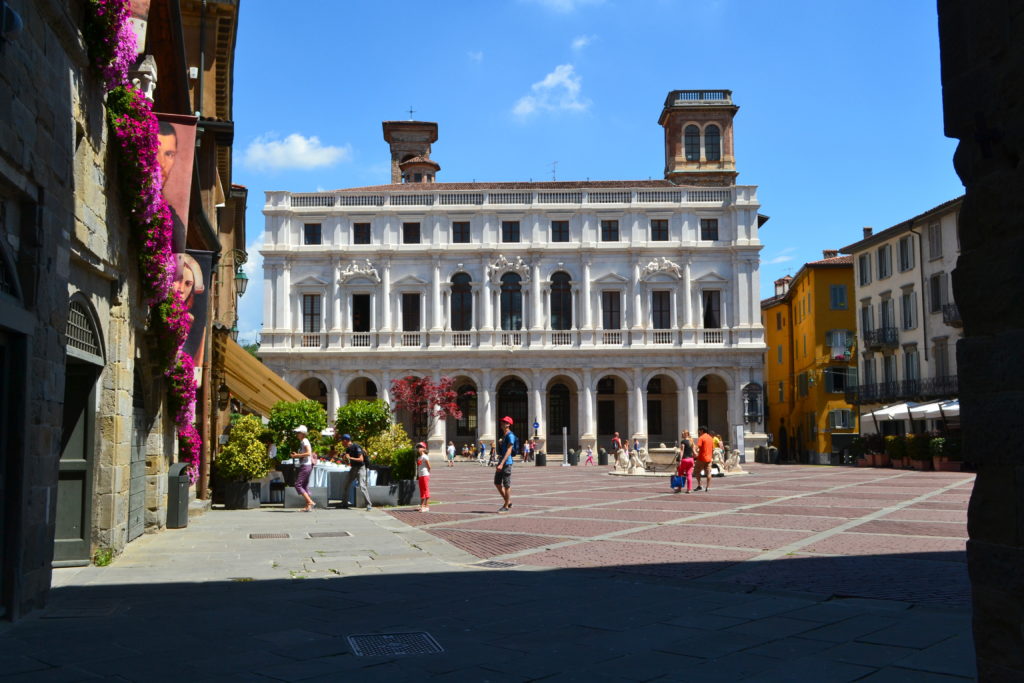 The Piazza Vecchia, or old square, is the central space in Bergamo's Città Alta, with many of Bergamo's sights either on the square or nearby. It is a gathering place that is especially lively on weekends, with many visitors and street performers clustered all around.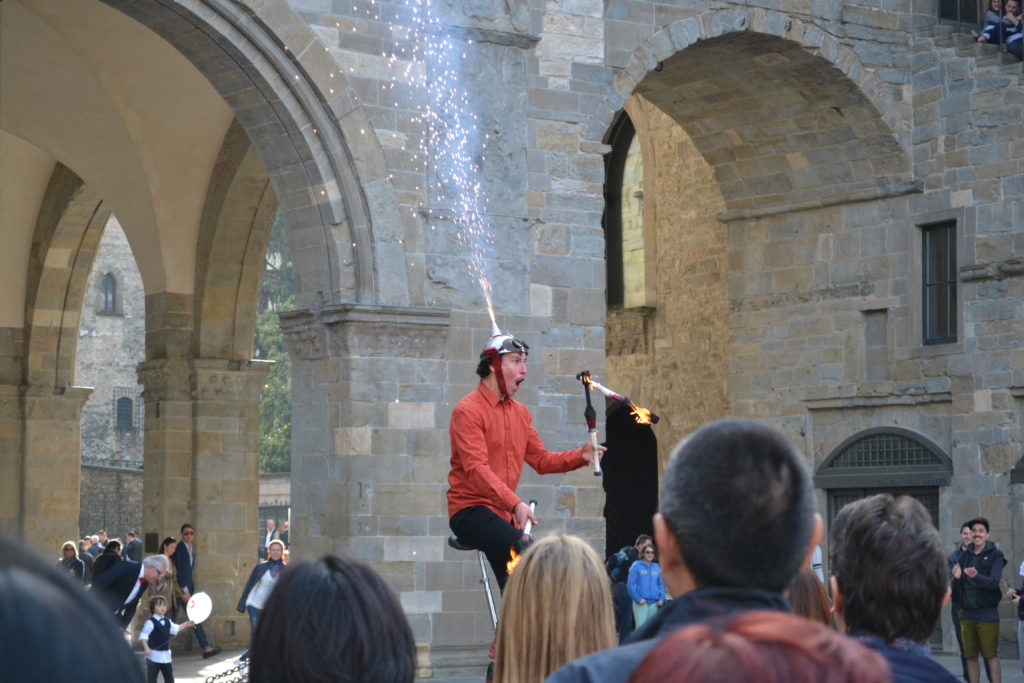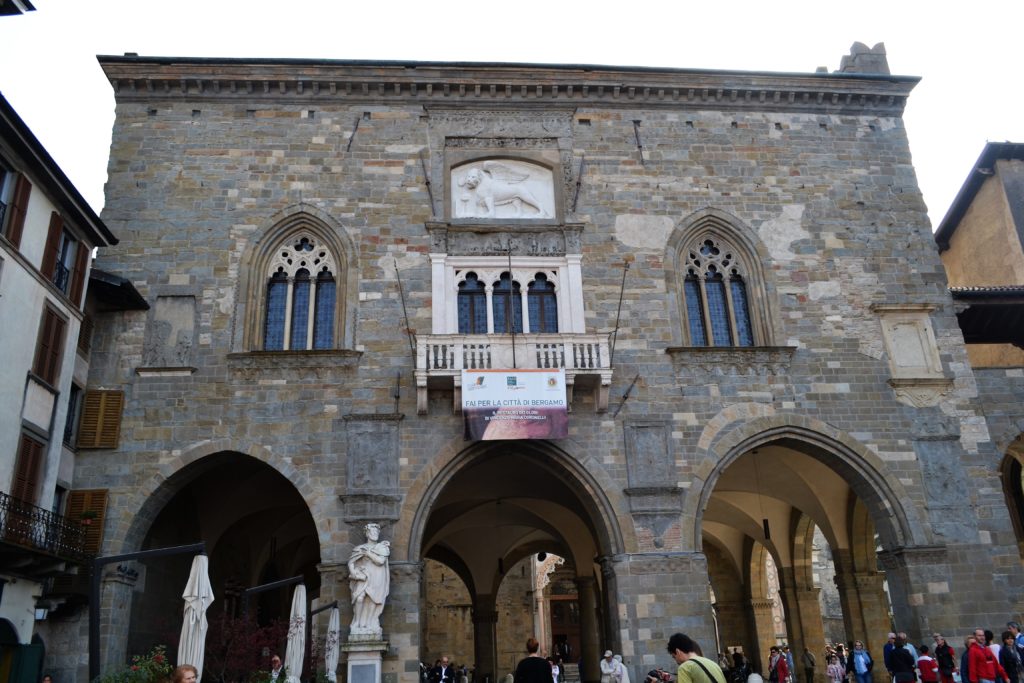 Right on the Piazza, this regional palace served many functions over many centuries, and has exhibitions that rotate seasonally. My favorite spot is underneath the open archways at street level, where there is a centuries-old sundial, that still marks the passing seasons. At noon daily, the sun will still meet the mark on the ground corresponding to the month and day.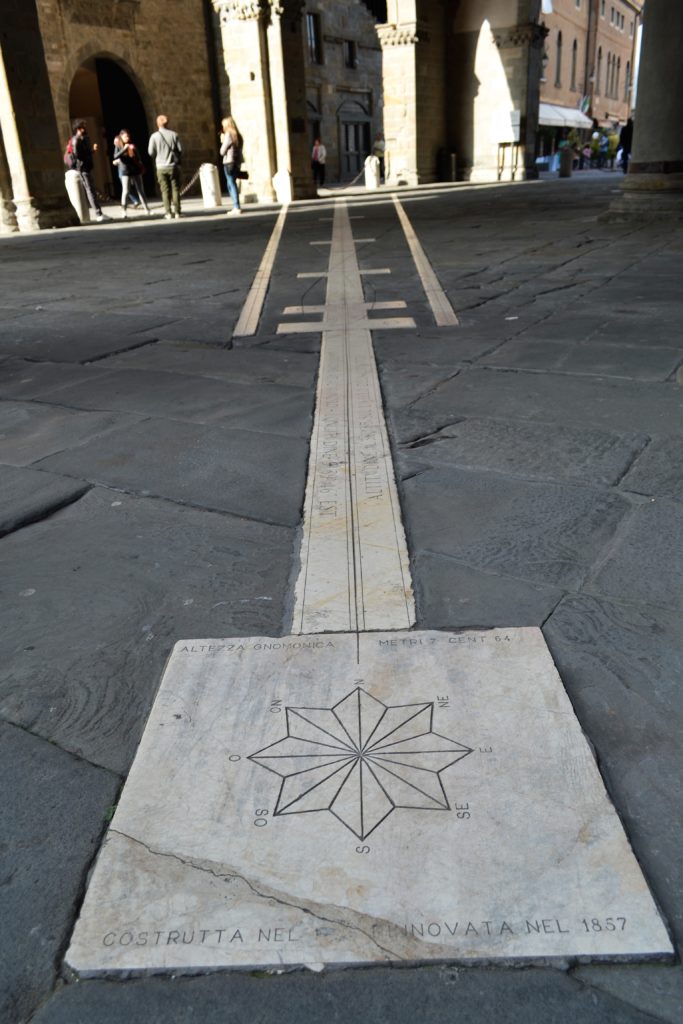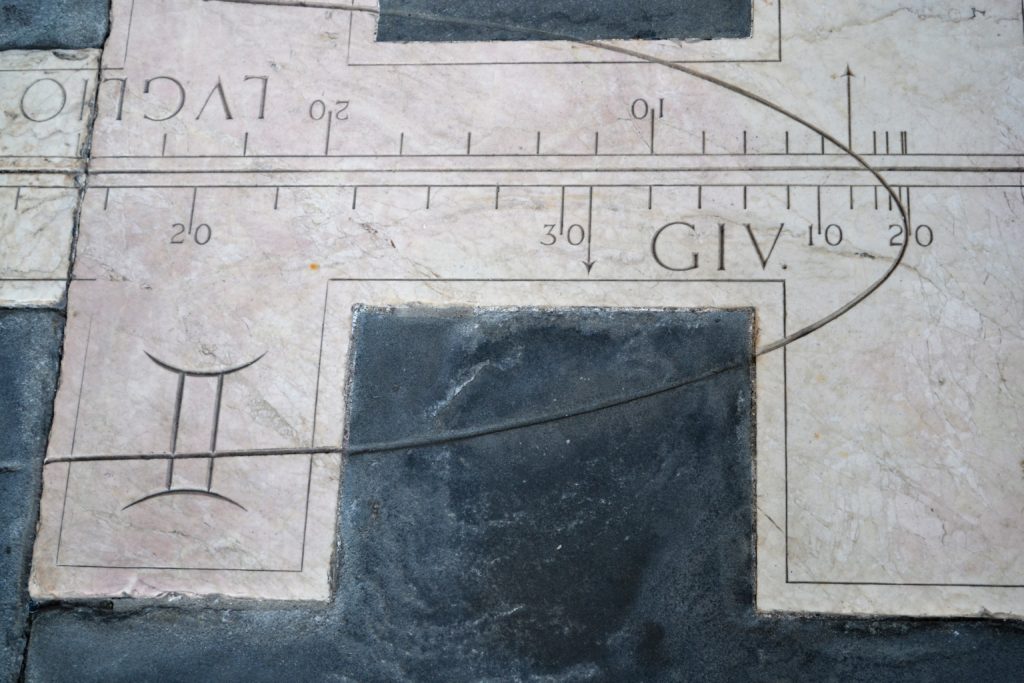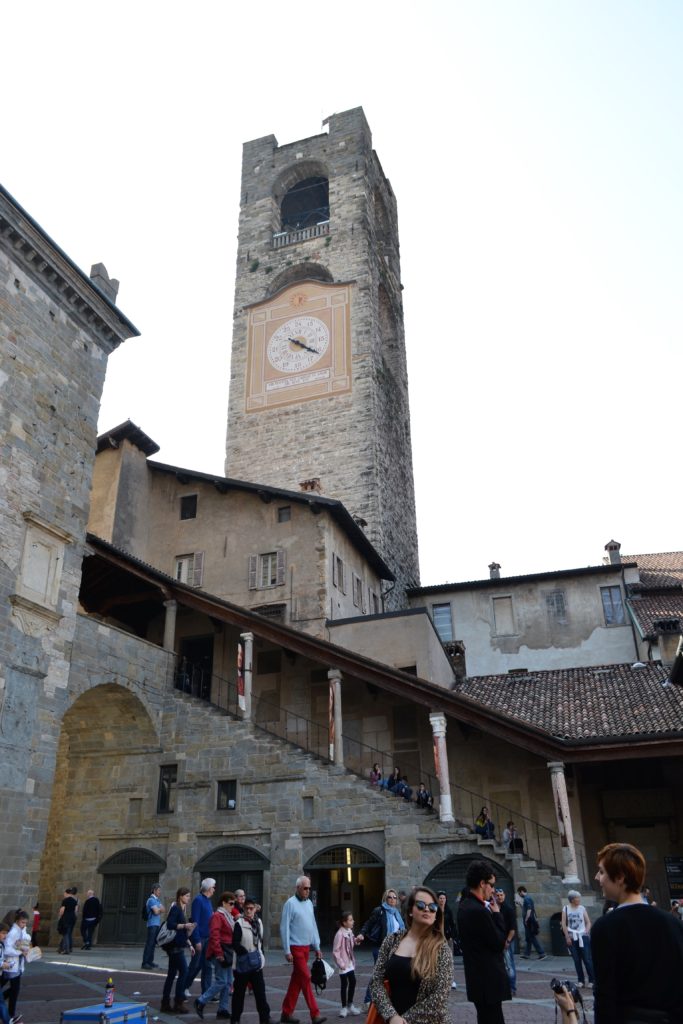 If you've been reading the blog for a bit, by now you've probably picked up on the fact that I both like to climb things and also enjoy an expansive view in a new place. Ascending this Civic Tower (by elevator or on foot) gives you the highest perspective you'll get on the already high up Città Alta, getting a sense for the overall layout of the small area and providing some pretty fabulous glimpses of the surrounding countryside.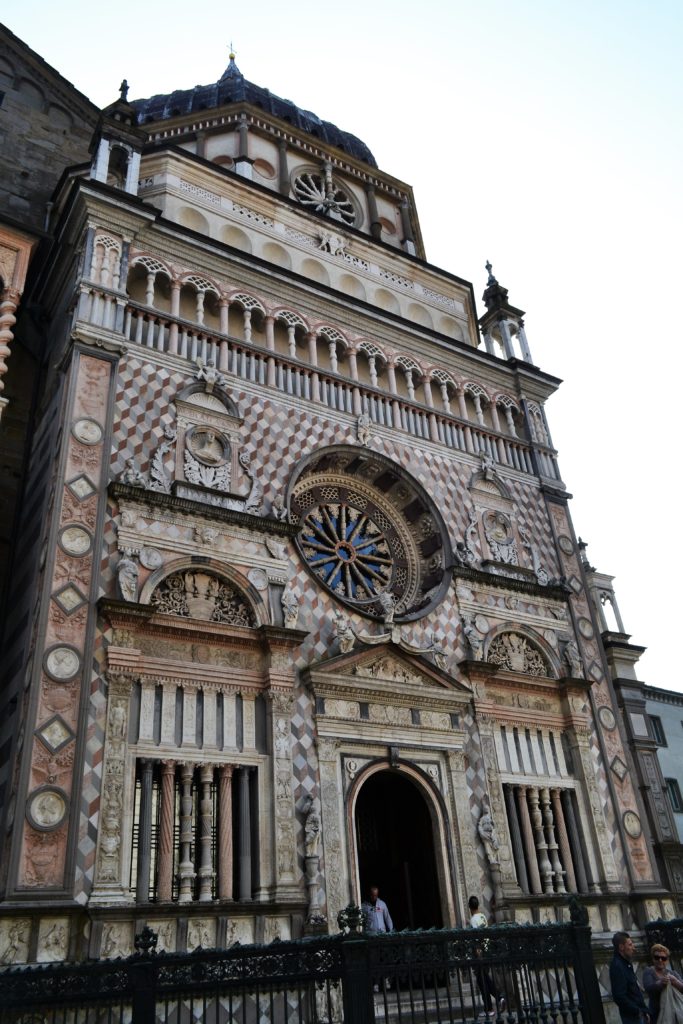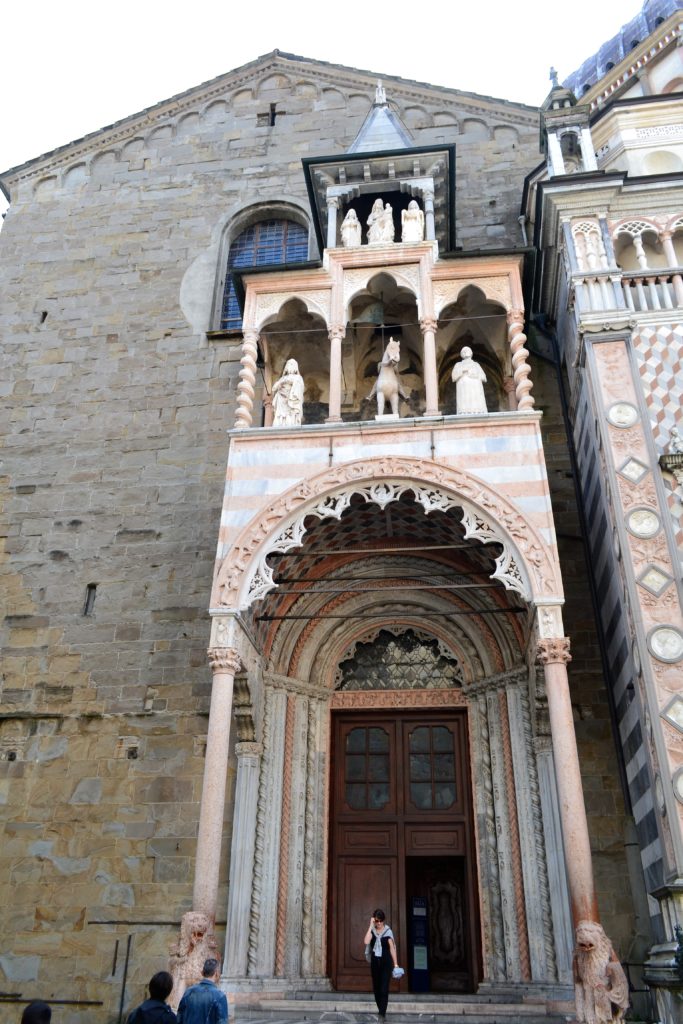 Just a quick glance at the outside of this stunning Basilica gives an inkling of the treasures that must be contained within its walls. Leave some time to go inside and explore, as you can easily get lost in the many works of art.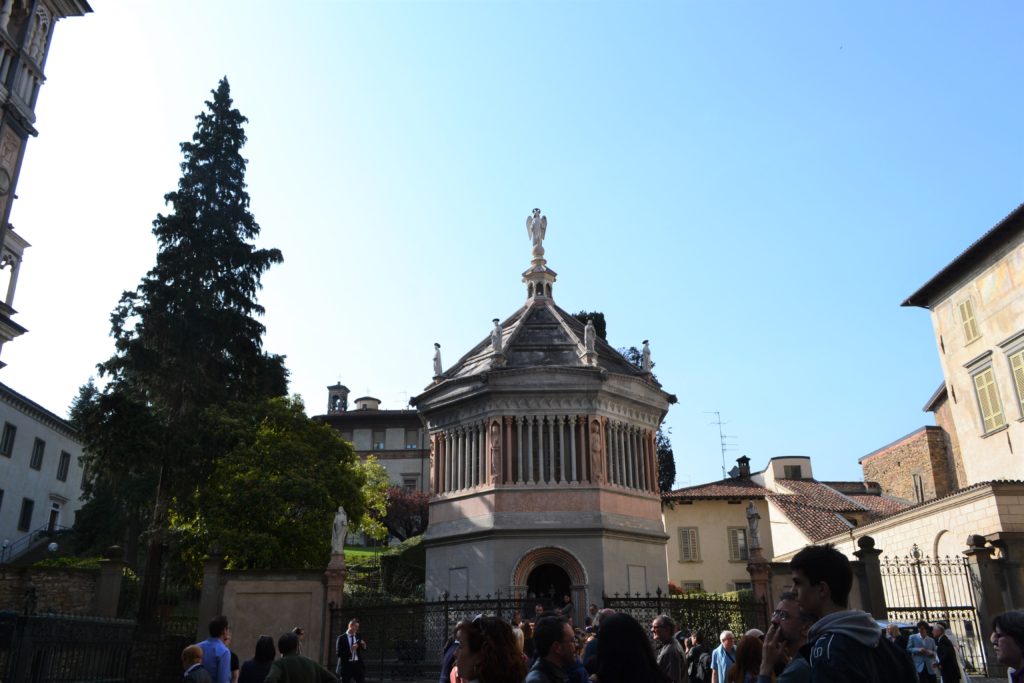 There is also the nearby ornate Baptistery, or Battistero, where babies would be baptized before being allowed into the main church. Originally built inside the Basilica, it has now been relocated and is officially part of the Cathedral.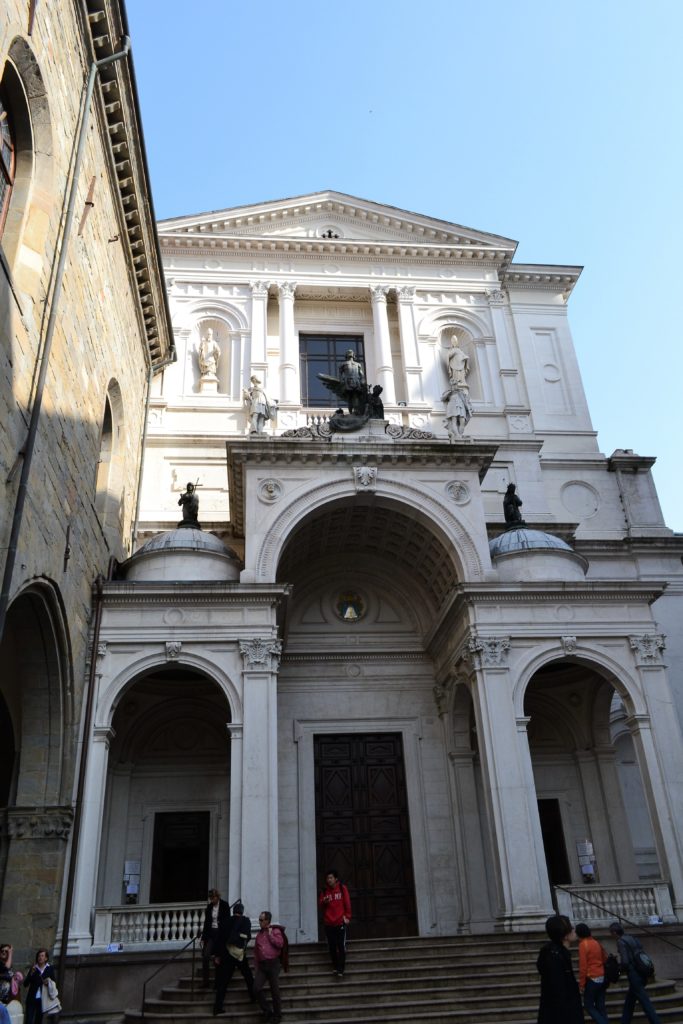 Pretty much every town in Italy has a main cathedral, and Bergamo is no exception. While beautiful, most visitors find it overshadowed by the Basilica, and will spend more of their time there.
Off the Beaten Path
There is plenty of wandering to be done on foot around the Città Alta, which I recommend leaving time to do. As you stroll, here are two spots of particular interest:
Convent of San Francisco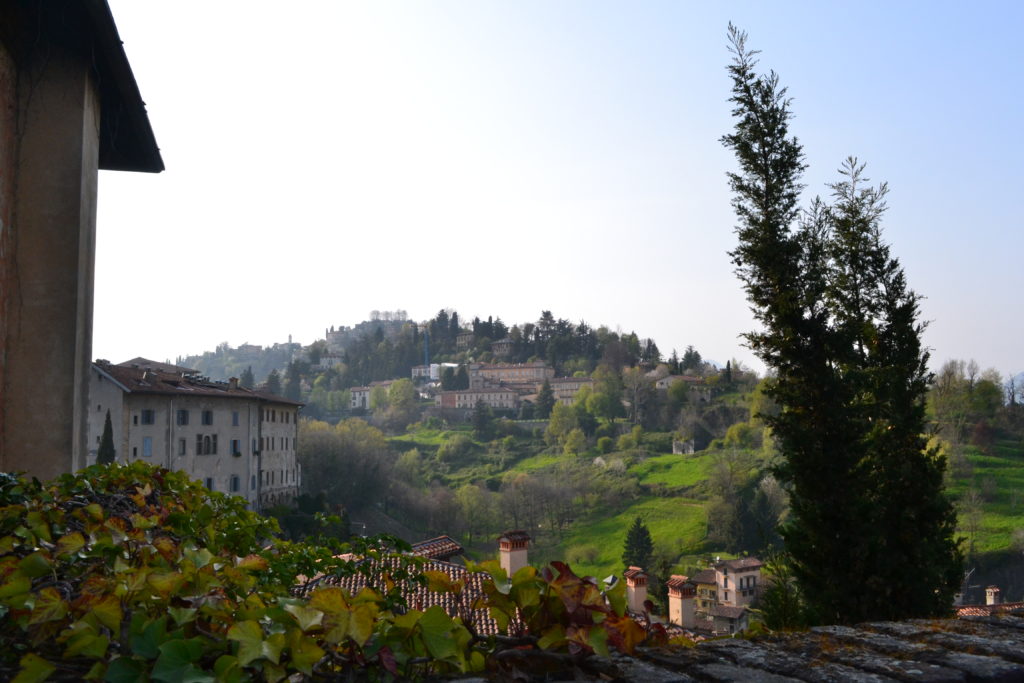 This ex-convent is a quiet spot away from most tourists with a lovely inner courtyard and a great view over the surrounding Città Bassa down below. The complex also houses the History Museum of Bergamo, which I didn't visit, although I loved strolling along the grounds despite my expression in the shot below.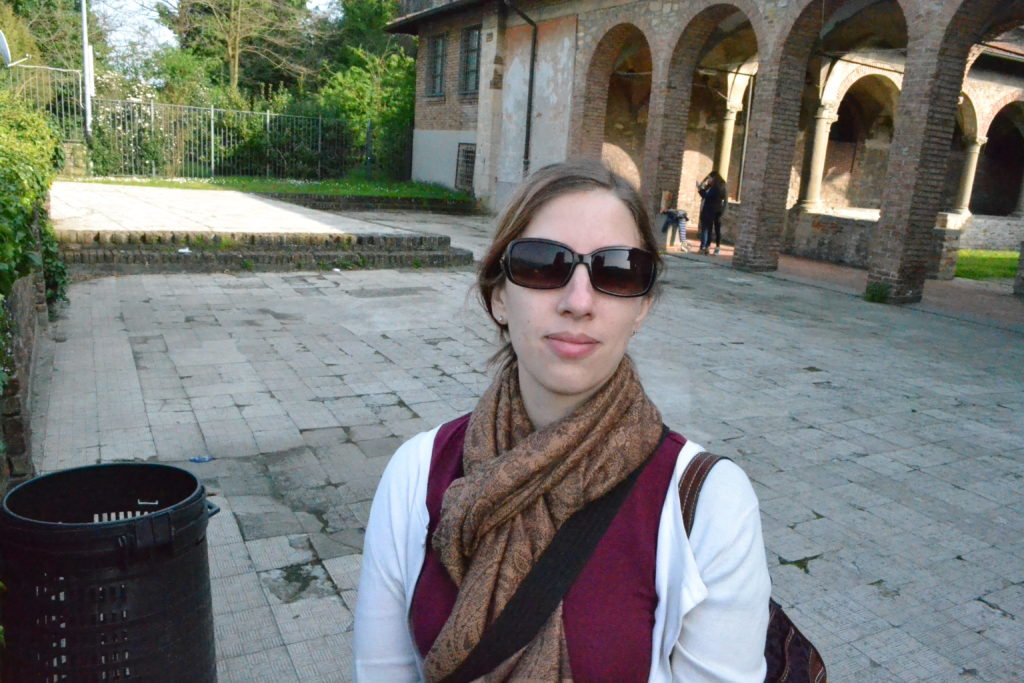 Venetian Walls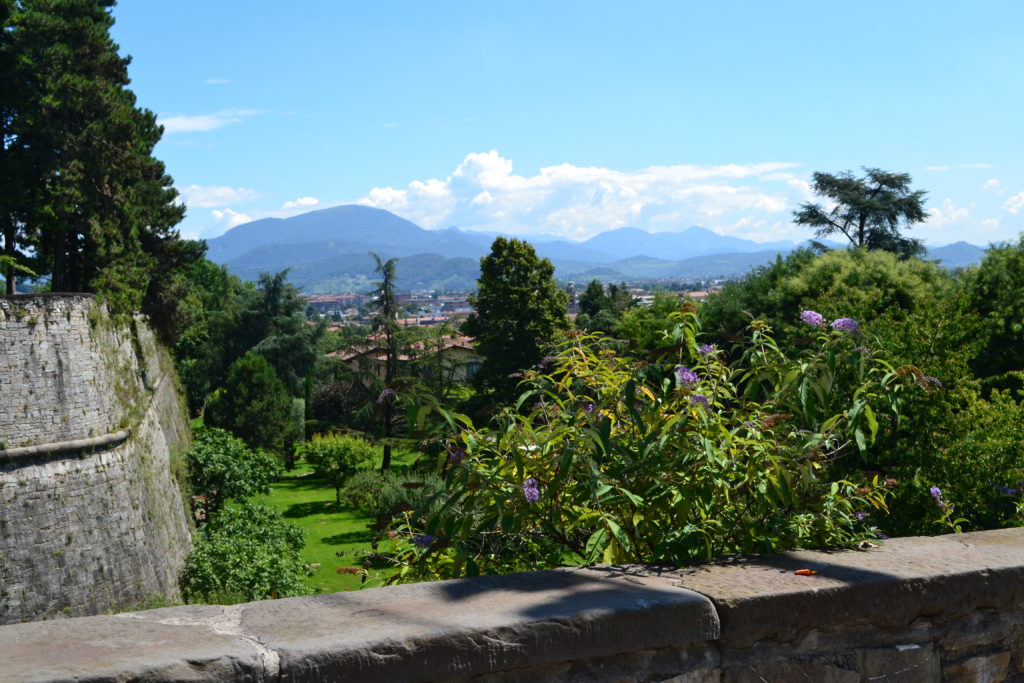 What good is having a city on an elevated plateau without some defenses? For over three centuries Bergamo was part of Venice's extended empire, hence the aptly named Venetian walls. Yes, the walls are old, but really I love exploring any old city walls – not just for the history they represent, but also for the great views!
Best Bites
Citt
à

Alta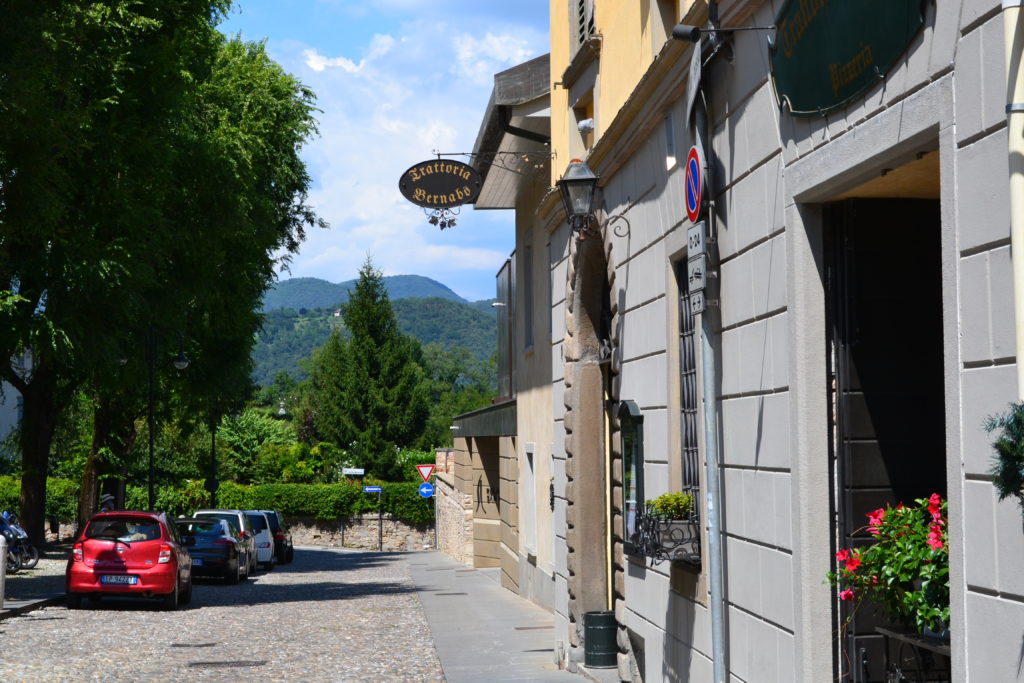 Although there are several higher-end restaurants scattered across Bergamo's Città Alta, I'm all about down home cooking of the region when it comes to Italian food. This restaurant not only has wood seating and décor that speak to the city's history, but delivers basic, humble, and delicious local cuisine to satisfy your hunger and nourish your soul. It's an especially great spot for lunch, with daily set menus and specials.
Gelateria Pasticceria Dei Mille
Although this spot is located right on the Piazza Vecchia, the main square, it hits that perfect balance between intense, pure flavor of the ingredient and creamy texture that I look for in a gelato. Their fruit flavors are particularly delicious, with very concentrated flavor, and this ranks as one of the favorite gelato spots after three years of living in Italy (and much gelato consumption, trust me).
TIP! It's also lovely to grab a drink anywhere there is outdoor seating, there are several spots with beautiful views around the Città Alta where you can linger and enjoy.
Citt
à

Bassa

I once drove from Milan to Bergamo just for a few hours to meet someone for dinner. It seemed like a hassle to go up to the Città Alta just to eat (although that would have been very possible as well), so I found this gem in the Città Bassa, the lower, more modern part of the city.

The cuisine hails from the Valtellina region almost due north of Bergamo, although there are some general items you'd see on any Italian menu as well. The highlight was the carne al bastone, a two-foot long stick of white ash tree with beef wrapped around it, cooked, and then served on the stick! I think I was so enthralled I completely failed at any picture-taking, but trust me, it's a sight to be seen – check it out on the left plate in this photo here.
Getting There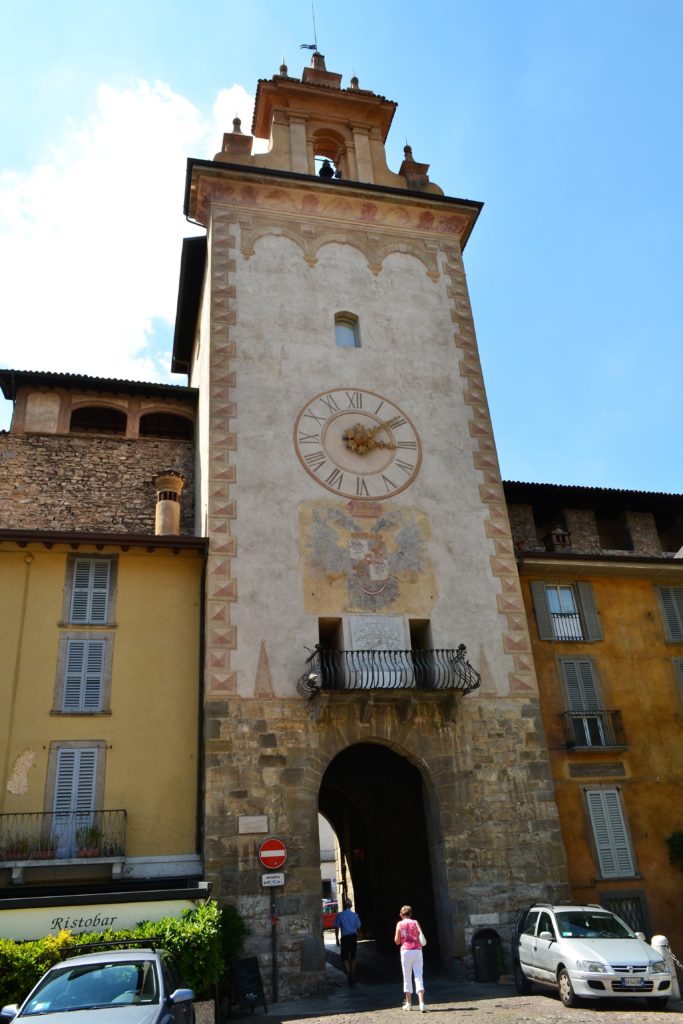 Arriving in Bergamo
Orio al Serio Airport
As I mentioned before, one of Milan's 3 major airports is located in Bergamo, and principally serves low-cost carriers like Ryanair. You can also arrive at Bergamo's airport by transfer from other Milan-area airports. From the Bergamo airport, there is a bus transfer that will take you to the center of town, and there are of course taxis as well.
Bus/Train
Other than arriving by bus from the airport (see above), the easiest way from the city of Milan to Bergamo is by train. You can check schedules and fares on the TrenItalia English website.
TIP! There are multiple train stations in Milan. Be sure to check which one you're departing from, although you can search for all options at once on the TrenItalia website by selecting "Milano (tutte le stazioni)."
Driving
Driving was my most frequent method of arriving in Bergamo, which is right off the major east-west highway in norther Italy that runs between Turin and Venice. There are ample parking lots in the center of Bergamo's Città Bassa (lower city), with several well-signed garages that you'll find by a blue sign with the letter P.
TIP! Thorough instructions on How to Get to Bergamo by all the methods listed above.
Going up to the Citt
à

Alta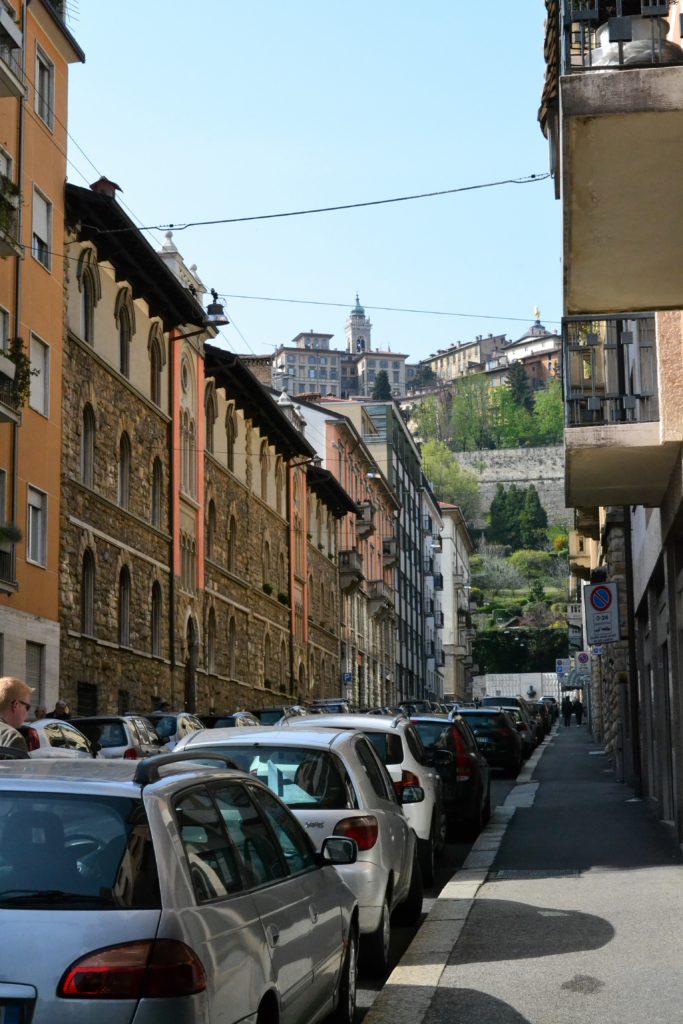 All of the ways listed above will get you to the Città Bassa, but if you want to get to the historical Città Alta, there are two main methods of arriving: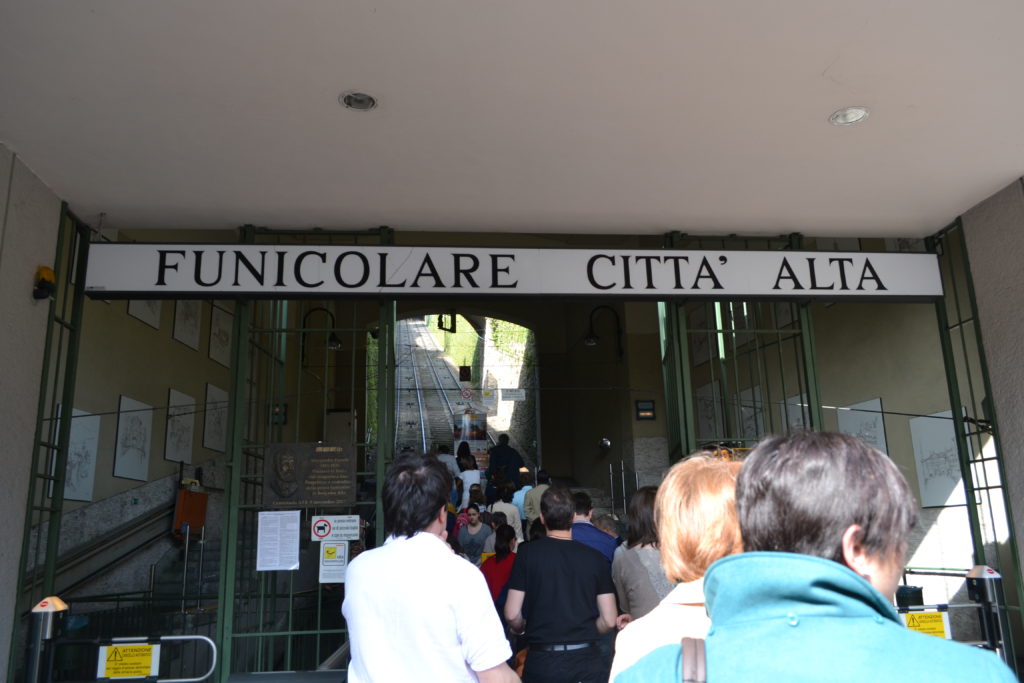 The funicular, a tram up the steep slope connecting the Città Bassa to the Città Alta, is the main way to arrive for most visitors. You can check out the timetable at the Funicular link above (it is Funicular C at the bottom of the page), but it runs so often, just go to the station and buy your ticket when you arrive.
Walking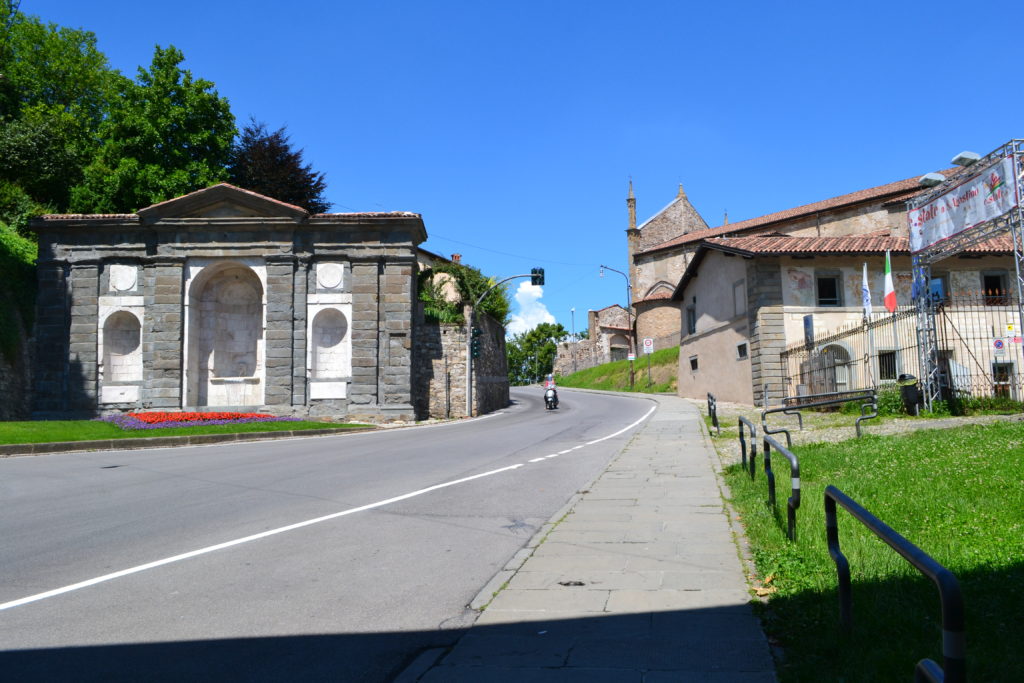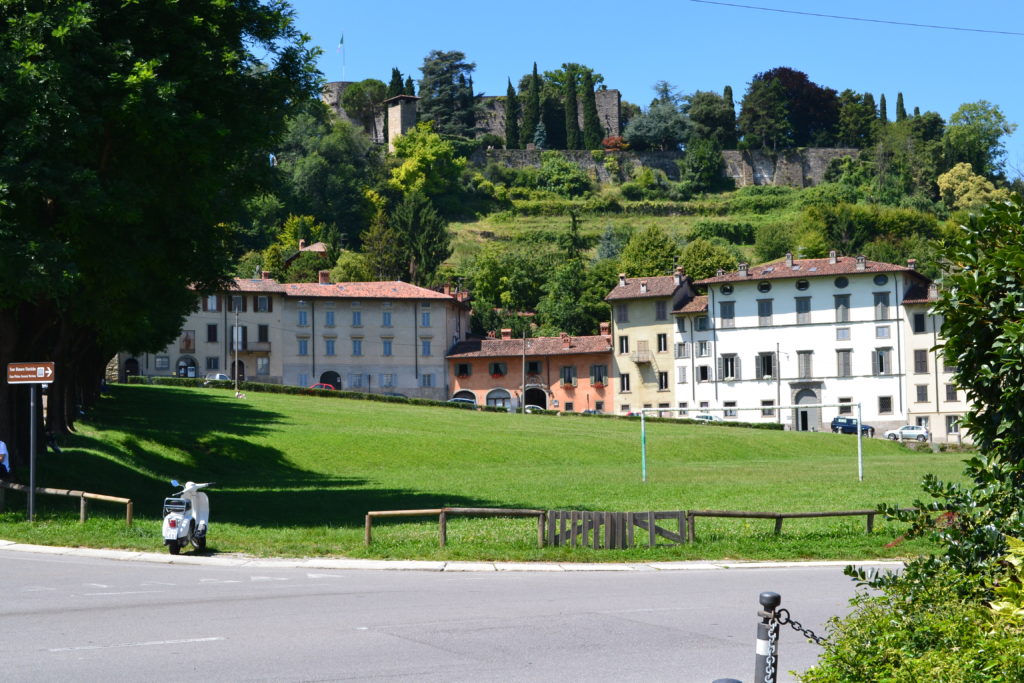 The less-frequented path along a few streets is a bit steep, but worth meandering along for the lovely views along the way. While facing the funicular station, start ascending to your right and follow the street until it ends and winds around to the left. It's a little over a kilometer to the city gate, and will probably take around 20 minutes to arrive at the Città Alta entrance: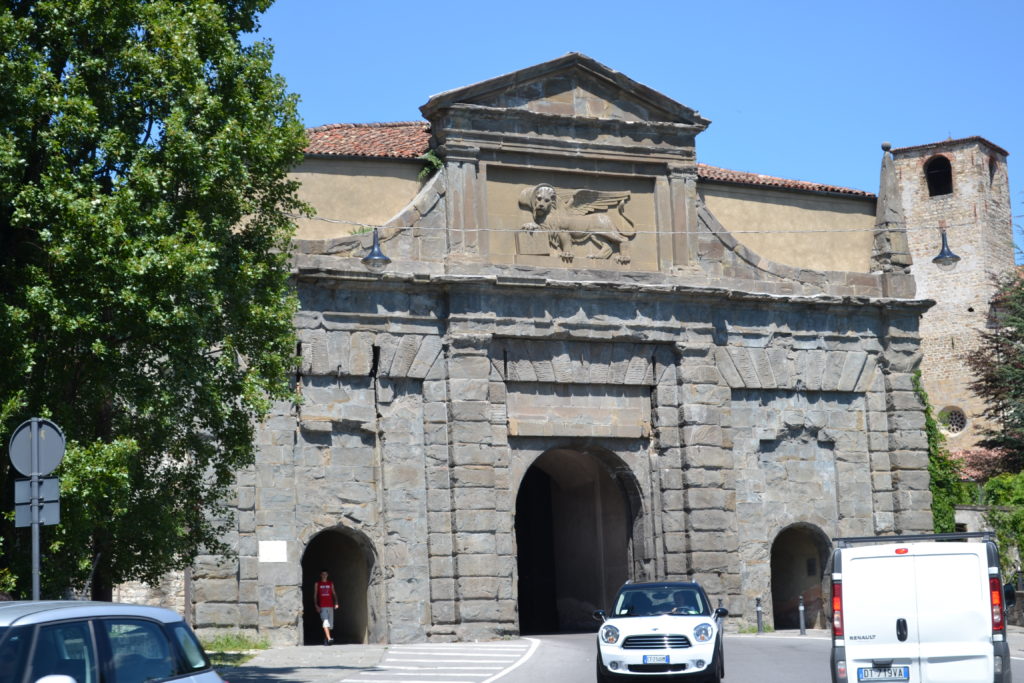 However you decide to structure (or not structure) your exploring, the town of Bergamo is an incredibly fun day trip with quite unique views as you see and stroll the two levels of the city. One I liked so much I returned to again and again during my time living in Milan!
Have you been to Bergamo? Any spots you enjoyed that didn't make my list? Any other questions about making the trip? Let me know in the 'Comments'!
Enjoyed this post? 'Pin it' to share on Pinterest & save for later!