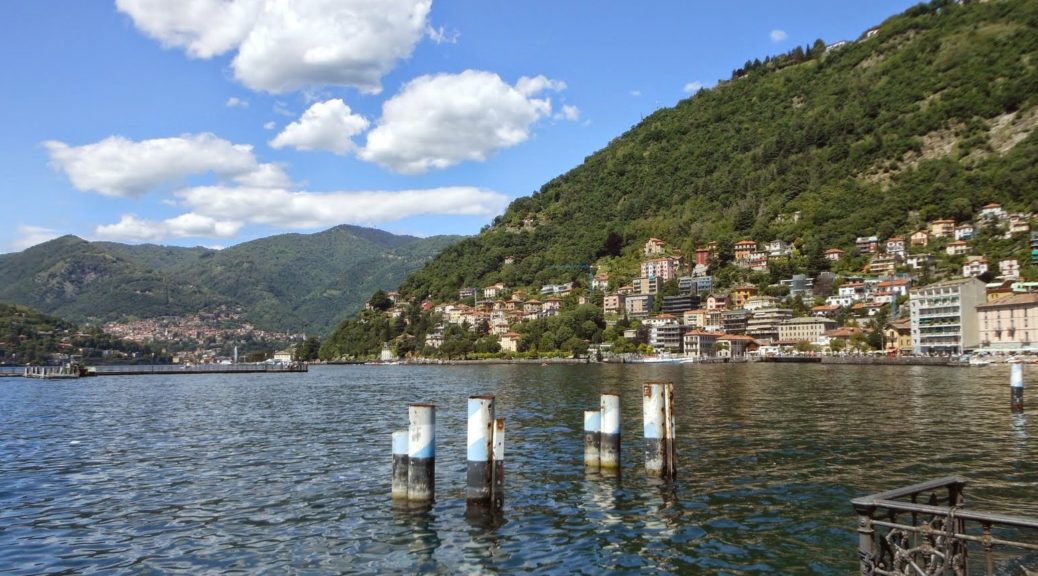 How to Spend One Day in Lake Como, Italy
When I say the word "lake," what do you imagine? A small, oval-shaped body of water where you could easily row to the other side in a boat? A modest-sized swimming hole for a quick dip as you hike in the woods?
Your imagination has probably conjured up something relatively tiny, but the lakes of northern Italy – including Lake Como – are anything but. Instead of your typical circular or oval body of water, Lake Como is like an upside-down letter Y or wishbone shape, and extends north to south nearly 30 miles/50 kilometers! This was one of the first of many things that made a deep impression on me when I visited.
Even if you can't find Lake Como on a map of Italy, you're likely to know a few things about it. Like the fact that George Clooney lives there. Or that it is a posh weekend and summer destination for residents of Milan. This means that in addition to being curious and making several trips on my own, Lake Como was also a popular destination for guests visiting me when I lived in Milan, and I've been there many times across several years.
One of the easiest spots to land, and with plenty to see, is the town of Como at one of the southern tips of this wishbone-shaped lake. The lake itself is huge, which you'll discover standing on its shores and staring out toward the horizon where the lake continues even past where you can see. You could easily spend a week exploring its shores, but for most visitors, you'll probably just have a day (or two) to spend exploring.
Here's what to do when you visit Como:
Around Town
Lake Como
Whether you're arriving by car or train, your drop-off point or parking spot will likely be quite close to the shore of Lake Como. And walking up to the edge of the lake is always the first thing I want to do when I get there! There are beautiful views along the shore in both directions, and a lovely pathway for a stroll.
Boat Tour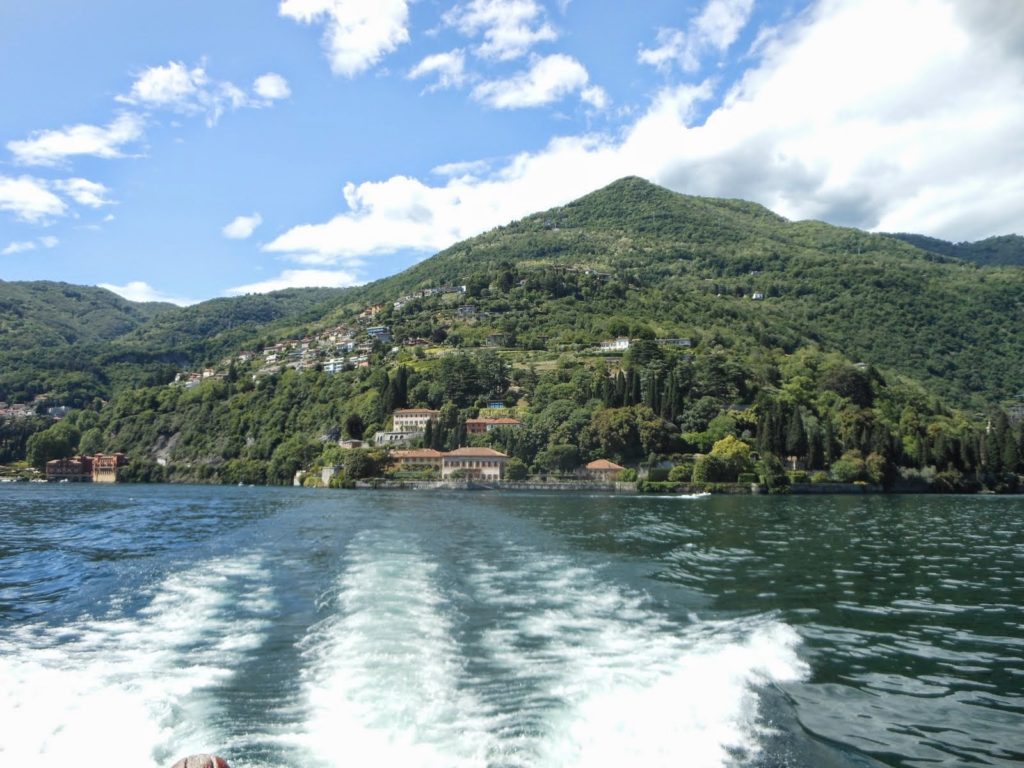 During warm weather months, from about April to October, there are leisure boats lined up along the dock close to the Como Nord (northern) train station. With a high number of tourists, boats leave quite frequently and very affordable at around 5 Euros per person. When you arrive at the dock, just ask how soon the next boat is leaving. It is about a 30-minute trip up and back along the adjacent section of lake, and the better boats will point out sites of interest along the way, including spots where famous movies were filmed.
TIP! Doing a basic boat tour is different from taking the fast or slow ferry to other towns on the lake, so if you want to just do a boat tour, this is just along the shore, not at the official ticket counter (see 'Off the Beaten Path' below for more details on ferries to other town).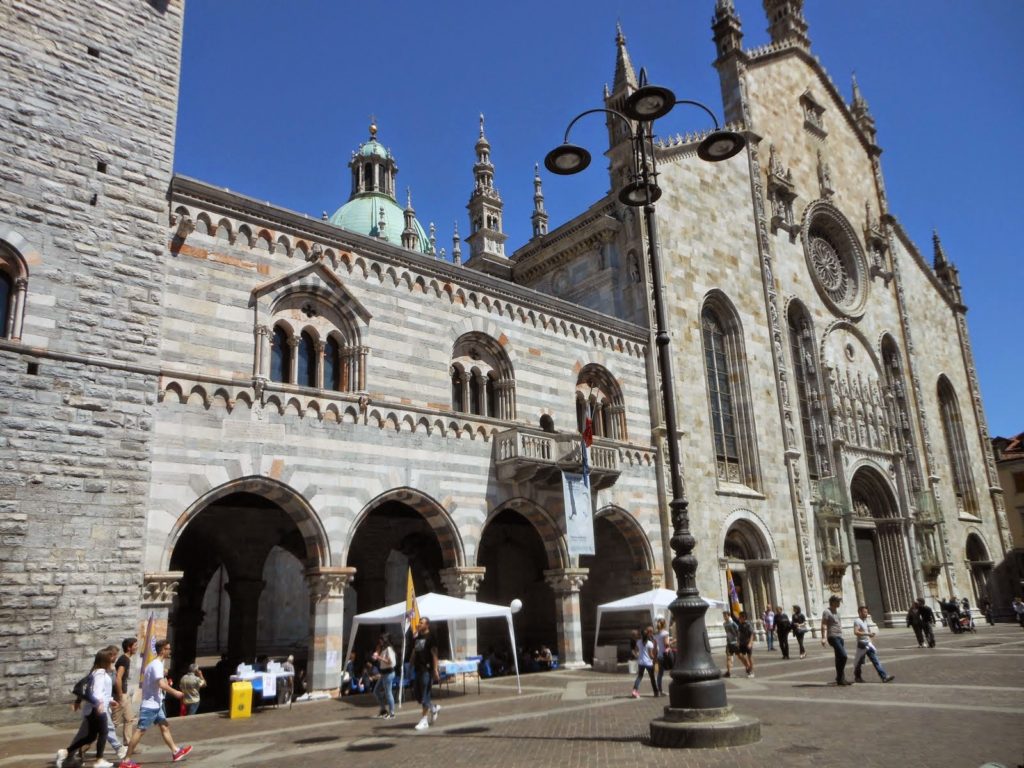 The main Cathedral of Como, or Duomo, is located right in the center of town and is a stunning example of Gothic architecture. It is free to enter and a must-visit spot while you're visiting. Spend as little or as much time as you like.
Arriving at Porta Torre, the medieval town entrance dating back nearly 1,000 years, involves walking through winding cobblestone streets away from the lake front. Not only will you get a glimpse of the oldest parts of Como along the way, you'll also get a great sense of this town's lengthy history and long-standing structures.
Did you know that an overwhelming percentage of Europe's silk production comes from Lake Como? Ever since a Duke around the year 1400 decided to start growing mulberry trees and importing silkworms from Asia, Como has been a hub of silk production, which continues today. This museum, located a bit beyond the Porta Torre (see above), chronicles silk's history in the area and the various stages of production.
Shopping
I'm not always a huge shopper, but there are lots of wonderful things to get in town. There are your typical clothing chains, but also cute kitchen stores, shops with local food products, and jewelry makers. And of course, plenty of Como silk!
Off the Beaten Path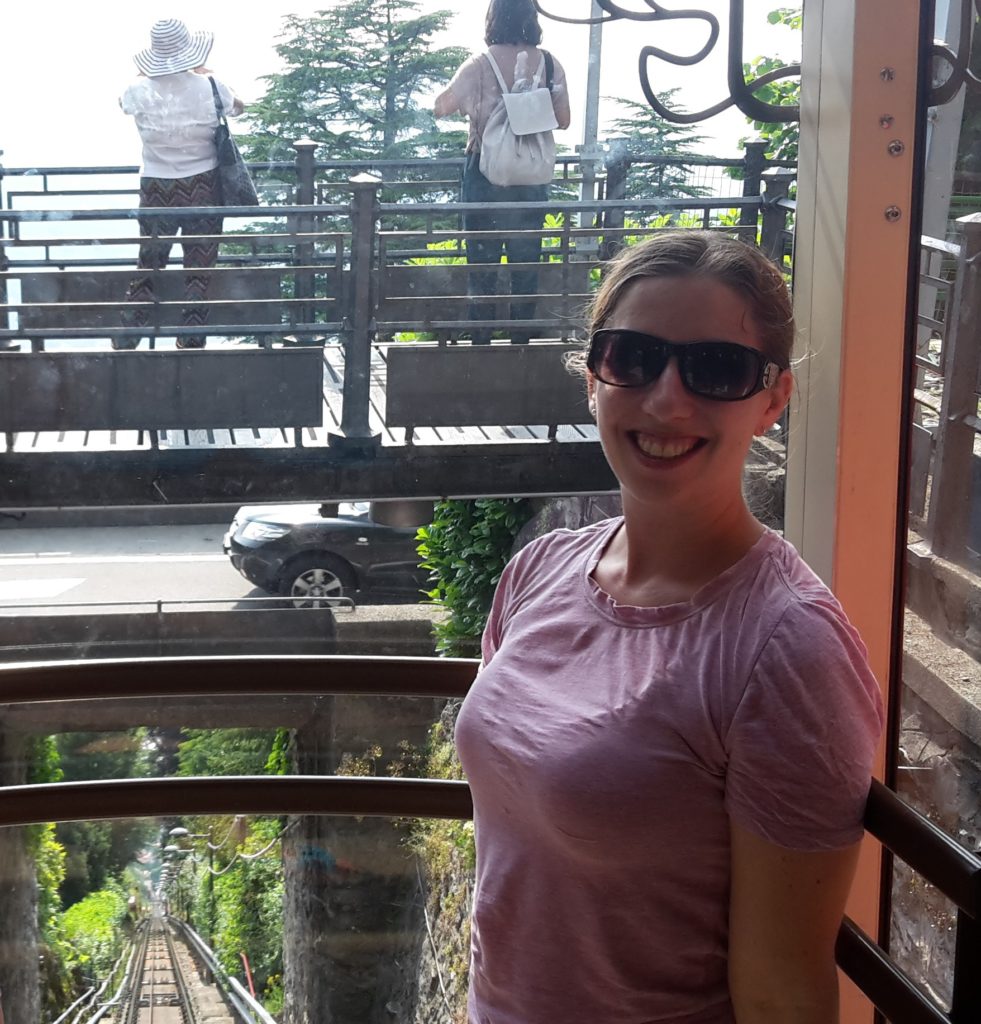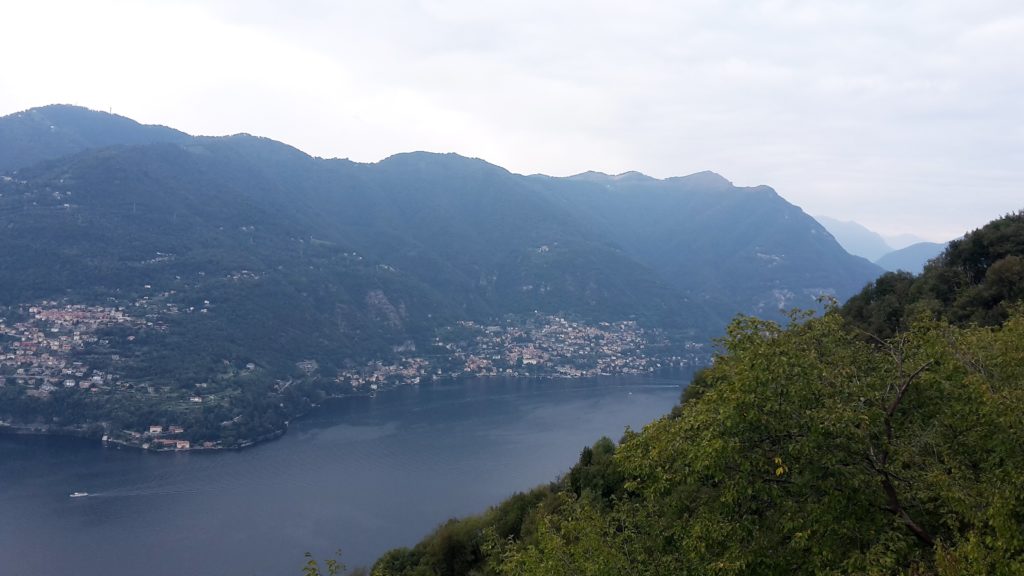 Lake Como is surrounded by hills and mountains, and while it's definitely possible to hike up the steep incline on foot, most people opt for the funicular, which is like a steep tram. There are some shops, sights, and restaurants up top, but most people make the trip for the lovely view of Lake Como. There is a great viewing spot about a 20-minute relatively flat walk to the left when you exit at the Brunate station.
TIP! The funicular runs quite frequently, but it's always a good idea to look at (or even take a picture) or the return schedule to time your return trip to Como.
TIP! The front of the lower section of the funicular is a giant window, and that's where you'll get the best views as you ascend and descend. Arrive early to be first in line to snag this spot!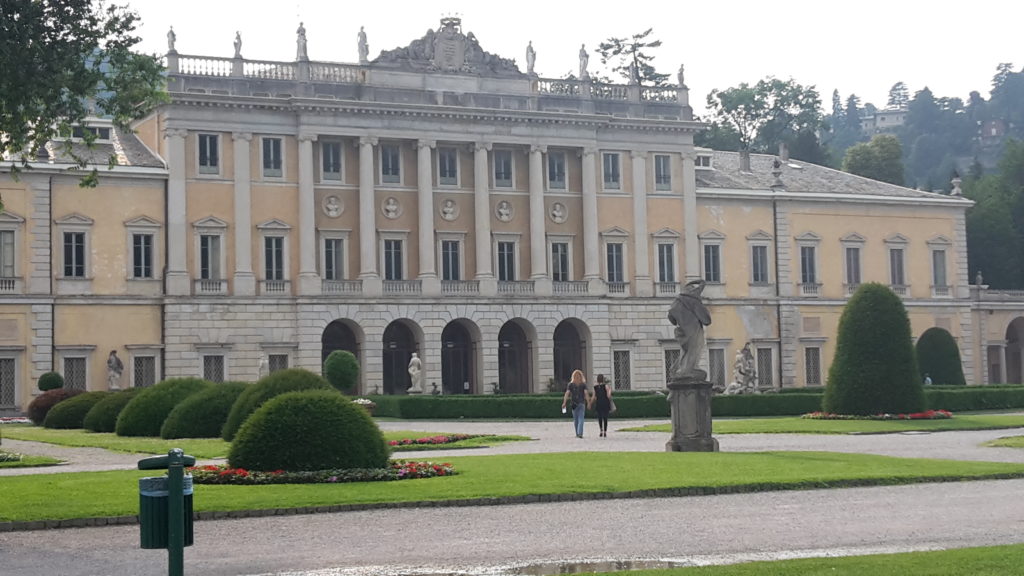 There are many villas along Lake Como, one more beautiful than the next, and many with extensive landscaped gardens to behold. The closest one to the town of Como is Villa Olmo, about a 20-minute walk from the center along the west side of the lakeshore (if you're facing the lake, to the left). The outdoor areas are impressive with beautiful lake views, and the interior is a free museum open daily except Monday.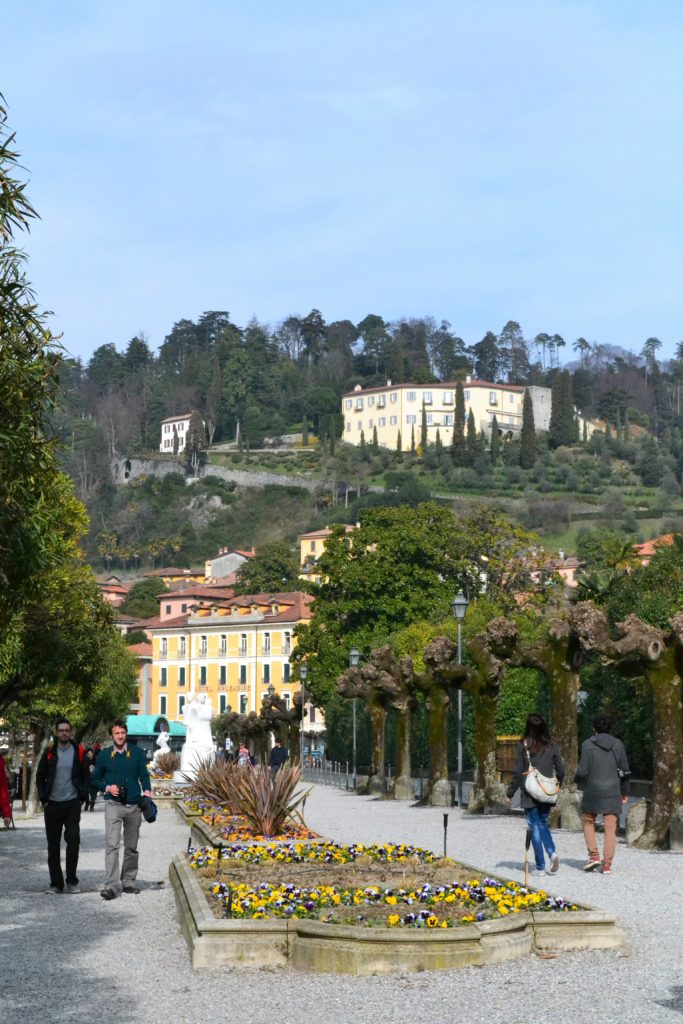 There are many other towns along the lake, and it's definitely doable to visit and explore one or more others during a single day, depending on how you want to spend your time. The link above shows the schedule and fares for various destinations along the lake. The town of Bellagio is one of the most popular other towns for visiting, although be aware that it is approximately a 2-hour boat ride with the slow ferry and around 45-minutes one way if you pay the surcharge for the fast ferry. And it will cost around 10-15 Euros each direction.
TIP! If you just want to get out on the water a bit and not necessarily see another town, the faster and more economical way is a tourist boat tour, see 'Around Town' section above.
TIP! If Bellagio is the main town you'd like to visit on Lake Como, it is faster and cheaper to take a train from Milan to the town of Varenna, and then take a ferry across from there, skipping the town of Como entirely.
Best Bites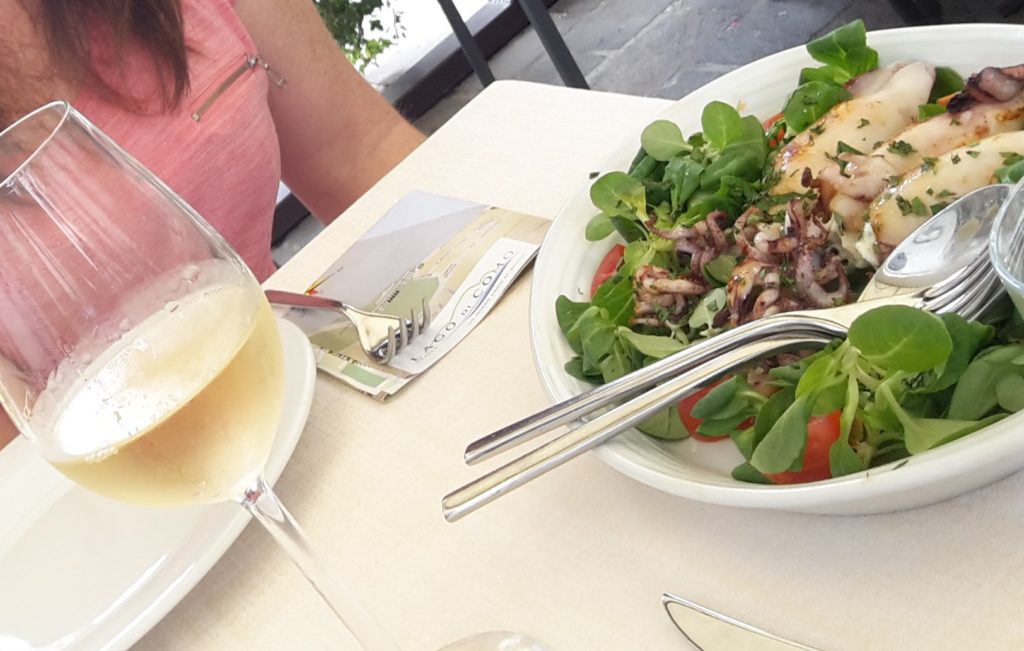 This family-run restaurant is close to the waterfront, but just far enough away that it is mostly locals who you'll find as your dining companions. Apparently there is another branch just across the border in Lugano, Switzerland, but I've only been to the Como one. 'Elsa's Kitchen' has typical Italian dishes with a lot of fresh seafood, with dishes that are a bit elevated from down-home cooking, so worth lingering over every perfect bite.
Set inside a vast stone building, the ambiance is wonderful along with the food. Pizza is the most popular, and comes in dozens of varieties including several white pizzas, although the northern Italian risotto and meat specialties are equally delicious if you're not in the mood for pizza. Either way, it's a great spot for a lingering lunch.
Gelateria Lariana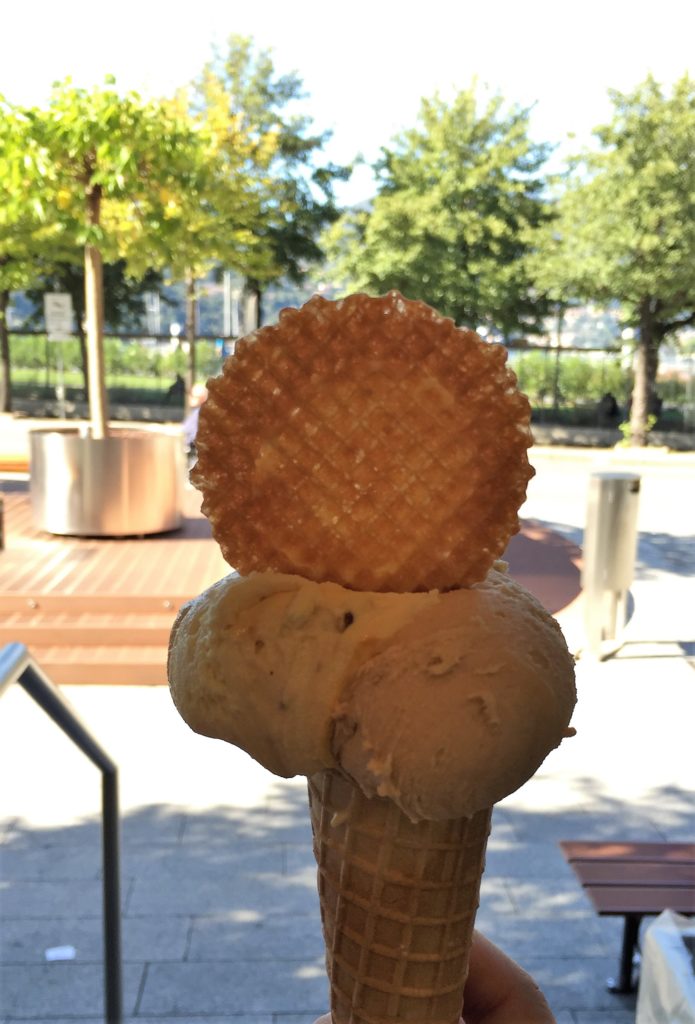 No Italian outing would be complete without gelato. This gelateria is along the waterfront, but somehow seems to be frequented mostly by locals – it was actually a tip from a local that led me here in the first place. There are a few spots to sit outside with your gelato, so grab your favorite flavors, and enjoy it along with the view.
It won't even take a single day here to begin to understand why Lake Como is an ideal location for a summer getaway, and how it has become the 'it' destination for so many. I've visited lots of lakes across northern Italy, and with the dramatic cliffs and mountains right up to the water's edge, Lake Como is still my favorite.
Have you been to Como? Any recommended spots that didn't make my list? And do you have any other questions about how to spend your time on Lake Como? Let me know in the 'Comments'!
Like this post? 'Pin it' on Pinterest!