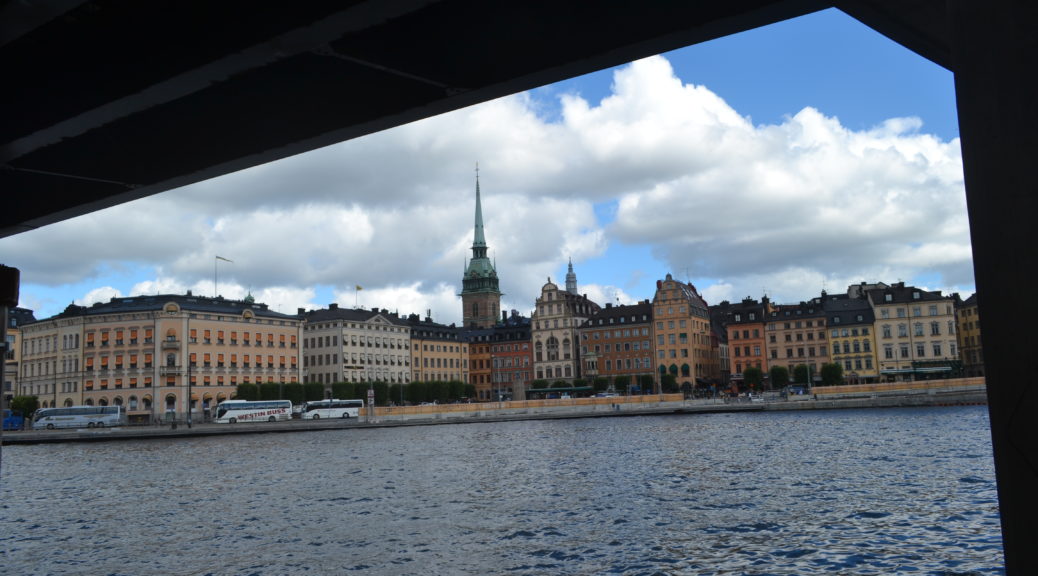 Best Views in Stockholm, Sweden
In any new place, I search for a high spot where I can overlook the city or surrounding area, so I knew I'd be seeking out the best views in Stockholm on my visit last summer. I'll pretty much go anywhere to see a sweeping vista, whether it's an elevator ride to the top of a tall building (like ascending the Burj Khalifa in Dubai and Berlin's TV Tower), climbing hundreds of stairs to the top of a tower (like I've done in Cremona and Florence) or trekking to the tops of hills (which I did on a random island in Oman and in Plovdiv, Bulgaria).
Yes, I like to find lookout points when I travel. Guilty as charged.
Before visiting Stockholm for the first time, there were many things I didn't realize. For example, I didn't know Stockholm was a city on water, composed of over a dozen islands and forming Sweden's larges archipelago.
This means that in Stockholm there are pretty fabulous views any time you're on the edge of one of the many islands, or crossing a bridge on foot.  Ditto for any time you're up one of Stockholm's hills or sloping streets, where you can get a peek out over the city.  And of course, there are many high-up vantage points as well.
With summer approaching again, Scandinavia will be quite the popular destination in the coming months, although if you haven't booked a trip yet, consider visiting after summer.
This list of the best views in Stockholm is focused on elevated viewpoints, where you get a sweeping view of the city, and also includes some memorable spots at ground level to take in the scenery. Enjoy!
Best Views
Skeppsholmsbron
This bridge connects the Blasieholmen peninsula of central Stockholm to the island of Skeppsholmen. What makes it worth seeking out for a photo and one of the best views in Stockholm? The many gilded, golden crowns atop the iron bridge railings, which make for a wonderful shot of the city with both the crown and the view: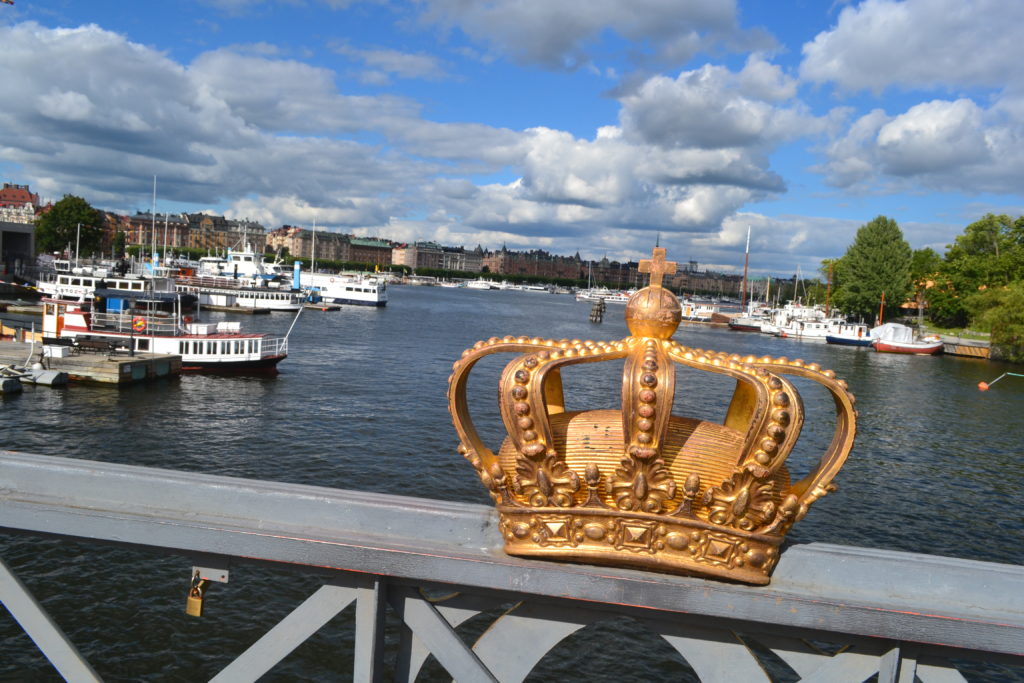 This highest point in Södermalm is also the highest natural point in central Stockholm, with views to match. There are actually several viewpoints in relatively close proximity, including Ivar Los Park and Katarinahissen (see below), but I like this one the best. This also seems to be the spot locals prefer.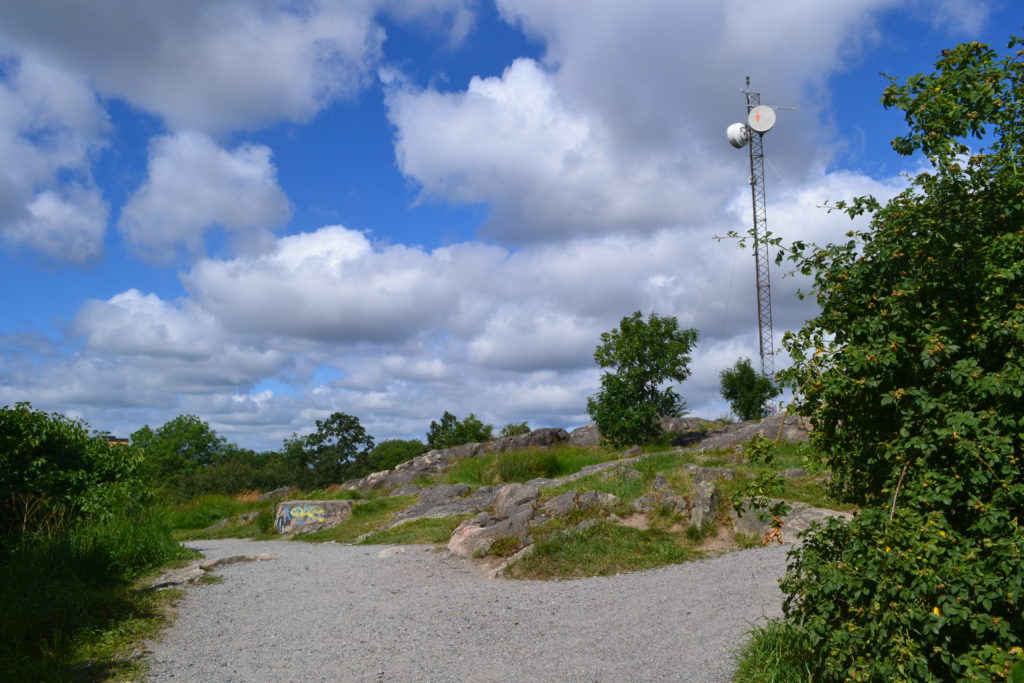 First, it is further off the beaten path and a bit harder to access – by a dirt path at the end of Gamla Lundagatan street – so there are far fewer people. In fact, the morning that I went up, I was the *only* person there for nearly a half hour, and even then only a few other people arrived. Plus, check out this view: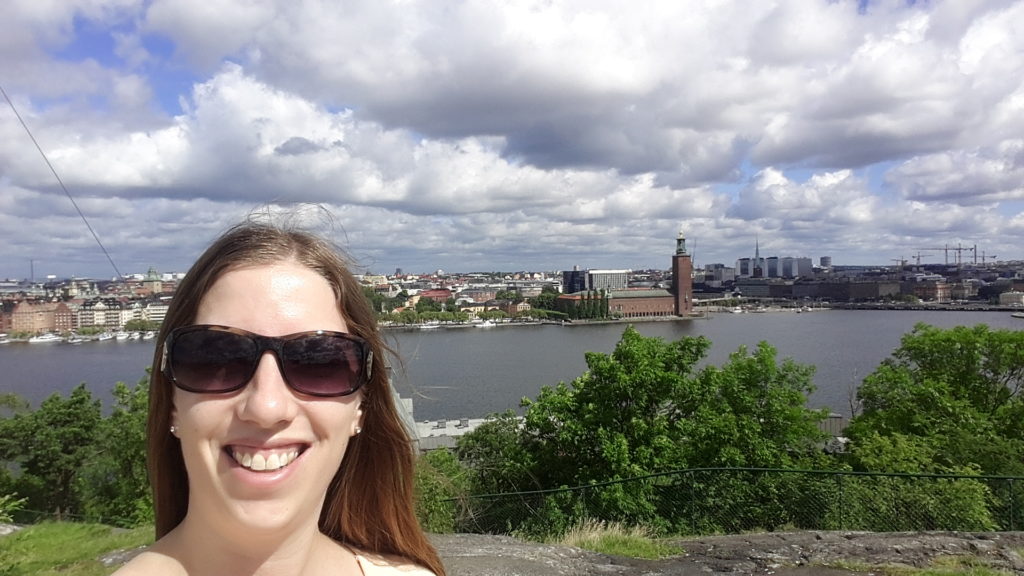 Other Good Vantage Points
Formerly the home of world-renowned sculptor Carl Milles, the Millesgården is open to the public now as an art museum, with a sculpture garden featuring his works. It is from the garden that you'll get one of the best views of Stockholm on the far side of the central part of the city and out toward the archipelago. Great for a very different perspective of the city: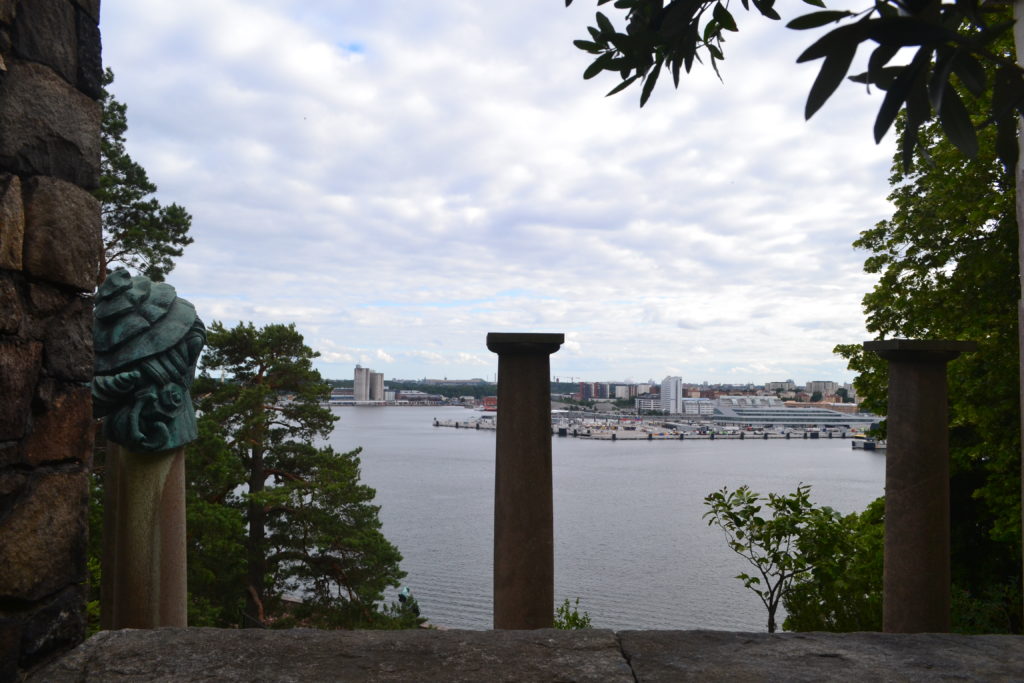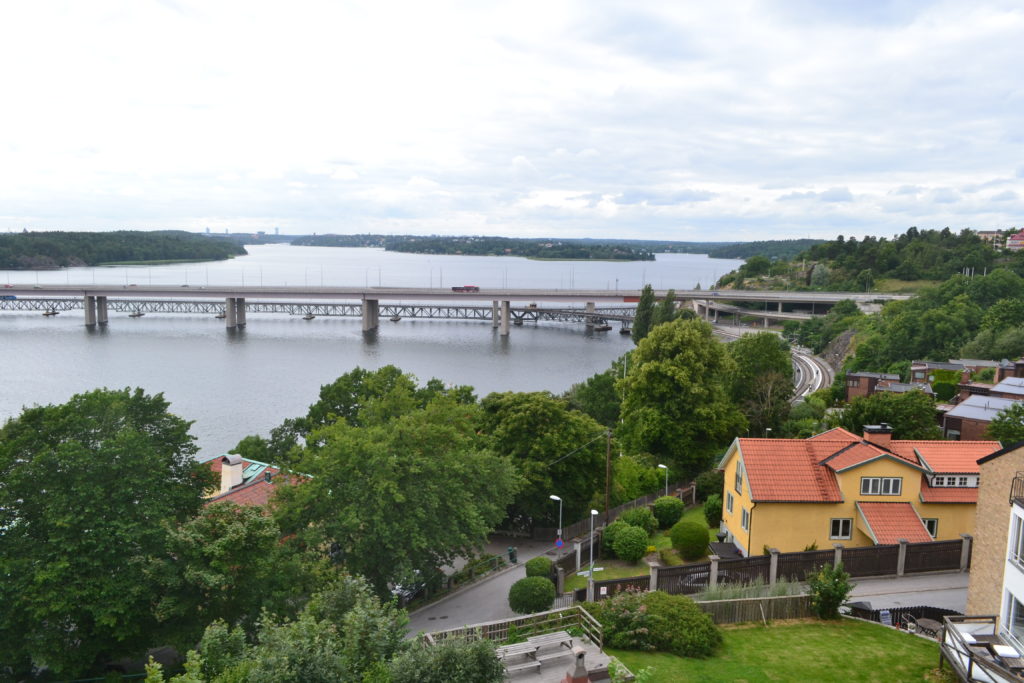 Ivar Los Park
It's a bit of a stroll to get here no matter how you arrive, but this quaint park with greenery and benches is along the Södermalm coast facing central Stockholm and the island of Gamla Stan, like the Skinnarviksberget view mentioned above as my top lookout spot.
If you don't have time to make it to Skinnarviksberget, the park offers a very similar view, although you may encounter other tourists when you go. There were a few people when I visited, but if you're lucky you can still score a seat at one of the many benches and take some time to enjoy this view: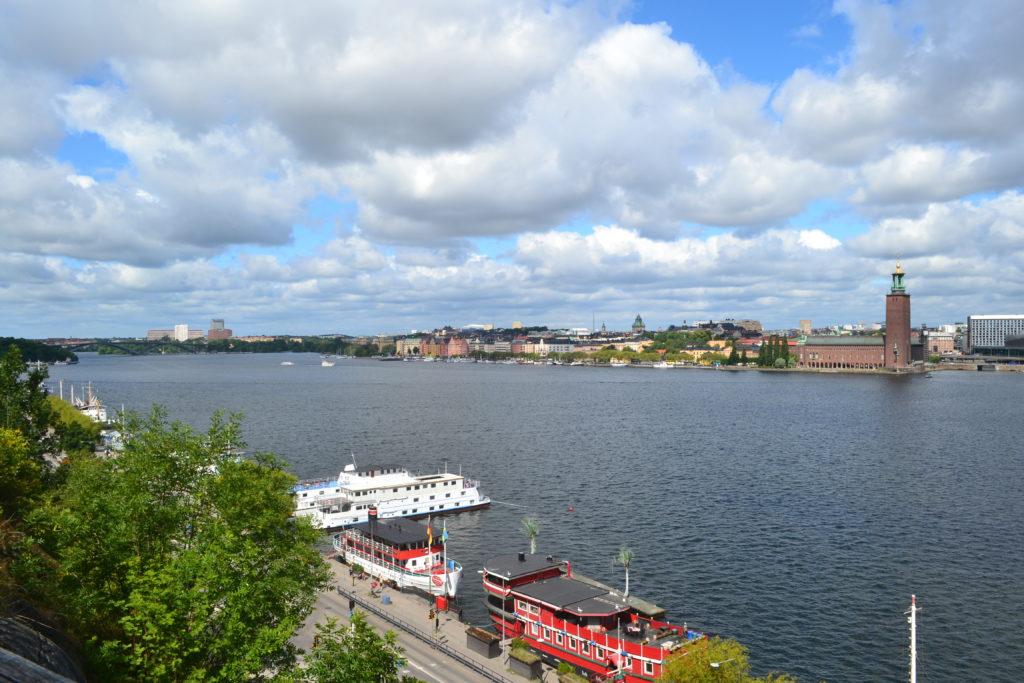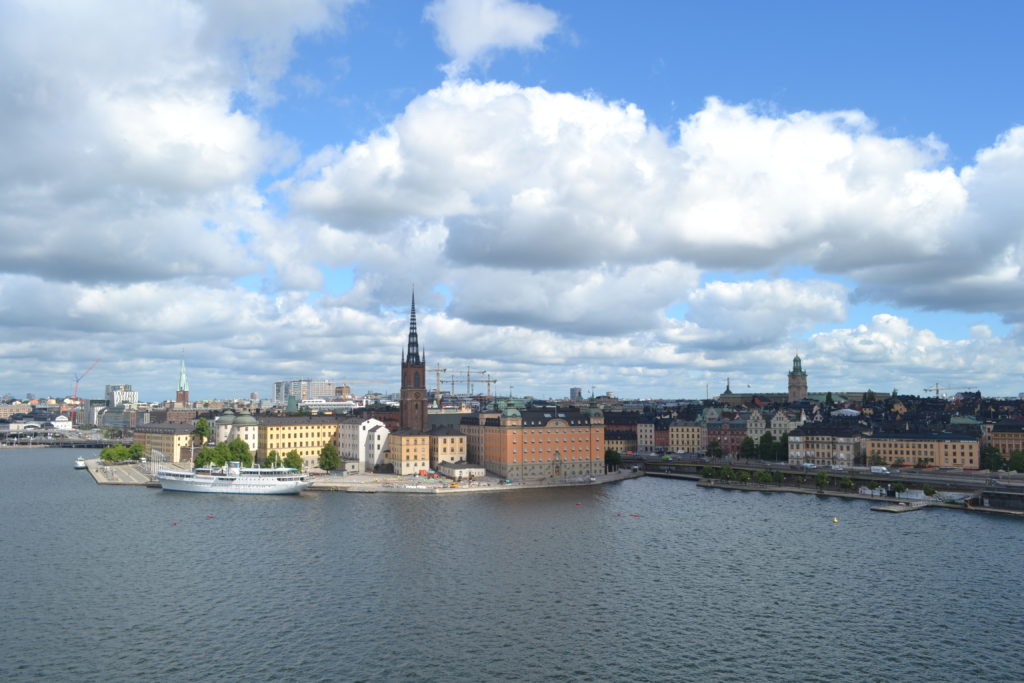 Katarinahissen
This was far more popular than the Skinnarviksberget and Ivar Los Park lookouts on Södermalm, since it is right by a metro stop and a bridge from the island of Gamla Stan. Originally known as the Katarina Elevator, unfortunately the elevator is not working right now, although there are wooden stairs that you can climb to the top. Also at the top is the Eriks Gondolen restaurant, where you can grab a coffee or a meal and enjoy one of the best views in Stockholm: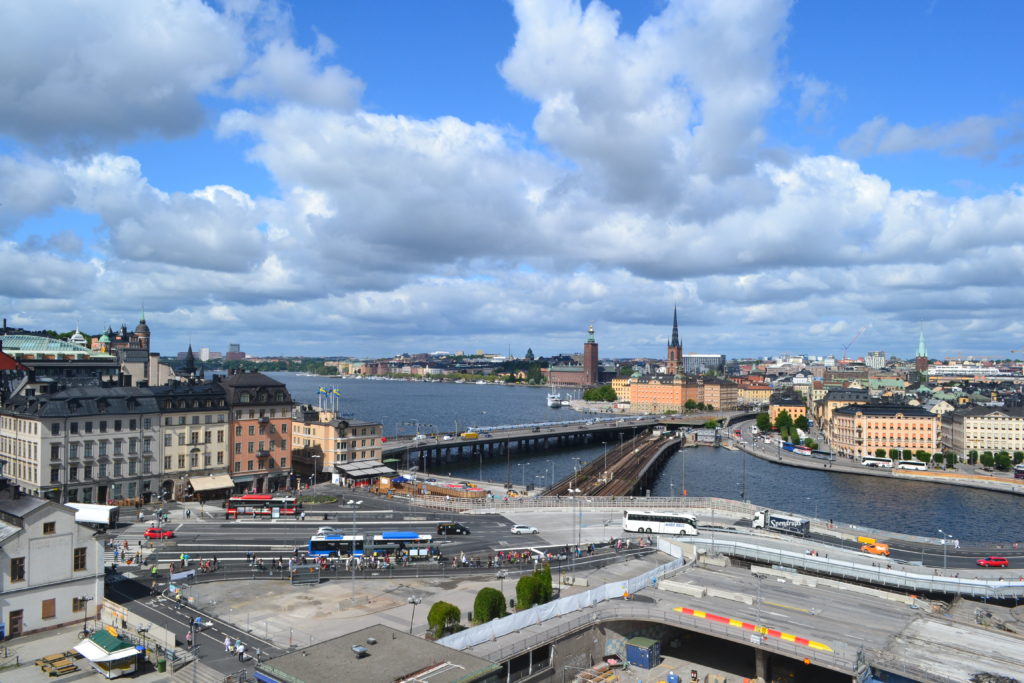 Still on Södermalm, but on the other side of Gamla Stan, is what was by far the most crowded scenic point, although being further down the coast, the perspective of the city is a bit different. Tour bus after tour bus rounds the corner of the road leading up to the lookout, and offloads dozens of passengers, so it can get quite crowded. I ended up here twice last July, once for a quick stop on a tour bus and once on foot, and it was packed both times.
If you stroll away from the corner where the buses line up, you can get a less-crowded view from the small park with a little patch of greenery, but you'll still have plenty of company. The view remains lovely: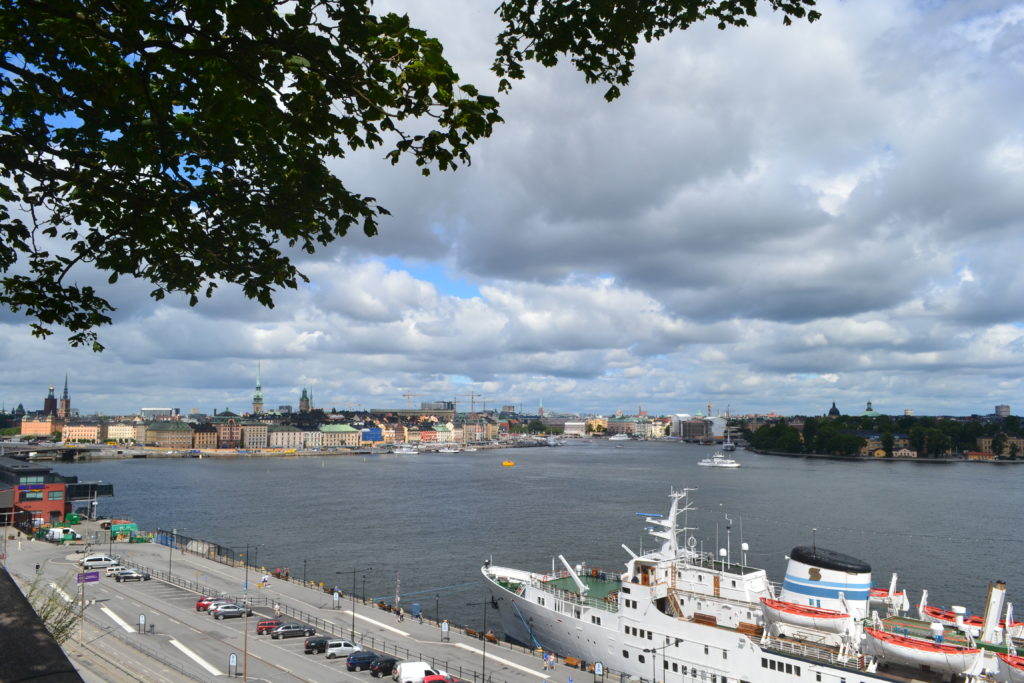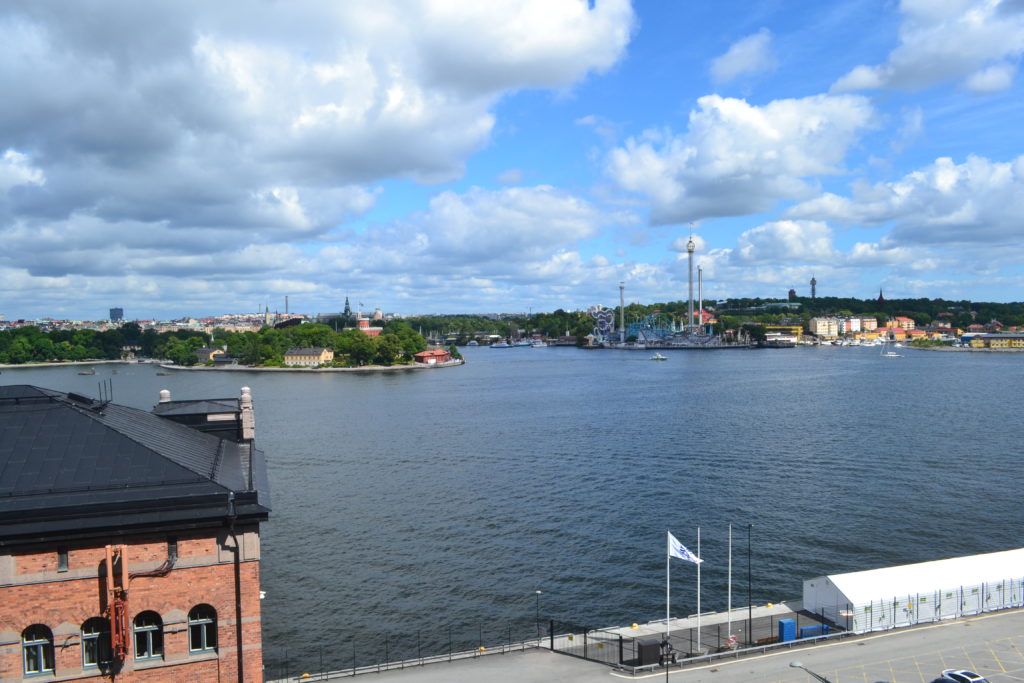 Central Coastline
Walking pretty much anywhere along the water will offer beautiful, and different, views. I enjoyed hugging the coastline of Central Stockholm, starting by the Centralstation train stop and heading east to Skeppholmsbron (see above) and beyond. The coastline of the island of Gamla Stan also offers lovely vistas along the water, especially close to The Royal Palace and entrance to Old Town: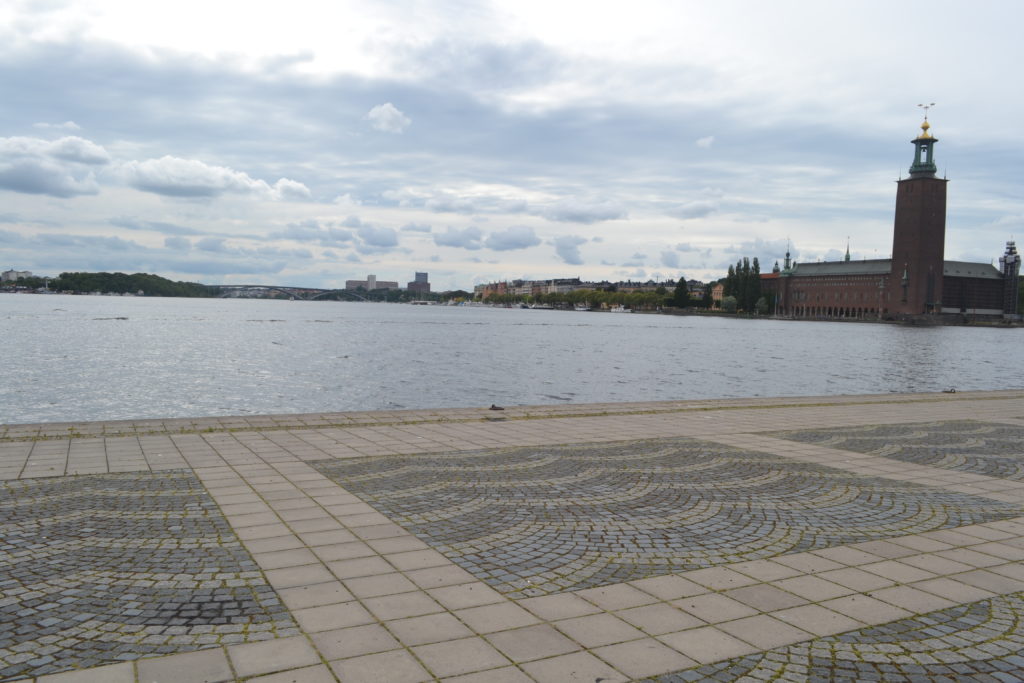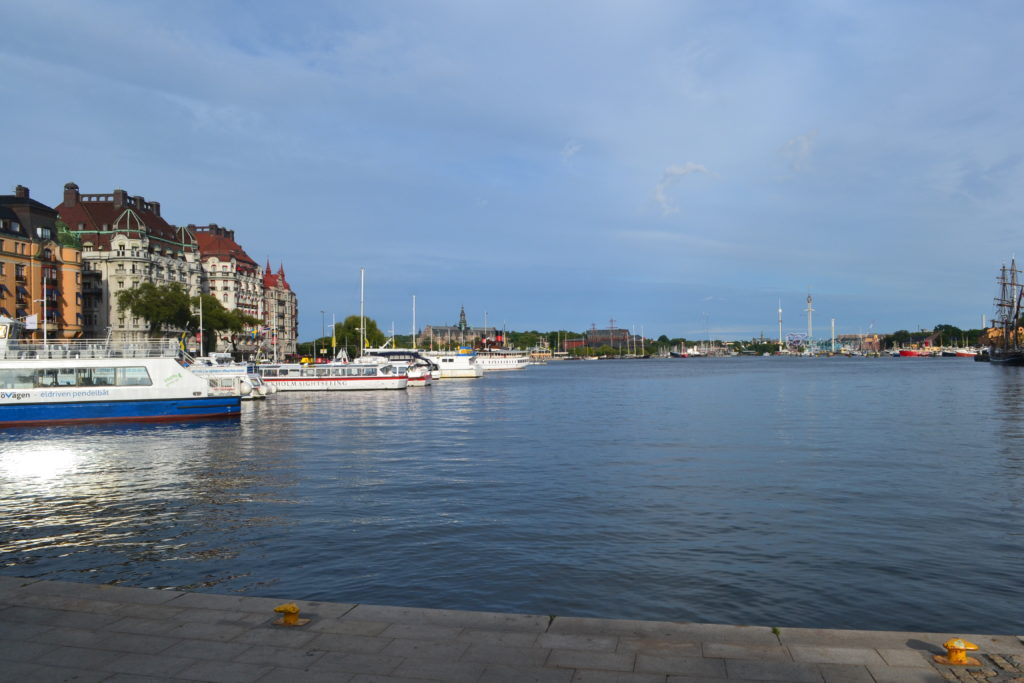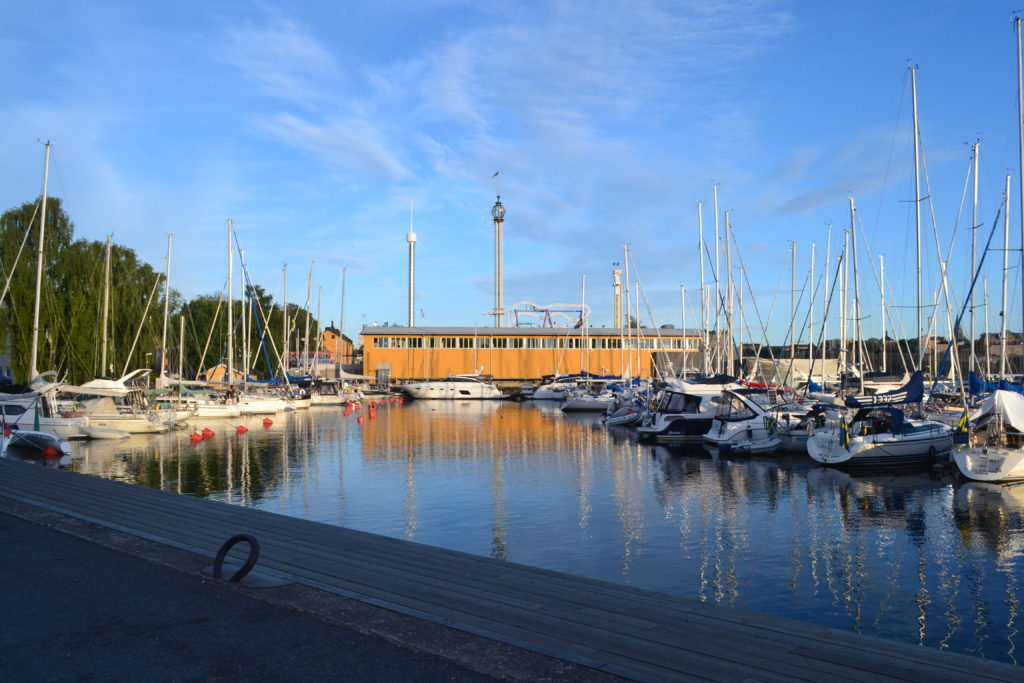 Of course, there are countless ways to see a city, and while I made it to quite a few stunning viewpoints, I didn't quite make it everywhere. If you've already scoped out the best views in Stockholm above, there are a few other options for lookout spots to explore.
First, there are many boat rides that will give you a whole new perspective on the city, from short loops to longer tours of the archipelago. I was having too much fun exploring on foot to make this a priority during my visit, but it is definitely something to seek out in Stockholm if you have the time.
There are also two other high-up viewpoints that weren't as high a priority for me. Kaknästornet, the TV tower with an observation deck, was just enough off the beaten path that I didn't make it there. Also, the very central Stadhuset, the City Hall which also has a lookout tower. I was enjoying the outdoor lookout points in the beautiful, sunny weather during my visit, and limited the time I spent indoors. But both would be great spots to see the city as well.
And if you'd like to read more about what it's like to visit Stockholm, check out which unexpected food you should seek out in the city and where I had my best meals there.
Do you seek out high viewpoints when you travel, too? Or is there something else that you like to do everywhere you visit? Any other Stockholm views you'd recommend that didn't make my list? Share in the Comments below.
Like this post? 'Pin it' for later!