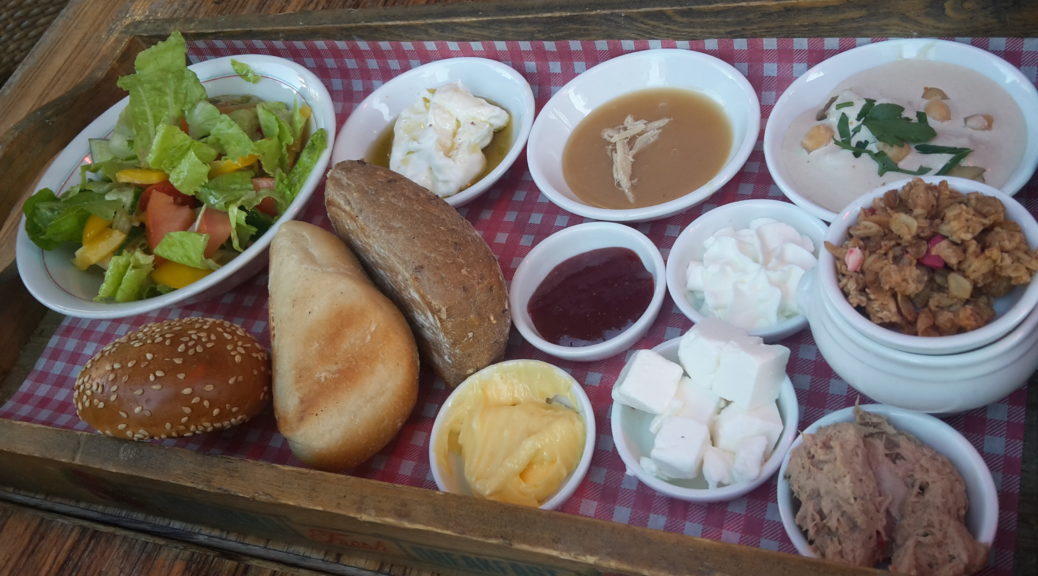 Foodie Bucket List: The 16 Best Local Foods (and Drinks) in Israel
Leading up to my most recent trip to Israel, I was a bit stymied by the 'travel planning' phase I engage in for most of my trips. I lived in Israel for a year, which was the start of my extensive traveling. I've been back to visit many times since, and not so much changes from year to year. Besides catching up with friends and family, how would I spend my time there?
Then, the night before my trip, I couldn't stop thinking about all of the foods I knew I wanted to be sure to eat at some point during the ten days. I obviously had to have falafel. And hummus. And shakshuka. The more I thought about it, the longer my list became, until I had a pretty decent list stored on my phone of what foods I would seek out on my travels.
So I arrived with a "To Eat" list instead of a "To Do" list.
Even if you've never been to Israel, if you're familiar with the cuisines of other countries on the Mediterranean Sea, you may recognize some of the foods below – or their variations. In any case, the Israeli versions of these specialties are worth seeking out on your visit. Ask any local, and they'll point you to the best nearby spot for:
Savory Bites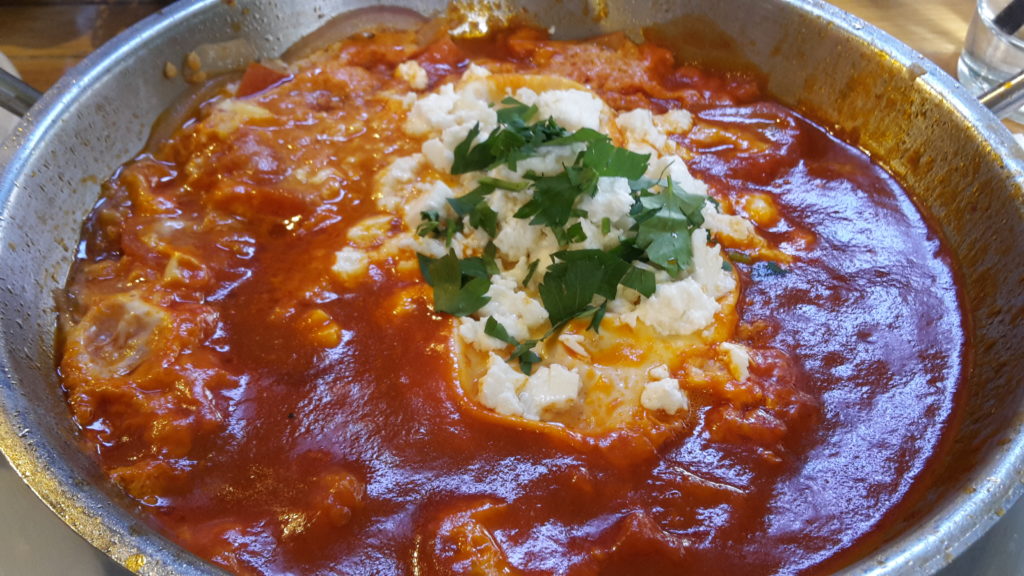 Shakshuka
The ultimate in savory breakfast, shakshuka consists of a spiced tomato, pepper and onion mixture that is heated and then used as a liquid to poach eggs. A beautiful and incredibly hearty way to start the day. Or do as many Israelis do, and have breakfast for dinner.  Find out more about a top spot to sample this typical dish in my post on the Best Places to Eat (& Drink) in Israel.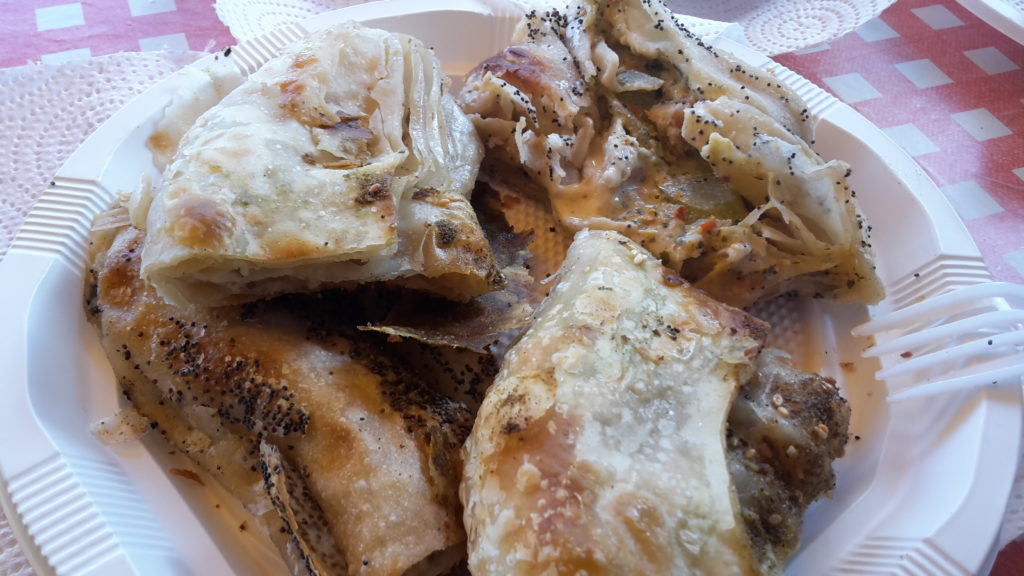 Bourekas
Known as a burek in other countries along the Mediterranean and in Eastern Europe, the Israeli version of bourekas also involves phyllo dough that has been stuffed typically with some sort of savory filling and topped with sesame and/or poppy seeds. The salty cheese and potato ones are most common, although there are plenty of variations on fillings. A lot of markets have stands selling bourekas, or it is a good savory bite to pick up from the bakery section of a supermarket for a snack on the go.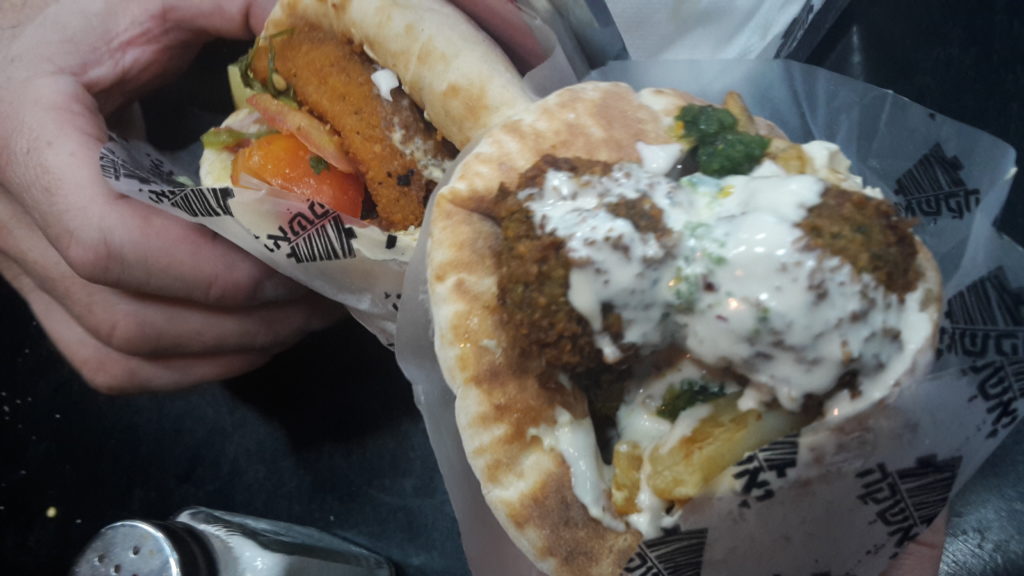 Falafel
A falafel is one of several common Israeli foods served in a puffy pita. The falafel balls themselves consist of ground chickpeas and other spices that are then deep fried. In any reputable falafel stand, you'll have a variety of toppings to choose from, including spreads like hummus and tahini. Some of my favorite add-ons are marinated cubes of eggplant, pickles, and french fries.
Schwarma
Another typical pita dish found all over Israel, schwarma is filled with meat shaved off of a spit. In Israel it is usually lamb, although you'll sometimes find chicken versions. Condiments mirror those available for falafel, and make for some tasty bites.
Sabich
The third and final pita dish on this list, sabich has recently become trendy and widely available in Israel, and was my favorite new bite of my last visit. Condiments are also similar to falafel and shwarma, except that the main filling is fried eggplant and chunks of hard-boiled egg. There is just some unctuous savoriness that comes with a well-made sabich that made this the meal I chose for my final dinner before flying home to Milan.  Head to my post on the Best Places to Eat (& Drink) in Israel for my favorite spot to eat this local specialty.
Hummus
As you've seen above, hummus is a typical condiment for pita-based dishes, however it can also be a stand-alone meal. When hummus made its way onto my "to eat" list, it was not as a dip but the warm hummus that is served with chickpeas and spices or sauteed lamb on top, and then pita bread becomes merely the vehicle for the food, with the hummus and its toppings as the main event.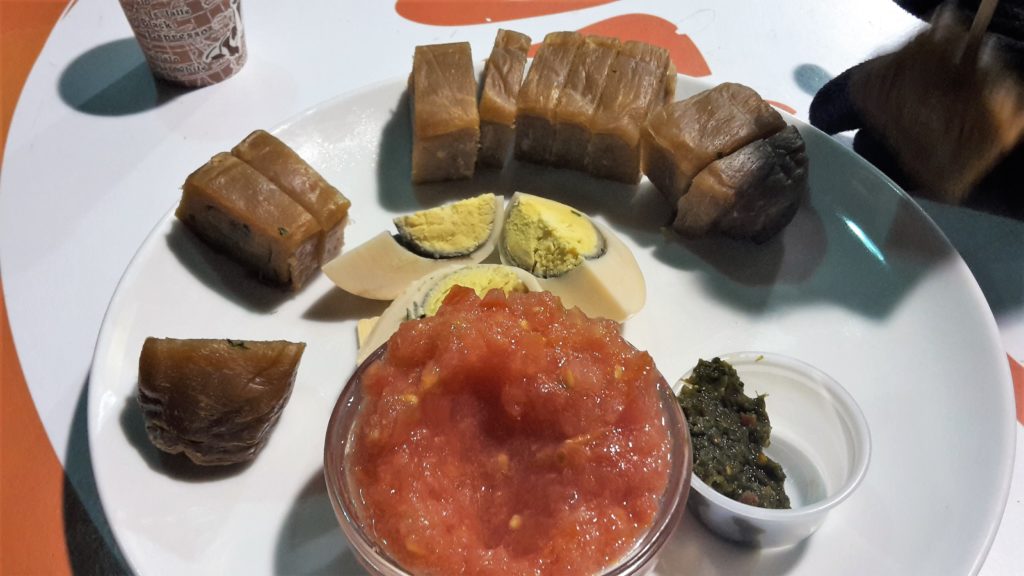 Jachnun & Malawach
These two types of Middle Eastern concoctions are often made from the same dough and served with the same condiments, so I've included them together here. The format differs – for jachnun the dough is rolled into almost a narrow cylinder and malawach is in the form of thick, circular pancakes – but both are brushed with some type of fat or oil. Jachnun tends to be cooked slowly in an oven while malawach is fried, but then both are served with a crushed tomato dip, hard boiled egg, and hot sauce.
Sweet Bites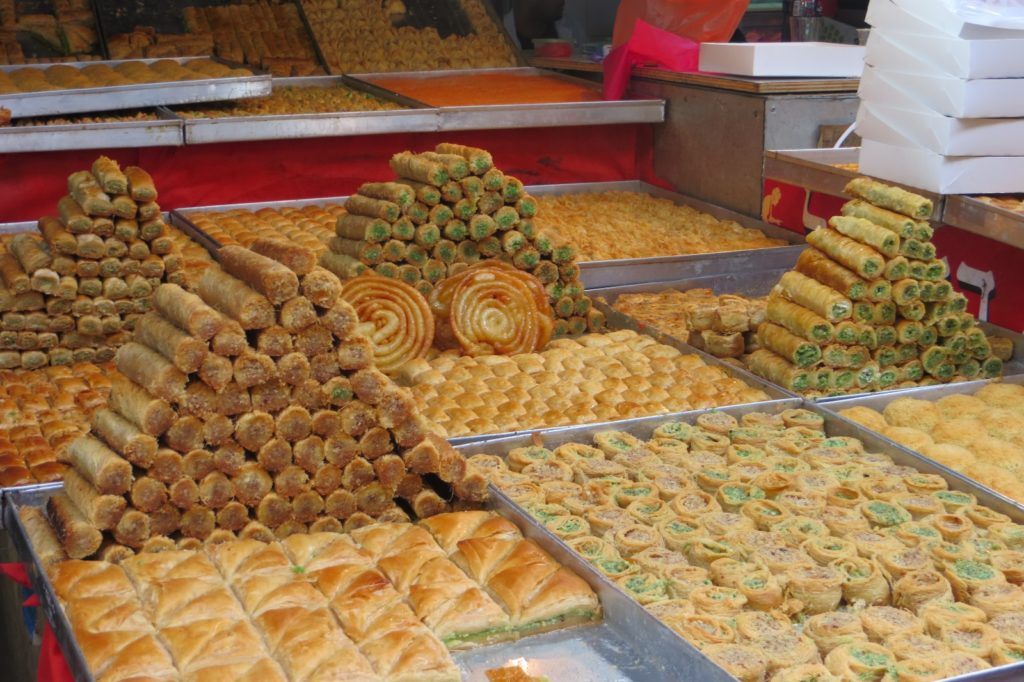 Baklava
The exact history of baklava's origins is murky, but the important thing to know is that it is part of local tradition and you'll eat excellent versions everywhere you go. There are also many varieties beyond the typical bites with flat sections of phyllo dough, some having a more shredded exterior. You can usually find pretty small bites of the different varieties, so go crazy and sample them all!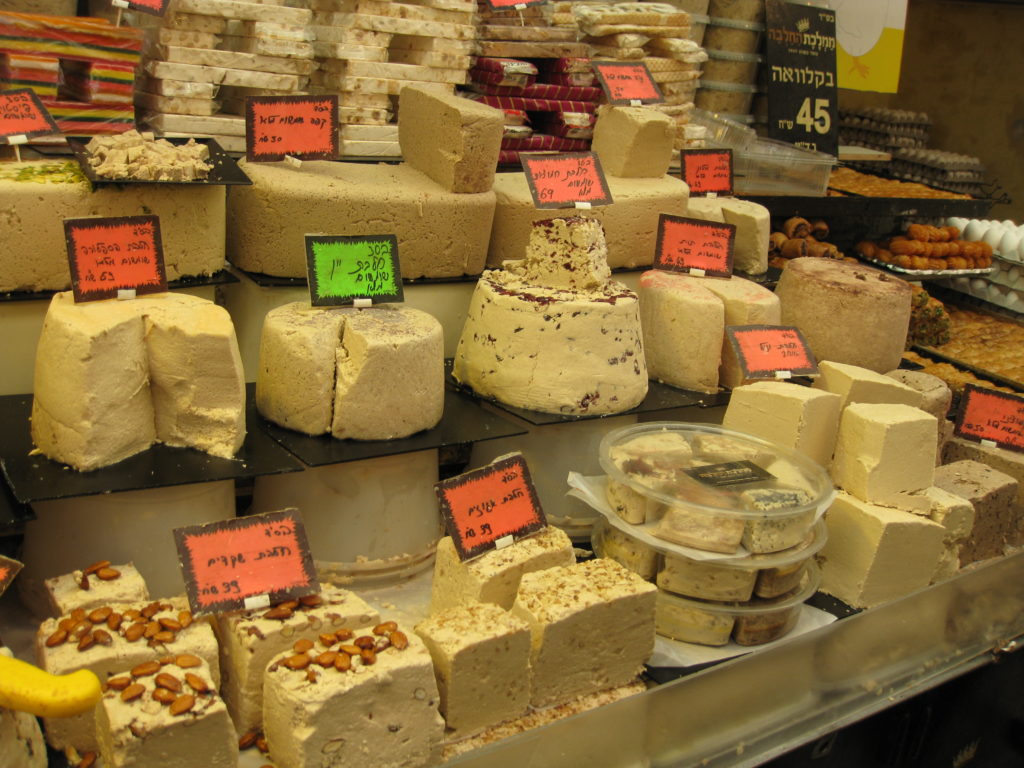 Halva
There are tons of variations of halva around the world – and I've sampled versions from Greece to Oman – but the Israeli version is the one I find most addictive. Locally it's made from a sesame paste and starts off in a large block that is cut into slices for sale. Varieties abound, and beyond the plain version, you'll most typically see chocolate or various nuts mixed in. Any market is a great place to sample many different types and then buy a slice or two for later.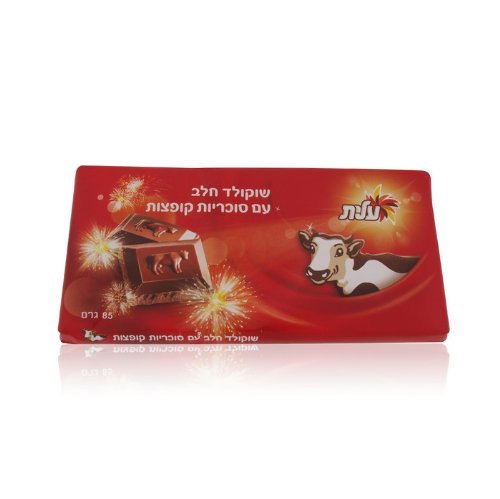 'Exploding' Chocolate
At any supermarket, head to the row of red Elite chocolate bars and you'll find this delightful bar of chocolate with pop rocks inside, with little yellow explosions shown on the label. A great snack to have after a picnic meal or while out hiking. It's also a great souvenir or gift to bring back home, especially if you don't tell the recipient what to expect when they take a bite.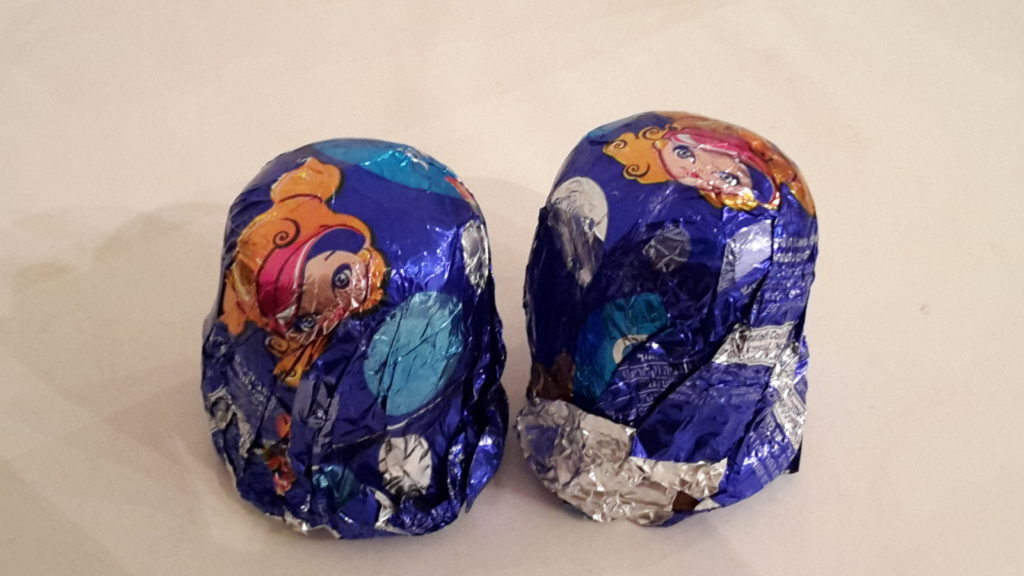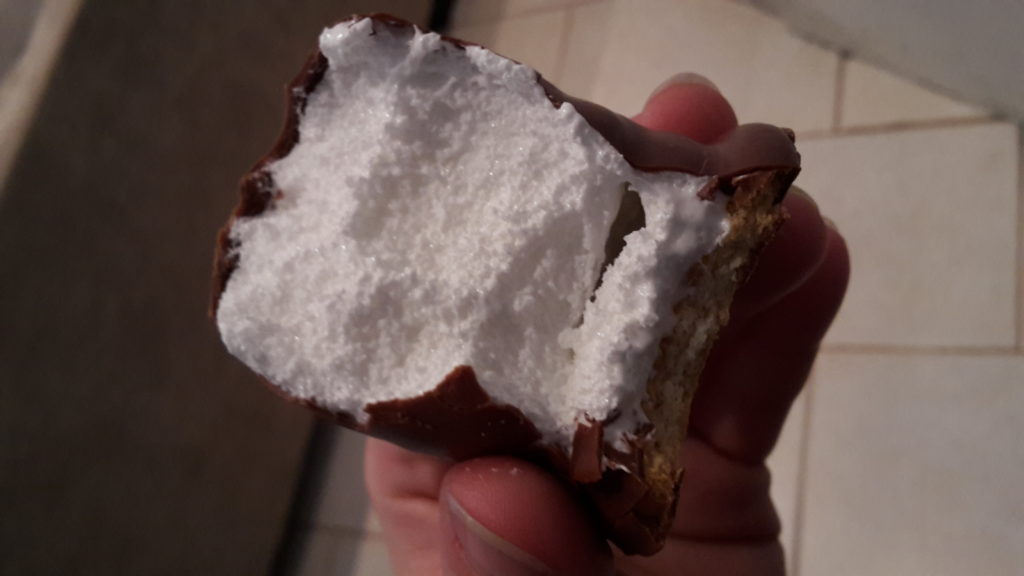 Krem Bo
I've sampled this treat at food markets in Europe also, but my favorite version is still the Israeli Krem Bo. It is a circle of graham cracker covered by a near-cylinder of marshmallow goo and encased in a thin chocolate shell. Due to the summer heat that would melt these pretty quickly, you'll typically only find Krem Bo for sale in the winter. The good news is that during Israel's cooler months you can find them almost everywhere, from large supermarkets to the convenience store on the corner. If you're having trouble finding them (which even I do sometimes despite knowing what they look like), just ask.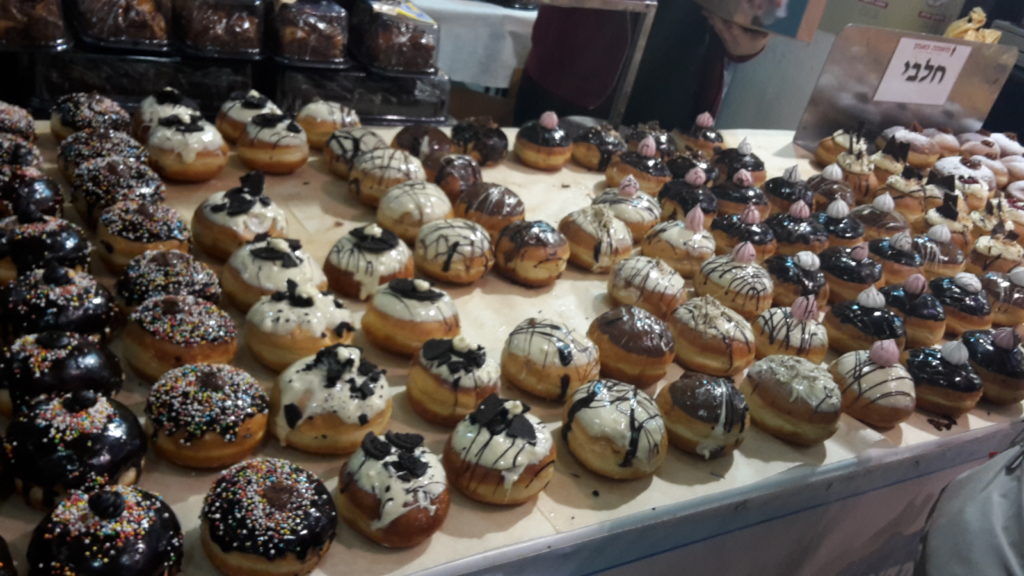 Doughnuts
Although doughnuts themselves are not a local food per se, sufganiyot – the doughnuts available around Chanukah time – are taken to a whole new level in Israel. The toppings and fillings available boggle the mind, and really it just becomes a vessel for a baker's creativity.
TIP! Chanukah is usually in December, depending on the lunar, Jewish calendar for any given year, so check the timing before you go if you'd like to be around for the right 8 days.
Beverages
Nana Tea
Any time of year, hot tea is good way to stay hydrated in the desert. So whether you're actually in the desert, or at one of the developed cities surrounded by desert, nana tea is the local pick. Nana is a type of spearmint from the Mediterranean whose mint leaves will be placed directly into boiling water, often with a regular tea bag, too. A refreshing cuppa anytime.
Sachlav
You'll see this milky, comfort beverage more often in winter as many people prefer to consume it hot (although it is served cold as well). In addition to milk, aromatics are added, with the exact mix depending on the recipe. Known by some as 'the hot chocolate of the Middle East,' it basically serves the same comfort function of a hot chocolate, mulled wine, or hot cider. Keep an eye out for it at market vendors and even coffee shops in bus and train stations during winter.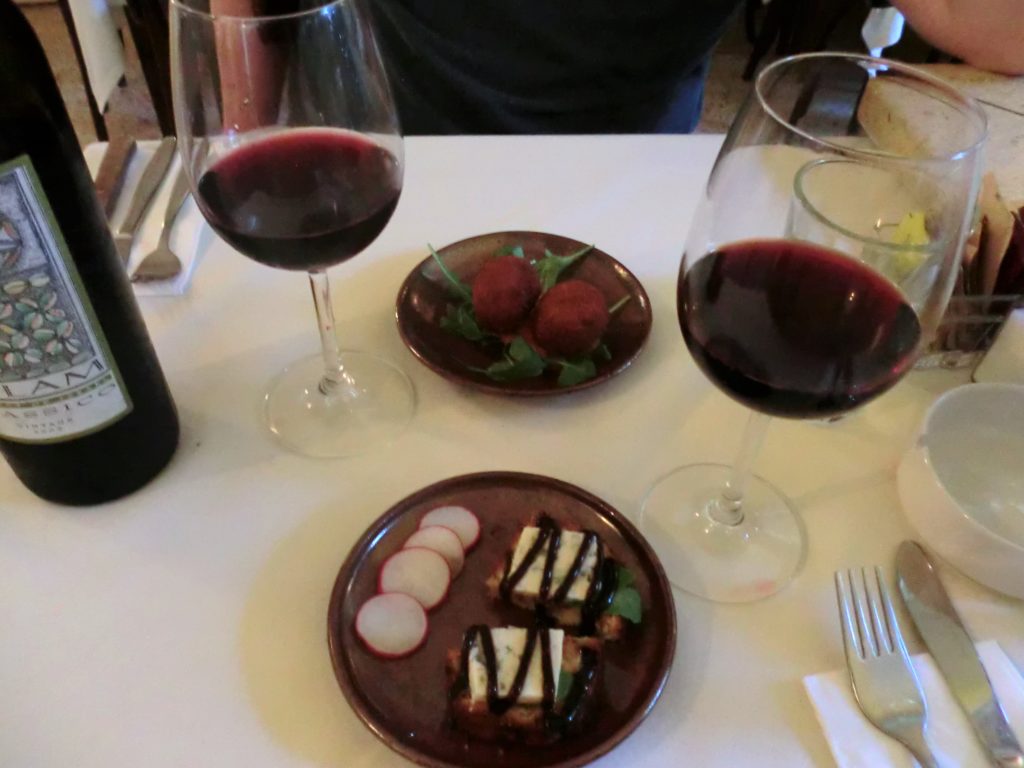 Wine
Israeli wine is excellent. A lot of wineries produce kosher wine, but make no mistake – we're not talking syrupy-sweet Manishewitz here. Some of the best wines I've ever had have been from Israel, which produces many varietals of both white and red grapes you're probably familiar with. Israeli ingenuity has led to exacting production standards that produce a delicious final product year after year. There is also a ton of value with Israeli wine right now, due to all of the competition. Take advantage and sample your way through Israeli wines whenever you have the opportunity. And check out this thorough post on which Israeli wineries are best to visit. If you won't get a chance to visit wineries in person, but still want to taste the range of Israeli wines, there are dozens of wines that can be sampled at Tel Aviv's Tasting Room Wine Bar.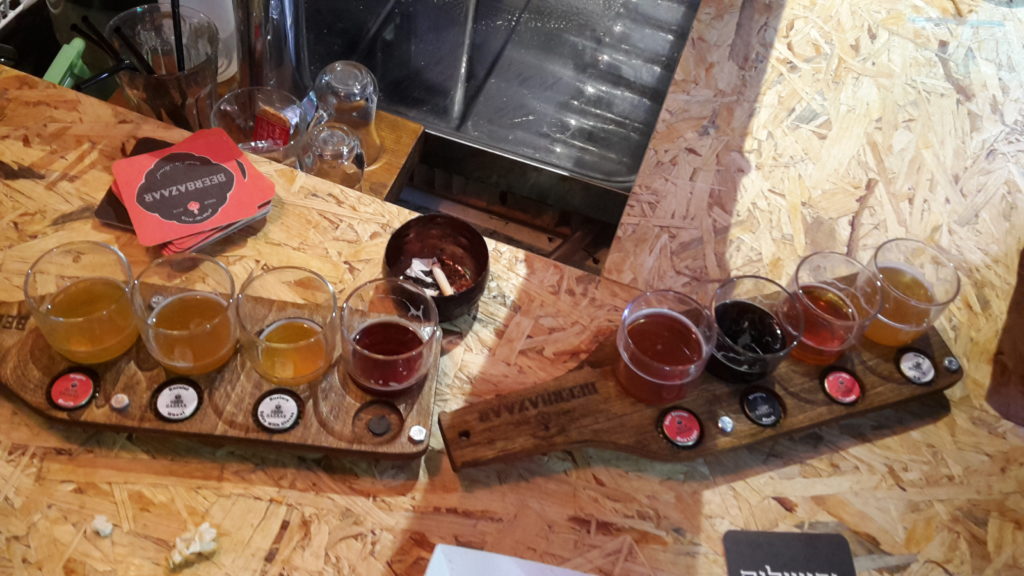 Beer
Israel is known for its entrepreneurial spirit, and this is evident in the emerging craft beer scene as well. The craft beer expansion began in earnest around a decade ago, similar to the timing of Israel's boutique winery boom. You'll find it on menus all over and there are quite a few breweries or brewery pubs for specific brands in Israel's major cities. There is a great round-up of craft breweries to visit from Afar Magazine here. Another great place to sample a variety of craft brews from different breweries is BeerBazaar, with locations in the Carmel Market in Tel Aviv & Machane Yehuda Market in Jerusalem (I've been to and enjoyed the Jerusalem branch). Or you can always opt for the old standby Israeli-produced beers that have been quenching thirst for decades: Carlsberg, Goldstar, Maccabee, & Tuborg.
What's your favorite Israeli dish? Any typical food I've omitted? Have you ever traveled with a "to eat" list? Let me know in the Comments!
Like this post? 'Pin It' for later!