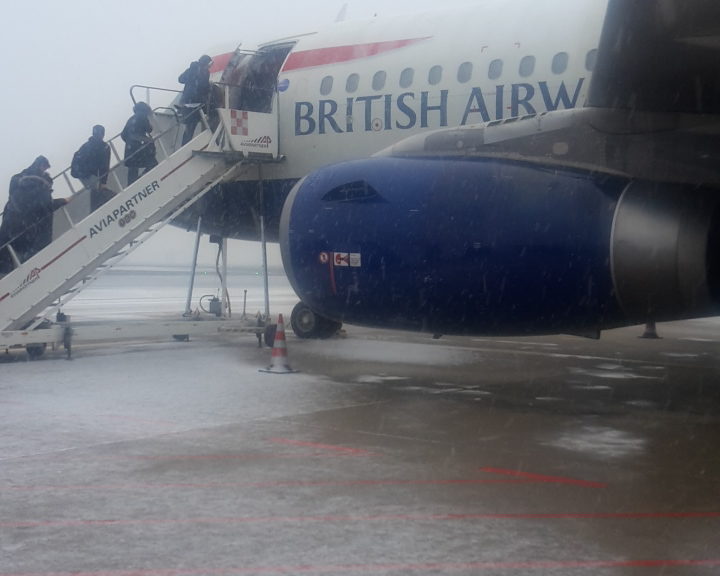 How to Survive Missing Your Airline Connection
It almost never snows in Milan. In three years of living there, I saw it snow for at most a half hour at a time – usually rain that turned into snow briefly, and then back to rain. Snowfall is typically light or non-existent each winter because most of the cold fronts and snow get trapped in the Alps not far outside of the city. The biggest accumulation I ever saw was a light dusting that lasted just long enough for me (in a brief moment of inspiration) go for a run in Sempione Park.
So last month as I was preparing for my repatriation trip to the United States, a.k.a. moving back "home," I had a lot of mixed thoughts and emotions about the trip – but none that included a snow-related delay for my flight! I didn't even check the weather before heading to the airport, since winter in Milan tends to hover just above freezing pretty much every day. (Although I found out later that snow was not in the forecast, so checking the weather wouldn't have helped anyway.)
Only when I was at the airport all checked in and cleared through customs did I approach the departure gate. Which is when I first glanced outside and was quite surprised to see a sheet of white on the other side of the window. Even then I thought that it was most likely hail, and it was only when I walked closer to the glass did I realize it was snowing. And not just flurries, it was driving snow coming down hard and fast. Of course, since the first leg of my flight was the relatively short hop from Milan to London, we didn't even have a jetbridge to stroll onto the airplane directly, but ended up boarding by taking a bus to the plane and then ascending on foot.
Getting off the shuttle bus and crossing the tarmac on foot to board the plane, I (along with all of the Milanesi) were consumed by the joy of the snowfall. Smartphones popped into everyone's hands, with pretty much all the passengers snapping shots of the snow, the airport and the snow, and selfies boarding the plane as it's snowing. It was such an unusual event, everyone wanted to capture it, and we passengers were all smiles as we boarded.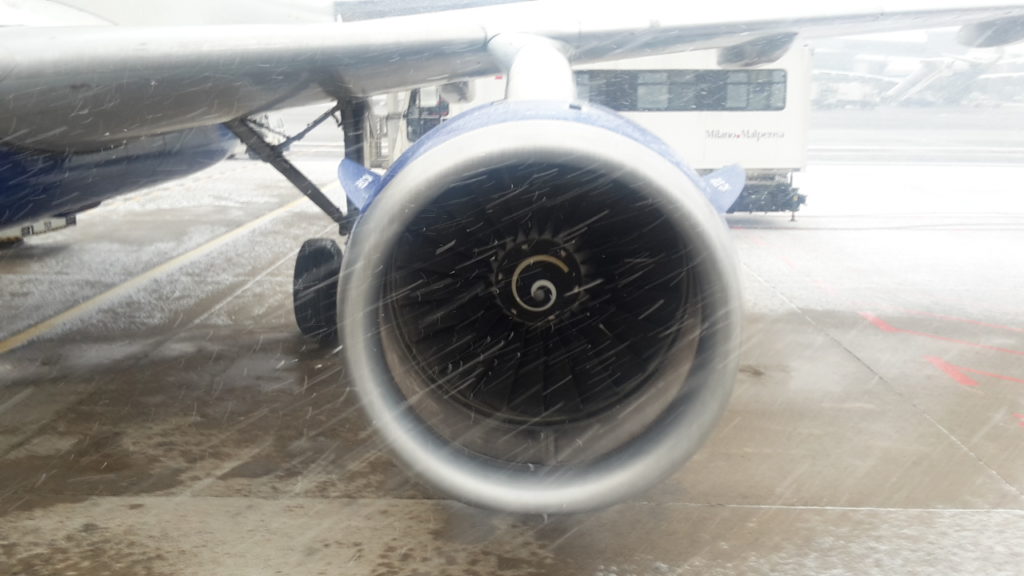 It was in the moment after I took my seat that the panic and dread about my connecting flight started to set in. I had an already tight connection of barely over an hour at London Heathrow, one of the largest airports in the world. I wasted no time and flagged over the flight attendant nearly immediately. He tried to reassure me that we'd likely make up time in the air and it shouldn't be that bad. Then the captain comes on and she starts talking about the growing line to get the plane de-iced and then the likely takeoff delays after that process. Her ballpark estimate of our delay time is a modest 20 minutes. Another flight attendant stops by and she lets me know that my outbound flight should be leaving from the same terminal where we'll be arriving, and that as long as I clear the transfer desk 35 minutes in advance, all should be well.
But of course de-icing and even the line to start the process takes longer than expected. Then we are far back in the line of planes waiting to leave. By the time we take off, it's almost an hour after our original departure time. Although we are supposed to make up some of that time in the air, for an unknown reasons we slow down to cross Swiss air space. We land at Heathrow nearly an hour late, so just minutes before my next flight is expected to leave. I head briskly to the transfer desk anyway and find a person who brings me to the front of the line, but when my boarding pass is scanned an unpleasant beep sounds, indicating that I am too late for the electronic gate to let me through.
At a smaller airport, or even some of the larger US ones where I've had tight connections before, they might hold the plane for you. Or there could be a cascade of delays, allowing you time to catch the continuing flight. At Heathrow, everything is automated and there is no way for the staff to override the built-in time limits. When my boarding pass for the transfer is rejected by the scanner, there is nothing left to try – I take a deep breath and head straight for the re-booking line.
What to Expect When You Miss Your Connection
The first thing to expect when you miss a flight, especially at a big airport like London's Heathrow, is . . . waiting. The rush of trying to catch your flight and all of the adrenaline that is pumping through your system comes to a screeching halt as you get in line behind the other delayed and frustrated travelers in the re-booking line. I was fortunate to have been traveling in Business class (this is what happens when it's a company-booked flight), so there was a separate re-booking line I could join. Even then, it took me nearly a half hour to reach the front of the queue and finally speak to a person.
By this time, a couple of what would have been re-booking options for me had elapsed. They could have re-routed me at that point to a far away airport in the US, but then ground transportation once I arrived would have been at my own expense to the tune of hundreds of dollars. With 3 checked bags and a carry-on, there would have been no way to take cheaper public transit options. However, staying overnight and catching the same connecting flight the following day meant that British Airways would put me up in a hotel and provide meal and transportation vouchers for free.
In the end, it made the most sense for me to simply take the flight the next day, and once that was decided it was just a matter of getting everything booked and my vouchers printed. Here's what was involved in being put up overnight by the airline:
Phone Calls
It didn't occur to me that I'd be able to use the airline's phone to make an international call to the US, until the helpful staff member at the desk saw me fumbling with my Italian cell phone. Although I only made a single call, I found out later that in the European Union (EU), you are entitled to 2 phone calls or some other type of communication in the event of being re-booked (see more in the section below on the Passenger Rights).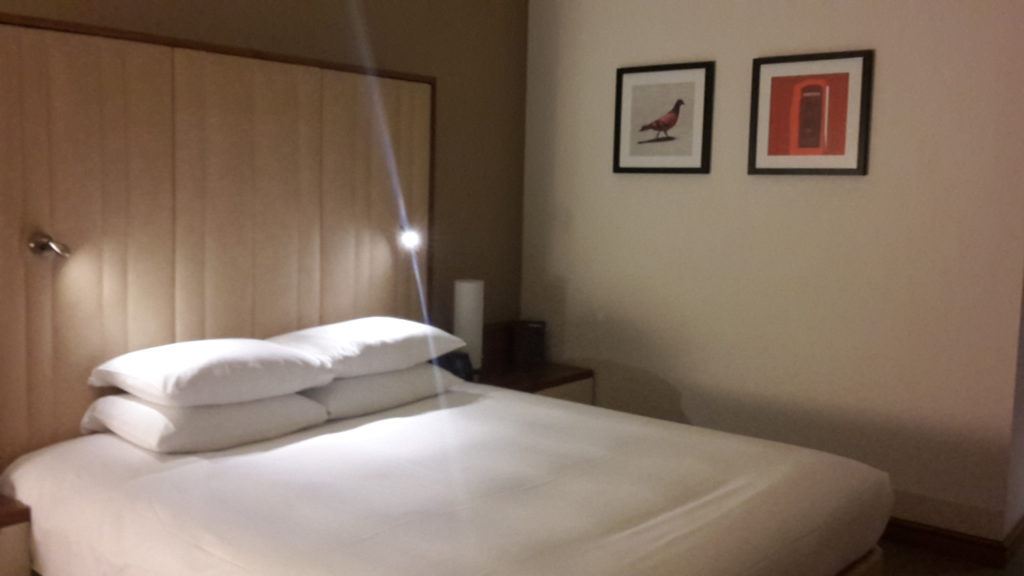 Hotel
I imagine that pretty much all airlines will book you at a hotel as close to the airport as possible. For me, the surprise came in that British Airways has a separate hotel for its customers traveling in Business Class. Apparently I would have ended up somewhere else if they were re-booking an Economy ticket. Either way, there seems to be particular hotels they are partnered with, and I did not get a choice about where I stayed.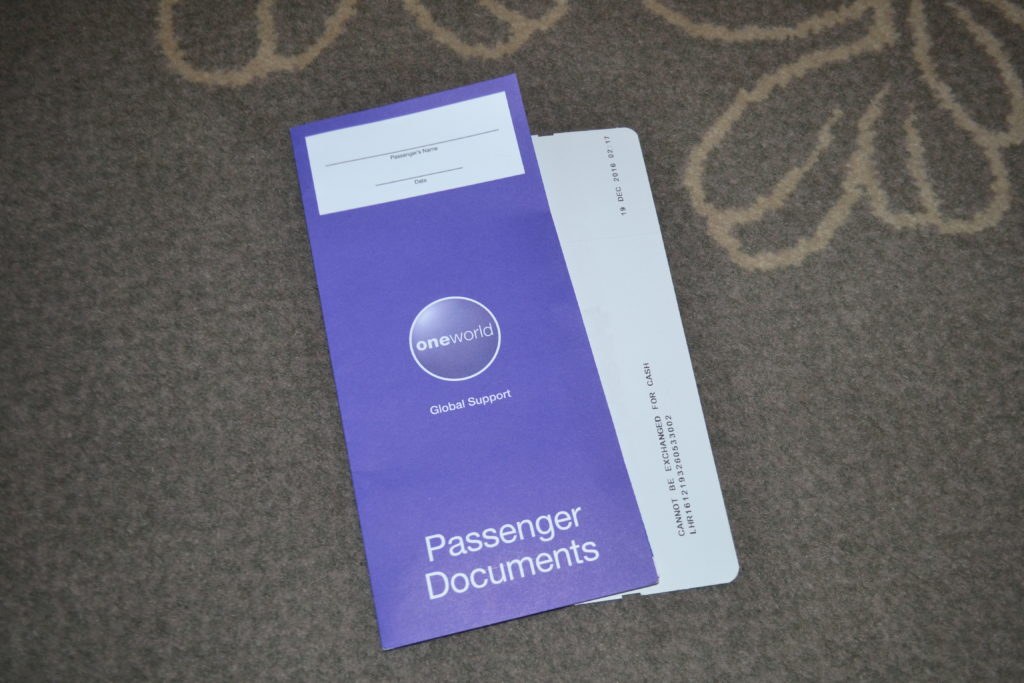 Transportation
The hotel was close to the airport, but still a bit of a drive, so the airline covered my round-trip transportation. The down side? Transportation was only covered on a specific shuttle bus, so I was subject to their schedule in both directions, and could not simply catch a ride when I was ready. Also, transportation was only covered between the airport and the hotel. When I went into downtown London to stroll around and meet a friend for dinner, that was at my own expense.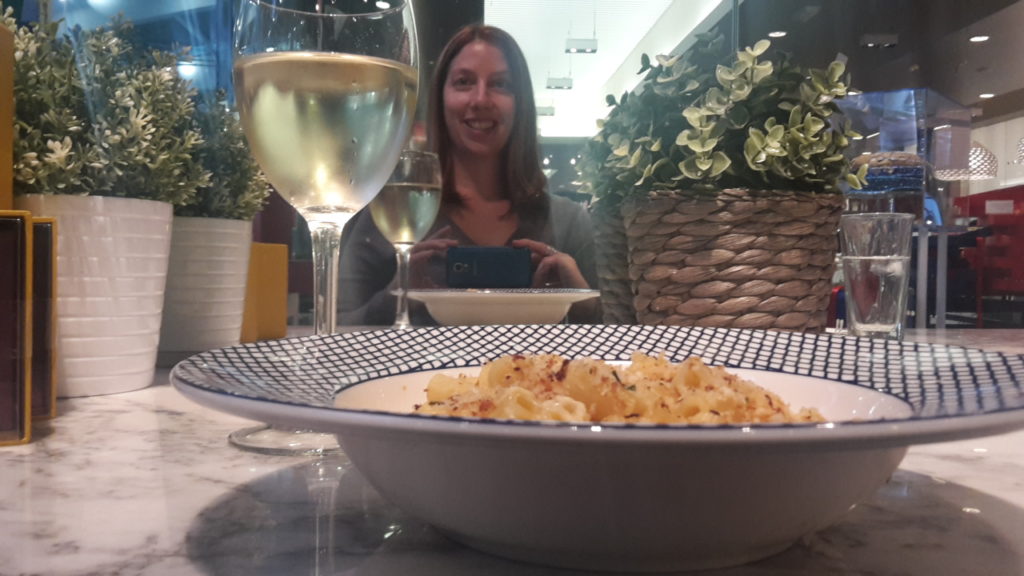 Meal Vouchers
Since breakfast was included at the hotel, I received two meal vouchers. The first was for a "snack" and only valid at the airport. So the first thing I did after being re-booked was stay at the airport so I could get some food as I had missed lunch and was actually quite hungry at that point. My second voucher was for dinner, but again with limited validity. I could only use it at the hotel. By the point my vouchers were issued I knew it was likely I'd go into London to meet a friend for dinner, so asked if there was an alternate voucher for this. There wasn't, so dinner ended up being at my own expense.
Luggage
This is an important one – checked luggage stays checked during the layover. So you will not have access to what's inside your checked bags. This is one of the reasons that I'm so glad I pack my carry-on bag strategically every time I fly (see more about my essential carry-on items in the next section on How to Be Ready for Every Flight).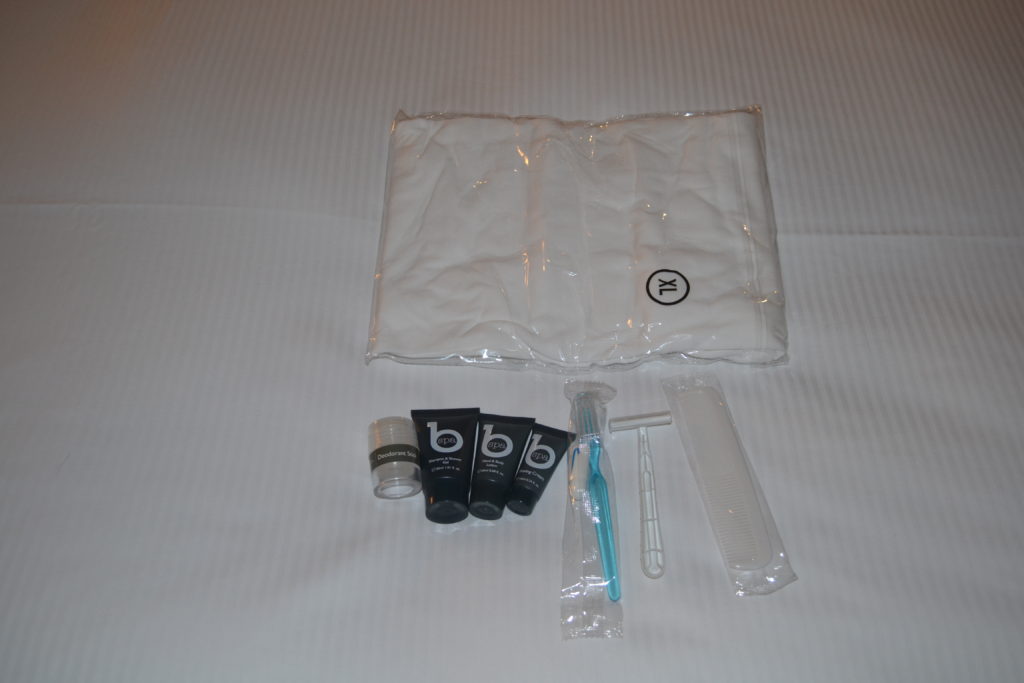 Amenities Kit
You may be familiar with the amenities kit you'll get from an airline for an overnight flight, usually with an eye mask, toothbrush, tissues, and maybe some lotion. When you are put up overnight by the airline at a hotel, it's a slightly different collection of items. My British Airways kit contained an XL t-shirt (for the record I usually wear a small so this would have been like a dress on me), deodorant, shampoo, lotion, shaving cream, a razor, a comb, & a toothbrush with a tiny toothpaste tube. If I hadn't been prepared, this would have been great to tide me over until the next day, but I still felt better having my own stuff. In the end, I didn't use anything from this pack.
Immigration
I've even had to clear immigration for long layovers that were not delayed. Certainly in the case of a flight delay of many hours or an overnight in a different country than where you left from, you will have to be processed (plus, you'll want to leave the airport anyway). I have Global Entry for arriving in the US, so I was not expected any new passport stamps before returning home and being able to get a new passport, as mine was almost completely full. Fortunately while the Immigration Officer made sure I wasn't traveling anywhere else besides the UK that would require space for a stamp, he found a somewhat empty corner to place the UK stamp and let me in =)


Passenger Rights
I wouldn't have thought to ask for this, but the re-booking desk provided me with a copy of the Passenger Rights for the EU. Other countries have similar policies. Some of the compensation I received was specific to Europe, so be sure to request a copy of what your rights are in the country where you've been delayed. If a copy is not available, find it online to know what you're entitled to get in your specific scenario.
How to Be Ready for Every Flight
Some of the reason I survived staying overnight unexpectedly in a surprise country with the greatest of ease is because I am *always* prepared for the unexpected every time I board a flight. What does this mean?
First, if you have any sort of connecting flight, be sure to book with the same airline for whole itinerary. An airline only has an obligation to help you if it one of their flights that caused you to miss the next one. Otherwise, if you are traveling on two different carriers, there is no help if you're delayed and miss the connection. It will be your financial responsibility to sort it out.
I've had my luggage delayed on several occasions, this was the first time I was waylaid en route. That's usually the contingency I'm planning for – me making it to my final destination without luggage. I've had my luggage delayed for anywhere from a few hours to several days, and my carry on bag is always packed with that possibility in mind.
Another general preparation tip – make sure your carry on bag makes it onto the plane with you! All of the emergency provisions you pack are only useful if you still have access to them if your luggage doesn't make it or ends up routed to a wrong destination. To do this, I go to great lengths to make sure that the plane does not run out of overhead space before I board, requiring me to "gate check" my bag. Even it means queuing up early to board the plane.
With the "gate check" process, sometimes your bag is brought to you at the jetway to pick up and sometimes it comes out on the belt with your checked luggage (causing you to spend additional time once you arrive to retrieve it). Sometimes they tell you that your bag will come to the jetway, and you only find out at your destination that it will come out with the checked luggage instead. Again, reasons I try my best to avoid being in the situation of having to "gate check" my bag. Just in case.
Here's what to pack in your carry-on for any "just in case" situation, whether it's your checked bag not arriving at your destination or you needing to stay overnight unexpectedly in a strange city or country:
Laptop, e-reader, and other key electronics

Chargers for your phone & any other electronics you have with you

Universal plug adapter (for any international travel)

Basic toiletries, including toothbrush, hairbrush, & deodorant

Other basic items, including nail clippers, tweezers, band-aids, & a sewing kit

Any moisturizers or lotions, plus travel-sized shower items (for me this is shampoo, conditioner, shower gel, facewash, & body lotion) And yes, this all fits in my quart-sized bag. And then some.

Any medicines you might need, plus several pills of a basic pain-killer and an anti-diarrheal

Pajamas

At least 1 clean additional shirt and 1 pair of socks

Several clean pairs of underwear.
→

Yes, even though I only bring one shirt and a pair of socks, I bring several pairs of underwear. Because other things can be dirty in a pinch if you're delayed longer than expected (or your lost luggage takes extra time to arrive). You want your underwear to be clean.
There are a few other things that I typically have in my carry-on bag – like an umbrella – but this list is just the essentials to be sure to include for those "just in case" situations. There's definitely space for more than this in my carry-on, with the specifics of the other contents depending on the trip.
In this particular instance, I was especially glad to have my universal adapter, as the UK is on a different plug from both Italy and the US. Without it, I wouldn't have been able to charge my devices. And even though I got basic toiletries and a t-shirt from the airline, I was far more relaxed and comfortable having my own clothes and basics to get me through my unexpected layover in London.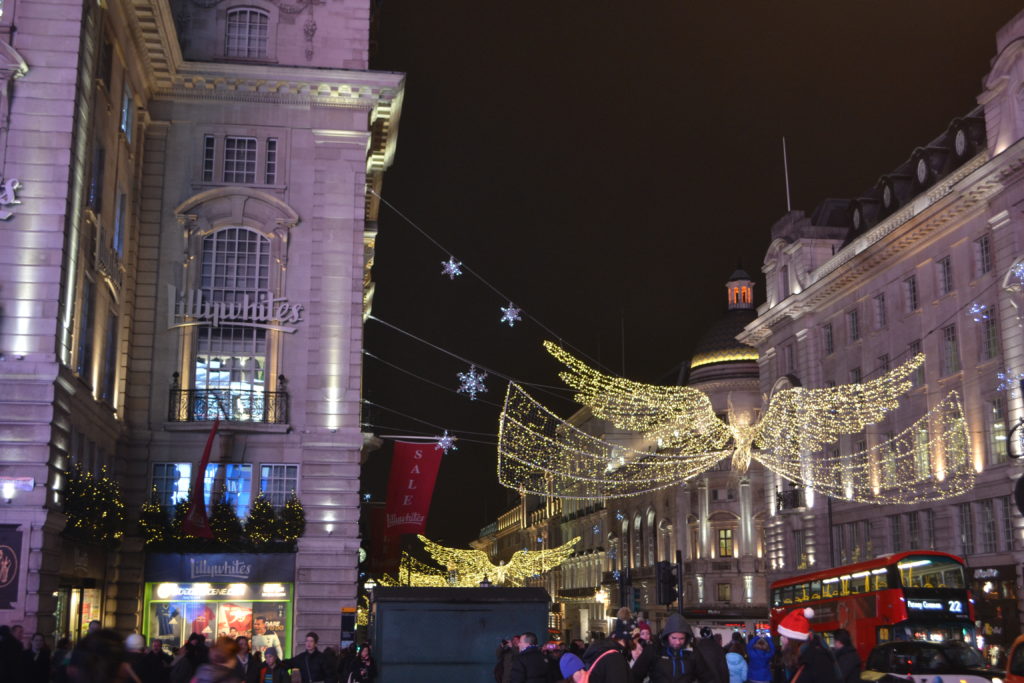 Plus, since I didn't have to spend any time scrambling to buy clothing or toiletries or electronics, I was able to focus my time on meeting up last-minute with friends (I saw 2 different friends during my surprise layover!) and soaking up the holiday atmosphere of London, just a few days before Christmas.
Have you ever missed your connecting flight? What do you wish you had known beforehand? Share any tips I missed for how to survive a surprise overnight layover!