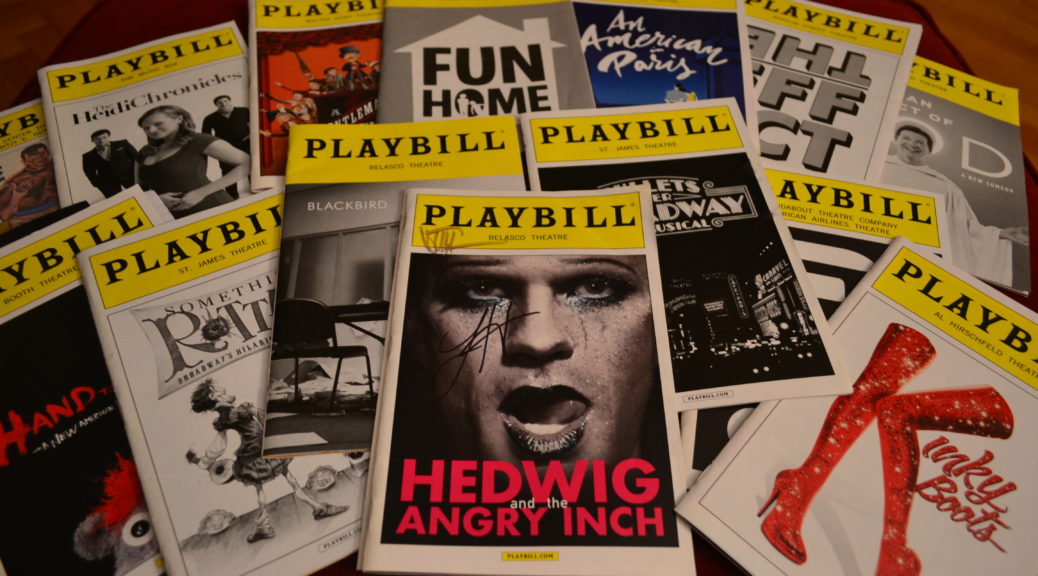 How to Theater Binge in NYC without Breaking the Bank
It was mid-afternoon on a brisk Christmas Eve day in 2006 and I was shivering as I walked with purpose through Manhattan's theater district, amidst the bright lights and bustle of Times Square.  I had just arrived by bus in New York City, and the plan was to meet up with my sister and see a show together.  There was only one catch – we didn't have tickets to anything.  Yet.
I was teaching high school at the time, so I was already on winter break.  My sister was at work that day, so getting theater tickets was all up to me.  Since it was the holiday season and the city was packed with out-of-towners and locals with days off, I knew that my usual methods for finding discounted tickets would be limited.  After a few failed inquiries at some theater box offices, I got in line for my old standby and perpetual backup: TKTS.  Most Broadway and Off-Broadway theaters work with TKTS to provide discounted tickets, usually at 25% or 50% off of the normal price.  Since there are so many shows playing at any one time, although the lines are long, while you may not get to see your top-choice show or pay your preferred ticket price, you'll always get to see something.
It had been a little warmer walking over, but now that I was waiting in line, the cold started to set in despite my heavy coat, scarf, and many layers.  But it was okay, I was getting to see a show!  Then, when I was about 30 people from the front of the line, word passed back that TKTS was sold out.  I'm sorry, what?!?  I didn't even know that TKTS *ever* sold out, although if it was going to happen it made sense that Christmas Eve would be the day.
And then it hit me – this was the end of my streak.  Ever since the first time I got rush tickets to see a Broadway show about ten years earlier (Chicago in 1997), every time I had come to New York planning to see theater, I had always managed to get tickets to something.  Not always the show I wanted to see and sometimes involving frantic subway rides to get to an obscure off-Broadway theater in time, but I always saw something.
What to do now?  I had several hours to brainstorm, and realized that there was one more chance to possibly see a show.  Avenue Q, which was still on Broadway at the time, had a lottery 2 hours before showtime, around 6pm (and neither of us had seen it yet).  Fortunately by that time my sister would be finished with work and we would then have 2 chances to win – each writing our name on a slip of paper and then names would be pulled from a large bucket until all of the seats allotted for the lottery were sold.  Of course, the odds were abysmal.  Lots of people who struck out with TKTS – and others who had just left the office – were also trying their luck for one of the only 20 seats available through the lottery.  And even on a regular theater-going day, I had tried (and failed) several times before to win the Avenue Q lottery.
As we wrote our names on the tiny slips of paper and added them to the overflowing pile of other entries, I knew the prospects were dim and mentally prepared myself for failure: coming into the city to see a show and not managing to get tickets to anything.  And then the inner monologue started.  What was I thinking?  Why didn't I realize that it was harder than usual to get theater tickets on Christmas Eve and planned better?  Or arrived earlier?  Or why did I suggest seeing a show at all?  It would have been better to not have even made the attempt.  If I hadn't tried and failed to get theater tickets, my streak would still be intact.  (This last one is a doozy, thanks inner voice.  For the record, I think it's almost universally better to try at something, even if you fail.)
Fortunately, my thoughts didn't have too much time to spiral any more out of control because it was time to pull names for the lottery.  I'm usually pretty calm after I turn in the slip of paper with my name, but once the show staffer starts churning the slips of paper to mix them up, the adrenaline starts pumping and I can feel my heart beating faster and faster in my chest.  The nerves are in full force and then my conscious effort is always focused on trying to appear calm even though I don't feel that way inside at all.  Tracking each motion of pulling a slip of paper and unfolding it to announce the name of the next lottery winner as a poor attempt at keeping myself calm.
Then after the first few names are pulled and aren't ours, I start mentally calculating how many available seats are left and trying to calm my adrenaline since winning the lottery is becoming increasingly unlikely.  Deep breath in, deep breath out.  And then with just a handful of seats still available, I hear "Cohen" and after a few seconds delay while my brain processes what it hear, realize that my sister's name has been called.  A huge wave of relief washes over me.  I'm not sure if I'm more excited to get to see Avenue Q or to realize that yeah, the streak is still going strong!!
And a few hours later, Avenue Q is amazing and hilarious, and even outshines all of the hype and expectations I had built up ahead of time.  And TKTS was sold out, and I still was fortunate enough to get to see a show.  The joy of theater.
It's now been another decade since my close call of almost not getting a ticket that chilly Christmas Eve, and I'm pleased to report that my streak is still alive and well.  I've never waited until the last-minute on a major holiday to get tickets again, and always have a contingency plan (or 5) to ensure that something will work itself out.  And even though some times recently I have had to revert to a Plan B or Plan C, I always get to see something.
But how do I do it exactly?  And how do I see all these shows without racking up hundreds of dollars in credit card bills?
Practical Info
For those in the know, there are a lot of ways to get discounted tickets for Broadway and Off-Broadway shows, here's how to make it happen:
In advance
Not everyone likes to (or can) wait until the same day to purchase their theater tickets.  For the security of having your discounted tickets purchased ahead of time, there are several options at your disposal:
Tix 4 Students – If you are an undergraduate or graduate student (anywhere in the world!) and can verify it, you're eligible for this one.  There is a $7 fee and membership is good for at least 6 months.  Once you're a member, you have exclusive access to affordable student tickets for theater.  You can see the current tickets available and prices here.
---
HIPTIX – This is a program of the Roundabout Theatre Company for 18-35 year olds.  While it is limited to their own productions, there are multiple Roundabout productions each season, that are typically of very high quality.  The best part?  Joining is FREE.  And it gets you the opportunity to purchase tickets for you (and a guest of any age) for only $25 each, and there are spots reserved for HIPTIX for every show.  If you want access to premium seats, there is access to annual Gold and Platinum levels with a donation to Roundabout.
TIP! Buy tickets early to ensure you can see the show you want on your preferred date.
---
LincTix – Similar to HIPTIX but for 21-35 year olds, LincTix is a program of the Lincoln Center Theater, which is also known for its high-quality productions each season.  It is also FREE to join, with a number of $32 tickets set aside for each performance.  Different from the HIPTIX program however, any guests must also be LincTix members.
TIP! Same as for HIPTIX: buy tickets early to ensure you can see the show you want on your preferred date.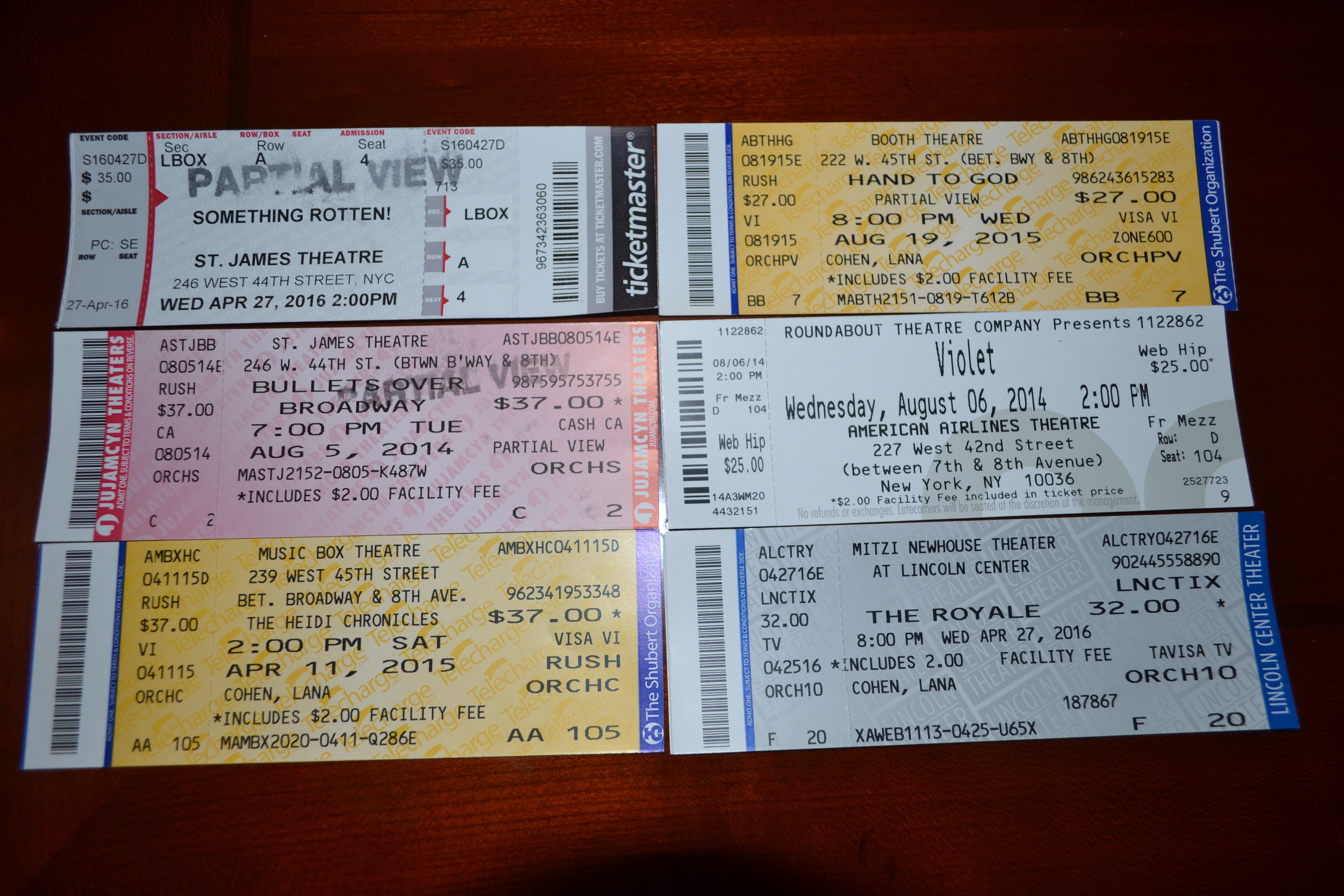 ---
Discount Codes – These days I have mostly seen discount codes online through TheaterMania, Today Tix, and Broadway Box.  I prefer the first two sites, as they list tickets by purchase price, while Broadway Box lists the amount of the discount.  There are usually service fees added to the ticket price when you buy online, although in some cases you can save on the fees by buying tickets in advance in-person at the box office with the discount code (I did this recently for an off-Broadway show and saved over $20 in fees for our group of 4 people).
---
Rear Mezzanine & Partial View seats – They won't be the best seats in the house, but the Rear Mezzanine section has the most affordable of the regular-price tickets, and can be purchased online through the vendor listed on the show's official website or at the box office.  So if there are no available discounted options for something you definitely want to see, this is the way to go.  Often there are also Partial View seats, which are sometimes only available for purchase in-person at the box office, which you can also do in advance.  And with Partial View seats, you usually don't miss much.
TIP!  Always ask what is blocked by the Partial View seats before committing to purchase.  Sometimes it just involves leaning forward in your seat to get the full view, other times you'll miss some of the action.
Same Day
When I first became an avid NYC theater-goer in the late 1990s, rush tickets were pretty much the only same-day discount option available at the box office.  Then with RENT's meteoric popularity, so many people were sleeping outside of the box office nightly to have a shot at rush tickets the following morning that RENT instituted Broadway's first in-person lottery to sell 20 seats in the first two rows of the Orchestra section, for $20 each (oh, those were the days).
Seen as a more democratic option, many shows shifted to an in-person lottery over rush tickets in the early 2000s.  And even more recently, shows have shifted from the chaos of the in-person lottery to the ease of administration of a digital lottery. Read more about the history of Broadway discount tickets here.
TIP!  While several websites listing various rush and lottery policies have come and gone, the only one I've seen lately with up-to-date information about rush, lottery, and standing room ticket policies is at through Playbill.  You can also always check a particular show's official website for discount ticket details.
TIP!  Some box offices will only take cash for rush and/or lottery tickets, so read their policies ahead of time, and have enough cash on hand to make your purchase.
Your options: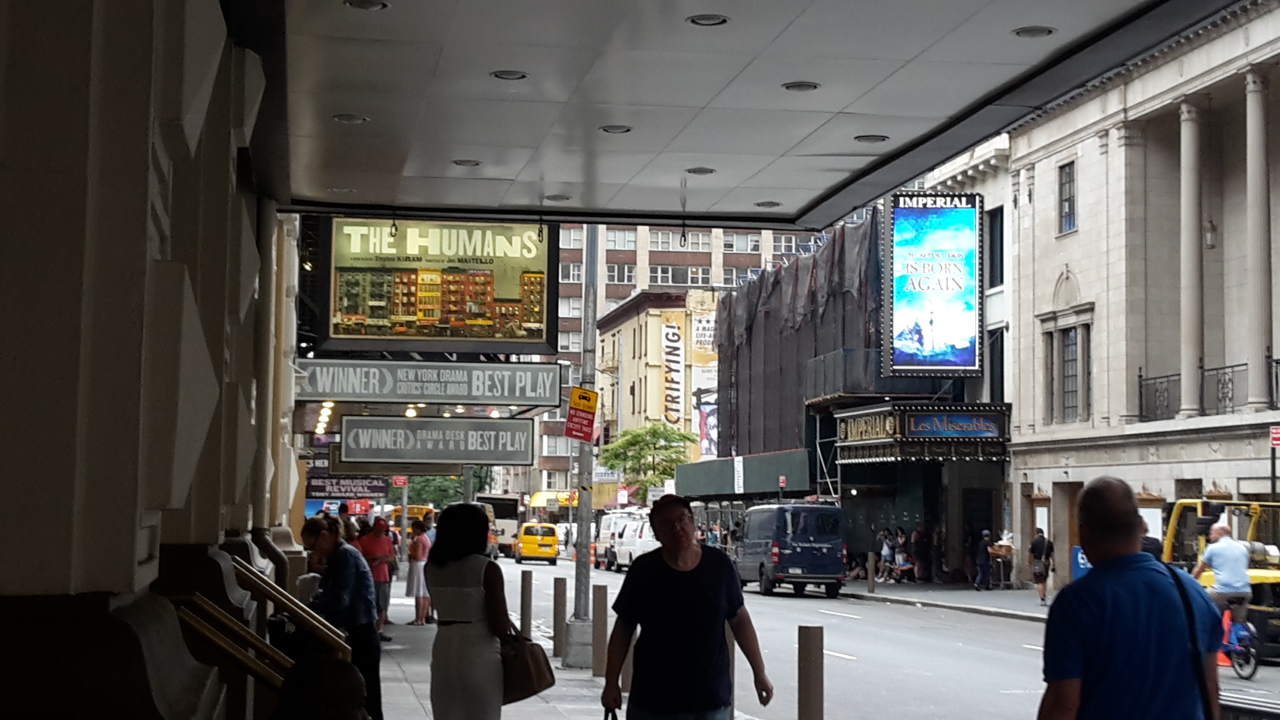 Rush tickets – A certain number of tickets – which can even be in the Orchestra section – are set aside to be sold as "rush" tickets for certain shows, at their discretion.  At one time a student ID was needed to purchase most rush tickets, although these days it's typically open to anyone.  And for most productions, each person can buy up to 2 rush tickets.  Rush tickets are sold on a first-come, first-served basis when the Box Office opens (usually at 10am, can be later on weekends), so there is often a line starting at 9am or earlier.
TIP!  If you can, stop by the Box Office before the day you'd like rush tickets so you can ask when the line usually starts forming and you can decide when to arrive.
---
In-person Lotteries – These days the digital lottery is king, so I can count on one hand which shows still offer an in-person lottery.  These typically take place outside the theater, with names being pulled around 2 hours before showtime.
TIP!  Come prepared with a photo ID.  It will be necessary to show ID after a lottery win to purchase your tickets, to make sure it matches the name you wrote on the slip.
TIP! Have a plan for a quick lunch or dinner since the in-person lottery drawing takes place so close to show time.
---
Digital Lotteries – These are the easiest to join and the hardest to win.  Instead of discount tickets being sold to people in-person at the theater, anyone in the NYC metro area who can make it to the theater within 3 hours can enter digital lotteries every day – and many do.  When Fun Home first debuted on Broadway, I was told that 10,000 people entered the digital lottery daily, for only 20 seats.  The odds for Hamilton's digital lottery are equally bleak for their 21 lottery seats. Certainly if I lived in the New York City area though, I'd be entering digital lotteries daily.  A few shows operate their digital lotteries through the TodayTix app, and others do it independently, linked from the official show website.
---
Standing Room Only (SRO) tickets – Usually SRO tickets are only available if a show is sold out, which doesn't happen as often as you'd think.  Unless a show is sold out early in the day, you may be cutting it very close and possibly not get a ticket at all.
TIP!  Ask at the box office if a show is already sold out or close, before counting on being able to purchase SRO tickets.
---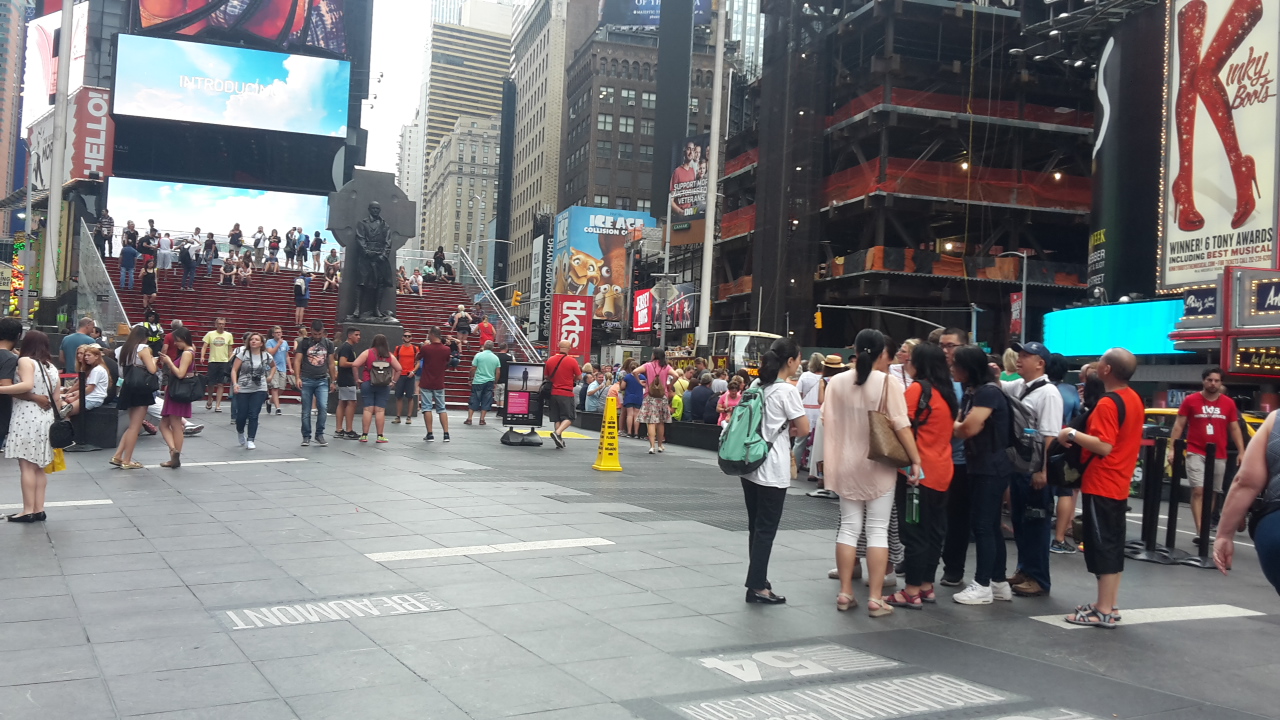 The TKTS booth at Times Square
TKTS – If you read my narrative above, you know that TKTS is typically my last-resort option for discount tickets.  Why is that?  The lines are long, and the discounts aren't usually that great compared to the price you can find using one of the other methods above.  I think it's been at least a decade since I've bought a theater ticket through TKTS.
So what is the advantage of TKTS?
the seats are usually better than what you can get through rush or the lottery, as this is a main way theaters fill premium seats that are unsold the morning before a performance
you can buy up to 6 tickets per person waiting in line, which is great for families or larger groups
additional discounted tickets can be released throughout the day, so sometimes you can get better deals without waking up early or being first in line
if you are in New York but not close to Times Square, you can take advantage of purchasing tickets at one of their other TKTS locations, either at the South Street Seaport or in Downtown Brooklyn.
TIP!  The TKTS app shows wait times for each of their locations and a list of shows being sold each day.
Have you used one of these methods for theater tickets in NYC?  What's your preferred way to get a good deal?  Or have you had a similarly panicked experience trying to get same-day theater tickets?
Tell me more in the Comments below.